Learn all the steps you need to take to successfully host an in-person event.
If you have hosted an in-person or virtual event with us or if you are new at Brella, you should know that the event-building process is similar and straightforward. However, a few elements change when setting up an in-person event in Brella.
In this article, we show you the steps on how to build an in-person event at Brella.
Let's go! 💪
1. When planning to host an in-person event, Brella will help you and your associates in various ways.
Find below what you can do for onsite participants and associates with Brella in a nutshell:
🙋‍♂️ Brella will help organizers facilitate your associates to find, learn, engage, network, and have an unforgettable experience in one place.
🌐 Brella will help participants connect through similar interests and goals chosen in the registration process, allowing them to connect with relevant people among the crowd. Every attendee should do it, so the participant volume for connections making is larger.
🎯 Brella will help sponsors showcase their products and services through a personalized virtual booth. It will allow them to display the representative team to find and share its networking leadership by connecting with potential leads.
🤝 The way attendees network will be slightly different compared to virtual. We recommend placing a Networking Area with numbered tables in the venue where participants can gather and meet up according to their arranged meetings onsite.
🔄 If you are hosting a hybrid event, participants will attend your event onsite and online. The Brella meetings will work the same way for them and network through the video calls or the Networking Area.
📺 Additionally, you can offer a booth place in the venue or a Brella booth that provides the same possibilities as an onsite booth in a virtual setting in your sponsorship packages.
💡 Lastly, the most critical aspect of planning a physical event is to put yourself in the participant's shoes to understand what they will go through when using the Brella App to connect through the Matchmaking. For a physical event, participants will get to network through the App to find relevant connections.
Having mentioned the highlights of building a physical event in Brella, now it's time to show you the steps on how to do it first-hand.
2. How to set up an in-person event in Brella?
To set up an in-person event,
Go to manager.brella.io and log in with your Brella account.
Open the event, and under Virtual event, select In-person event.


👉For details of networking at an in-person event in Brella.
After selecting your type of event, 👉 Enable meetings slots. It will allow your attendees to schedule meetings with each other during pre-determined time slots that you have specified in the Schedule through networking slots.
3. Enable & create the Matchmaking categories
Matchmaking helps participants and associates to find relevant matches at your event. The matchmaking is based on Artificial Intelligence recommendations that help organizers facilitate meaningful connections for participants' common goals at an event. With the intents we have at Brella, you can help participants find:
🔄 People who are looking for what they're offering among all participants.
📈 People who are looking for an investor or vice-versa.
🔎People who are searching for a job or vice-versa.
💡 People who are looking to exchange ideas about a certain topic.

During the registration process, a participant will have to choose multiple matchmaking categories preselected by the organizer. These categories will be based on the event theme, industry, and sponsors' services and products. Participants will get to choose multiple interests, intents and match with other relevant attendees at your event.


1. Selecting Interests 2. Selecting Intent (Goal) 🎯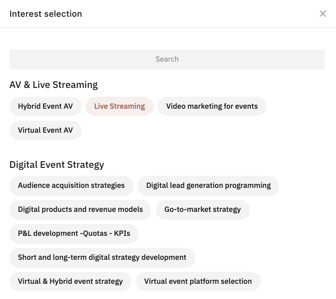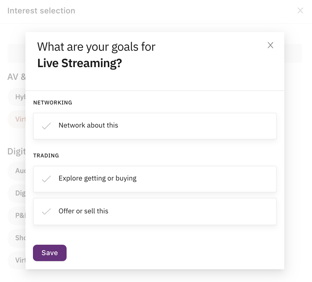 It's crucial that you enable Matchmaking before inviting participants to the event.

To help you brainstorm on categories and interests, you can use this checklist. If you are unsure how to move forward the matchmaking, choose one of the 16 templates that fit your industry and come to it later. There are two options for creating the Matchmaking categories:
💡 Educate your associates on how to use Matchmaking equally!
Sponsors
Speakers
Participants
Volunteers
⭐ Find some resources & materials in the Material Bank.
4. Networking at In-person event at Brella
Participants will attend the event physically by attending the venue and having access to the event platform. They can participate in a face-to-face meeting held at the Networking Area.
When a participant is at the venue, it's easier for them to use the Mobile App to schedule their Event schedule and manage their meeting requests quickly.
🔒When using Brella, communicate to your audience and associates how the meetings work and how they can make the most of it, taking into account Matchmaking.
Learn how to test the meetings with your team by first configuring your devices for the Brella platform. By doing this, you will put yourself in your associates' shoes and understand what they will have to do to network with one another.
Find all Brella meetings details here: Guide On How Master the Brella Meetings.
⚠️ To enable networking at your event; it's crucial you allow:
5. What is the Networking Area?
The networking area is the heart of the event! When hosting a physical event, we recommend assigning one division of the venue to the event's networkers, a centric place where people can meet, gather, exchange ideas and make meaningful connections through Matchmaking.
The Networking Area should have numbered tables that allow participants to go to a specific spot to meet their match. Participants can see the table numbers in the accepted meeting details.
For details on how to add a venue map and it works, go
here
.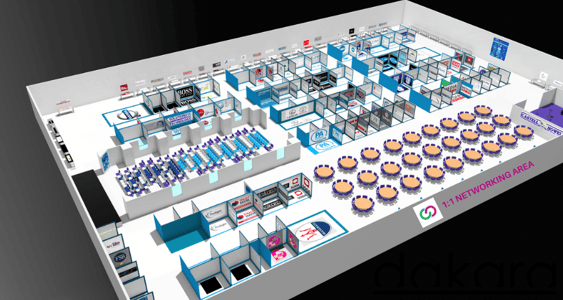 6. Start building your event on the platform
Before building your event, it's great to be aware of all the features you can use in Brella. We will give you the latest tips & tricks to make the most out of Brella in one article.
For that, once you have listed out clear event goals for your team, you should have a clear idea of what features are the most relevant for your event and your audience. Once this is confirmed, you can start building your event in Brella.
7. Categorize your audience per group and grant selective access to content and networking
Your event is unique, and the ticket structure too. Your event tickets have specific characteristics and give limited access to areas of the event, which makes a part of each attendee experience.
In short, what are Groups? – Groups allow Event Organizers to assign attendees, speakers and sponsors, to a specific group with a defined attendance type and a set of rules such as Stream Access Control and Networking rules.
👉 Categorize your audience when generating unique join codes (invite-only) or by going to the Groups tab in the admin panel. Every attendee that belongs to a group can be given limited access to event content (streams) and networking possibilities.
When hosting an In-person event, you will have two default groups:
Attendees group: This is a default group for all participants.
Sponsors group: This is a default group for all sponsor representatives.
As an organizer, you can create more groups, to segment your audience and understand your audience better. Read more about What are Groups?
8. Recommended Communications Plan
Just as you need to promote your event to draw attendees continuously, you also need to encourage attendees to join Brella. And the best virtual event experience comes from a high number of engaged attendees to provide the best matches possible.
Our data clearly shows that the best time is 2 weeks before the event. During this time, your attendees prepare for your event by viewing the schedule and content, so it's a perfect time to pre-book meetings with relevant people and get acquainted with the platform so they can make the most of it.
Our recommended plan
Launch emails
Reminder emails
Other communications tips

Networking section on the website
Blog posts and newsletters
Social media
Checklist
Please find the details of our recommended plan here.
9. Checklists before going live! 🚀
Before inviting participants to your event, review your event details and each element on the admin panel. 🗝️ Platform checklist before inviting Attendees to your event.
Before your event goes live, it's important you know what happens when your event is over on Brella.
🗝️ During the event: Do not delete any meeting slot or matchmaking categories.


---
Last updated on December 2021.
Written by Stephanie Campano Valenzuela.

If you didn't find an answer to your questions, please contact the Support Team here.

👇