In this article, we show you how to create the matchmaking categories in a spreadsheet from scratch and how you can edit the order of categories, for example.
Firstly, let's look at how Brella's matchmaking works and how you can create the categories in a spreadsheet for later import it as a csv file to the admin panel.
You can edit, delete and add new categories and interests only before the event has been launched to attendees and no matchmaking category has been selected with the csv file.
👉If you need to add new categories and interests after launching the event, we recommend doing it manually.
---
Creating matchmaking categories
Brella's matchmaking consists of three components:
Attendees select a broad category that interests them, say "Accounting, Finance & Insurance"
Within that category, they choose relevant interests: "Accounts Payable/Receivable," "Content Marketing," etc.
For each interest, they choose their intent: "networking", "trading", "investing", "recruiting", "mentoring".
So, in your spreadsheet, you will have three columns: categories, interests, and intents. If it helps, you can add these titles to the top of your spreadsheet, but remember to delete them before uploading. A template is available here to get you started.
Your finished list should look like this: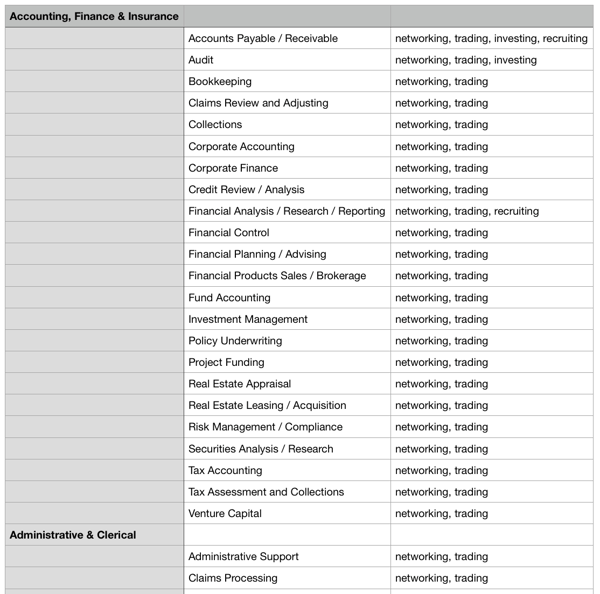 ⭐ Tip! The four intents currently understood by our matchmaking AI are networking, trading, investing and recruiting, mentoring.
The first column of the template is where you write your category. Example categories are:
Marketing
Technical expertise
Engineering
Each category should be in a row of its own. When you write the interests, don't write them beside the category, but leave a space and begin one cell down in the next column.
The interests column is where you can get specific. Say your category is Marketing. Here are some interests that you could add under Marketing:
Content Marketing
Growth Marketing
Digital Marketing
Events / Promotional Marketing
Social Media Advertising
Think of your event and the most relevant interests that your attendees would select.
⭐ Tip: If you're unsure of interest, feel free to leave it in. You can see a detailed list of selections after the event, which will tell you which interests your attendees selected - and which ones they didn't.
Finally, you can add the intents beside each interest. You have four different options:
networking: general networking
trading: interested in selling or buying
investing: interested in investing in or getting investment in
recruiting: interested in hiring or getting hired
mentoring: interested in finding a mentor or mentee
🔍 Note! Each interest needs at least one intent. We highly recommend including networking in each interest.
Editing or deleting categories in a spreadsheet
If, after uploading the matchmaking list to the admin panel, you realize the categories are not in alphabetical order or you need to delete a few categories, do not worry! You can change it delete categories manually or with a spreadsheet (steps below).
👉 If you need to change the category order, you can only do it with the spreadsheet by following these steps:
Go to the admin panel.
Then navigate to Matchmaking > Overview > on the right top side, click on Export csv file.
Import the matchmaking list to Google Sheets or Excel.
Change the order of the main categories and interests as you need.
Once you have the order wanted, save it in csv format.
Import it back to the admin panel.
🔍Double-check the new order reflects the attendee view (next.brella.io) and whether all of the categories have intents. If there are no intents, your event might show inconveniences for attendees during the registration process.
---
Last updated on February 2022.
Written by Stephanie Campano Valenzuela.

If you didn't find an answer to your questions, please contact the Support Team here.

👇