Use the access control feature for streams to have open or gated content according to the group type at your event.
Content:
---
What's Stream Access Control?
It allows event organizers to selectively grant stream (content) access per ticket group at your event in Brella.
Using Stream Gating to offer exclusive sessions to a sub-set of your attendees is easy!
Control the stream access using the settings on your stream tab to allow only a group of participants to view specific sessions on the Stream tab of the Admin Panel.

---
🌟 Advantages of access control for streams:
It allows offering different levels of content access per ticket type, thereby opening up a whole new level of monetization opportunities for your event.
Easier management of hybrid events segmenting the content for virtual, in-person, and hybrid attendees, each demanding a customized and highly engaging experience
View attendee analytics segmented per group to glean new insights and more in-depth stories around each group's engagement/interaction patterns - Not yet released but coming soon❗
👉 If "Anyone" is clicked, meaning that the stream is not assigned to a group will fall into default, and it'll be displayed to all participants
👉 If "Specific groups" is clicked, you can select which group gets access to each stream. Multiple groups can be selected from the dropdown, which displays all existing groups in the current event.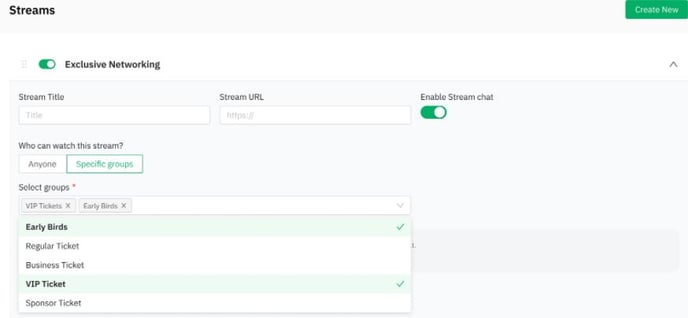 ⚡
Note:
If the access control settings are changed during the event, keep into account that:
1️⃣
Organizer:
You will get a warning pop-up message when trying to change these settings mid-event.

2️⃣
Attendee:
They won't get any notification. If they have already loaded the stream, they can still watch it
UNTIL
they refresh the page. If they refresh the page, they won't see that stream anymore.
📺 Attendee View
In the case your event offers multiple ticket types, the streams will be visible for attendees according to the rights entitled for such group, as in the example below: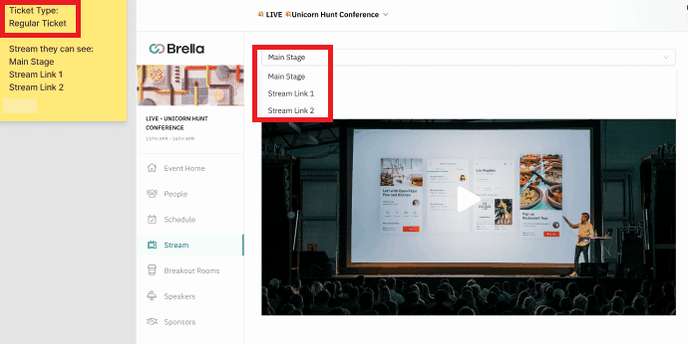 ---
Last updated in October 2021.
Written by Wendy Rendón

If you didn't find an answer to your questions, please contact the Support Team here.

👇