You can create meeting slots in the Schedule tab of the Admin panel.
Having pre-defined meeting slots at your virtual event makes it easier for attendees to schedule meetings with each other during these specified times. These meeting slots are dedicated networking times that setup within the schedule. When the attendees find someone they want to network with within the Brella app, they will suggest a meeting time based on these available slots.
🔎Note: Remember to enable meeting slots under the "Details" tab. If you have not enabled meeting slots in the "Details" tab, attendees will be encouraged to decide on a custom meeting time through the app's chat function.
It is up to you to decide how many networking slots will be available to the attendees. For virtual events, we recommend having networking slots available throughout the entire event, as attendees might be joining the event from different time zones.
👉 This is how you create a meeting slot:
Go to the Admin Panel (manager.brella.io)
In the Schedule tab, click "+ Networking slot".
Choose the Start time - When the meetings are starting?
Add Duration of each slot - How long is the meeting taking place?
Choose Buffer time between slots - Do you want back to back meetings or a break in-between them? - We recommend 5 minutes in between the meetings.
How many slots? If you want to add more than 1, please add many as you like, for example:

🕐 Start time: 00:00 am, Duration of each slot: 15 min, Buffer time: 0 min, How many slots?: 96 ➡ This will lead to having meetings starting and ending at midnight

Also, add the location and tags for the networking slots.
You can preview the slots that you are creating before saving.
Save & Create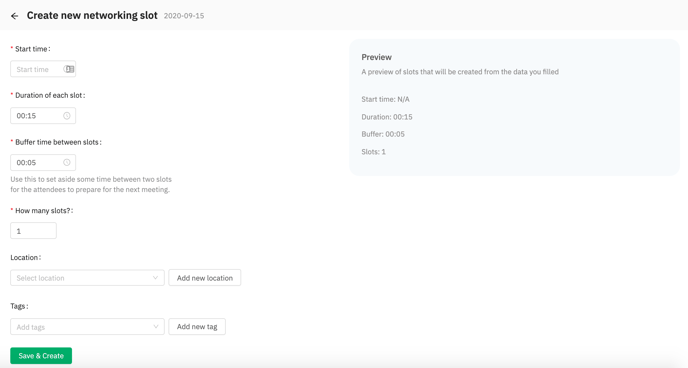 ⚡Warning! We highly recommend you do not delete any meeting slots after you have launched your Brella event to the audience. For more information, go here.