Add networking time slots to your event agenda for participants to connect during the event. Get started by going to the admin panel and navigate to Schedule.
Having pre-defined networking slots at your virtual event makes it easier for attendees to schedule meetings with each other during these specified times. These networking slots are dedicated networking times that are set up within the schedule. When the attendees find someone they want to network with within the Brella app, they will suggest a meeting time based on these available slots.
🔎Note: Remember to enable networking slots under the Details tab. If you have not enabled meeting slots in the Details tab, attendees will be encouraged to decide on a custom meeting time & location through the app's chat function.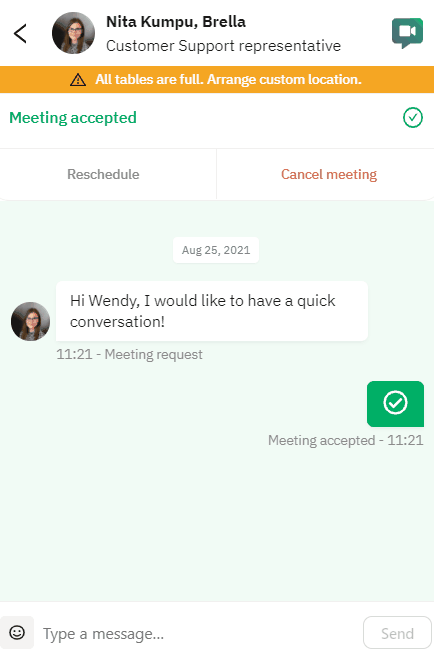 It is up to you to decide how many networking slots will be available to the attendees. We recommend having networking slots available for virtual events throughout the event, as attendees might join the event from different time zones.
⚡Note: For optimal performance of the platform, is highly suggested to create a maximum of 500 networking slots per event.
Keep in mind that you can create a total of 100 networking slots at the time: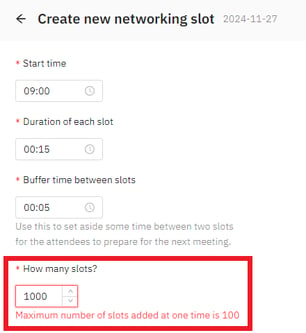 👉 This is how you make a networking slot:
Go to the Admin Panel (manager.brella.io)
In the Schedule tab, click "+ Networking slot."
Choose the Start time - When is the networking time slot starting?
Add Duration of each slot - How long is a meeting taking place?
Choose Buffer time between slots - Do you want back-to-back meetings or a break in-between them? - We recommend 5 minutes in between the meetings.
How many slots? If you want to add more than 1, please add many as you like, for example:

🕐 Start time: 00:00 am, Duration of each slot: 15 min, Buffer time: 0 min, How many slots?: 96 ➡ This will lead to having meetings starting and ending at midnight.

Also, add the location and tags for the networking slots.
You can preview the slots that you are creating before saving.
Save & Create


👉Note: You need to create just one networking slot for multiple users (attendees) to network at that specific time slot. Every single slot is visible for every attendee. The only time users won't be able to network during a specific slot and with a specific attendee would be when someone from those 2 parties doesn't have any availability.
⚡Warning! We highly recommend not deleting any slots after launching your Brella event to the audience. For more information, go here.
👉Networking slots will look like this at your event: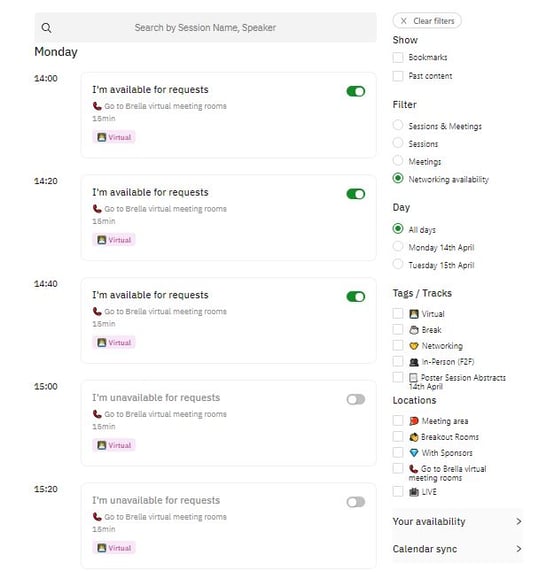 ---
Last updated on October 2021.
Written by Stephanie Campano Valenzuela.

If you didn't find an answer to your questions, please contact the Support Team here.

👇