Engagement is the key - Communication is your tool - Success is the outcome.
When planning an event, companies and Event Organizers must set several goals to have a tangible strategy to reach the ROI and what is needed to deliver a great event, not just by offering relevant content but also by creating an event experience focused on every stakeholders' needs.
Our team brings you a compilation of the most common situations of low engagement efforts and visuals to understand what's needed to succeed to compare why communication makes the difference.
All focused on your event's communication and how to enhance the interactions within the event, platform, and participants, including the importance of the networking opportunities.
Content:
❌ Pitfalls
Invite participants to join only until the event day(s)
At Brella, we have many attendees that have used our platform on multiple occasions, but every event is different. Hence, every person should have enough time in advance to interact and move around without the pressure of an event schedule ⏰ and, most importantly, to books their meetings in advance.

It is highly recommended to allow the participants to familiarize themselves with the app and visit in their terms the differents tabs, especially the peoples' page where all their relevant matches are. If instead, the access is granted just on the

actual day of the event

, it can make them miss out on information on how the platform works and possible prospects/interests.

We have a recommended launch time for your event. Check for more info here.
High Opt-out rate among participants
The lack of information about networking opportunities and booking meetings leads to a loss of interest and consequently miss essential connections. It might feel intimidating not knowing how an app/platform works, and that's one of the top reasons attendees keep going back to the old methods (phone calls, SMS, email, physical swap cards). Still, if they get enough information on how to make the best of the event platform, this will change the perspective and have the chance to feel more confident with virtual networking or using Brella as their onsite event agenda.
A few networking slots enabled or too tight with no buffer time
We genuinely believe that your event highlight is the Key Note Speaker/Session, but the business happens during 1:1 interactions, and that's what Brella aims for, bringing results.

It doesn't matter if your event is virtual, in-person, or hybrid. Booth has the same purpose, and that's to be successful, but you must communicate clearly enough to make it work as smoothly as possible for your attendees. Think from the perspective of a regular meeting; you need to:
- Know how to set up the meeting
- Locate the place for the meeting (online or onsite in the venue)
- How much time you'll have to be prepared (Presentation, Discussion & Closure)
- Having time to prepare for the next meeting (Buffer time)

Unexpected things might happen such as connectivity issues, low battery on your pc, headphones/cam not working, previous sessions got extended a bit more than planned, etc... and that makes meetings get delayed. So having that buffer time will lower the tension and upsetting the participants from missing that vital connection.
Matchmaking categories did not have a purpose.
Asking questions as a Mathmaking category does not set a good theme for good matching. Why? - Matchmaking gives criteria to participants to see and filter why you should meet with someone at your event.

Our Best practices on Matchmaking will help you understand how to make the best out of it and help your participants select their choices accurately on the event.
Sponsors Representatives low interaction
Why? - In most cases, this goes linked to the fact that the Reps did not book any meetings or have Opted-out when joined the event platform. We know that the choice to network at an event is voluntary and optional. Still, in the case of an agent or representative, this practice leads to zero meetings and low interest from attendees within their brand. 😕

That's why having a pre-event schedule with your sponsors is essential to communicate the platform usage and how to make the best out of it and opportunities at your event. Visit our section for Onboarding associates.
Use multiple areas or platforms (for virtual) to showcase the content
Brella was designed to facilitate meaningful 1:1 meetings, but naturally, our platform also allows you to broadcast your content from the same platform connected to your streaming provider. Switching back and forth with multiple apps/links only may confuse attendees with the exact location of the event.

Using multiple platforms/spaces to host the sessions can confuse if this is not well communicated, and in the case of virtual events, the engagement drops quite rapidly.
Too many days for the event duration
It is okay that you set up an event with determinate event days. Due to their nature, some events require more or fewer days, and it's always good to check on previous experiences if a three-day event, with plenty of content and meeting times, was enough to have a great event experience.

More is not always better, and events also should be planned following this line. If you need advice on how many days and how to distribute the networking along the event days to not interfere with your sessions, our team can help you reach us through our contact form.
No pre-event info or too late about networking opening
Being a first-time user of a new platform and accessing it when the event is live can be overwhelming. Your participants won't experience the same way as you might have planned, leading to a sense of discomfort.
In terms of clarity, information is always beneficial, and an easy way to communicate about your event platform is by creating appealing content. Being creative is the only rule. Even with fewer resources, a simple intro video or materials from our website & Help Center might help your participants feel more familiar with the platform.


Little open chats or group discussions
Put in your attendees' shoes. Trying to engage in an event where there's not much more than just the meetings you had with prospects or being just a spectator is not so attractive. Networking can be more than just 1:1 meetings, which means that using all Brella's features is highly recommended. Having the ability to comment onsite the current session, posting questions, or simply making the discussion more lively gives the feeling to your attendees that they're also part of it by simply enabling the side chat in schedule or streams. Also, our Breakout rooms are a great tool to create group discussions, open talks, or anything that comes to your mind.
No Ads - Sponsors/Partners lose visibility or relevance
Promoting your Partners or Sponsors is also crucial to create awareness of their participation at your event. Same as banners will display at an in-person event, your Sponsors' logos. Our Ads feature covers the same need for visibility, and it's an additional option for you as an organizer to monetize the platform features.
Pre-event/ During and Post-event communication nonexistent or scarce
There are plenty of materials for us to help you keep your participants informed about the platform (emails & reminders), how to use Brella for the first time, and how to make the most out of it. But to make their experience smooth, as an organizer, you must be proactive in your communications, and the best place to start is by checking our recommended plan.


Sponsors carousel booth empty
One of the most relevant parts to increase engagement and attraction to the Sponsors' booths is having interesting materials, links, and information to check. Same as when visiting a physical stand.

The feeling of an empty booth is not a good experience, and it leads to losing interest in the brand by not seeing any effort in showcasing their services/products. Our booths use iframe technology, and it gives much room to play with links, images, and other materials to make an attractive booth.
Event organizers are out to be reached by participants
Last but not least! We all have experienced that moment when something is not working, or the information is unclear. Participating in an event can translate to lose time finding solutions and missing out on sessions or important meetings. 😱

Creating a team for your event to take care of attendees' urgent questions it's highly valued. Our recommendation is to use the virtual booths to make your Help Desk and add the contact info in different channels, such as your event's communication emails and website.


Visuals & Comparatives
To understand why communication is relevant and helps your event performance. The below comparative shows how events with similar conditions had different results by implementing a good communications plan and being proactive. The lack of it can be seen through the attendees' interaction and feedback afterward.
🟥Unsuccessful results
🟩Successful results
👉 Pre-event - Engagement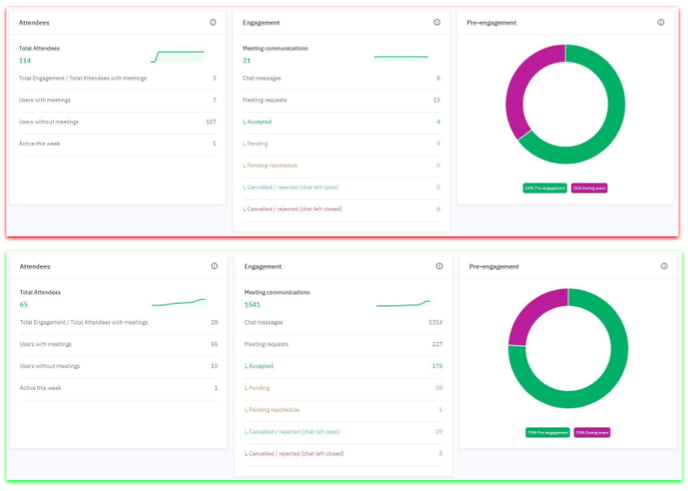 👉 access to the platform only during event's days - Engagement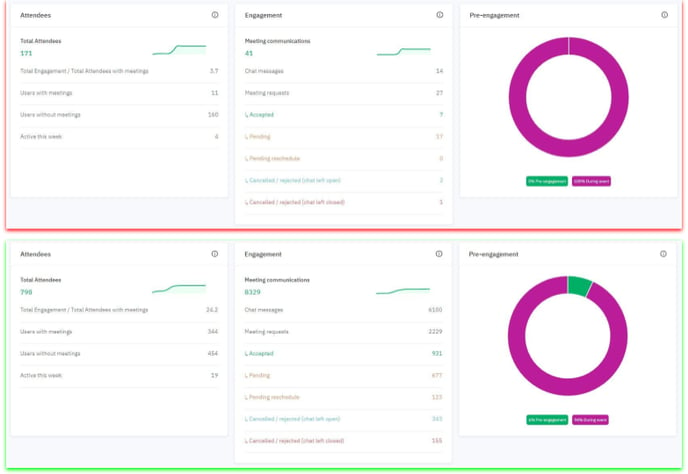 👉 Pre and during the event - Engagement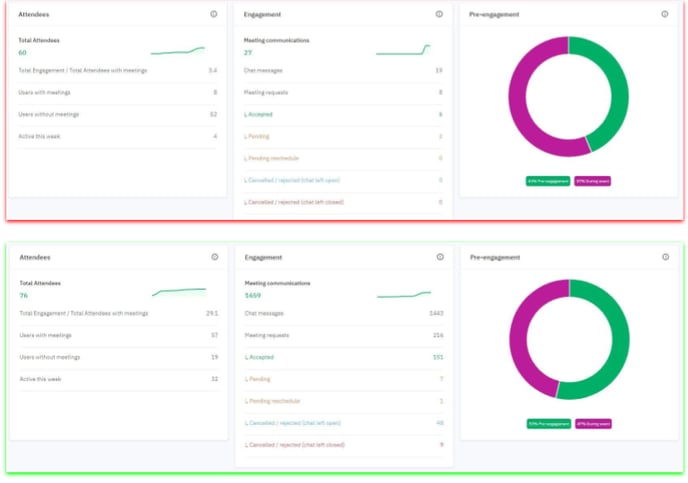 How does a successful event look like?
😎 Video coming soon