Communication is the key to success. To maximize the value of Brella, make sure you have a comms plan set well in advance. Brella is all about pre-event engagement and here's how you succeed.
Are you ready to invite your attendees and other relevant stakeholders to Brella? Great! Before you do, there are a few things to go over to ensure your launch is a success.
An essential part of a great launch is a solid communications plan. Your attendees need to know about the great networking opportunity you're providing them, and they need to hear it early and often.
This article will guide you through the essential steps.
Note! The best communication plan is a continuous and iterative process. By continuously promoting Brella and the networking opportunities at your event, you will help more attendees join and have a great experience!
Why do I need a communications plan?
Just as you need to promote your event to draw attendees continuously, you also need to encourage attendees to join Brella. And the best virtual event experience comes from a high number of engaged attendees to provide the best matches possible.
So, a dedicated communications plan helps you guide your attendees and other stakeholders to Brella, where they'll network with ease and have a great time at your event.
When is the best time to invite attendees?
Our data clearly shows that the best time is 2 weeks before the event. During this time, your attendees prepare for your event by viewing the schedule and content, so it's a perfect time to pre-book meetings with relevant people.
However, note that most attendees are active 4-5 days before your event. This is when most attendees will start creating accounts, joining your event, and booking meetings.
So while it's important to launch the platform in good time, the best thing you can do is invite your attendees to Brella early and then encourage them to use the platform before the event. Based on our experience, 60-80% of meetings are booked before the event, meaning your attendees will take time to engage with your event and plan their journey.
Our recommended plan
Launch emails
As described above, we recommend you start inviting your attendees 2 weeks before the event, and we recommend you start with inviting sponsors, reps, partners, and exhibitors first. After your sponsor reps, partners and exhibitors have joined, you can start inviting your attendees and speakers. Below you can find the templates for each email.
Reminder emails
Having your audience joined is not enough - to maximize the power of matchmaking and ensure high engagement, we recommend you to send three reminders in between the launch emails and the event.
Our data shows that sending at least these three reminders can boost engagement by up to 60%, meaning your attendees book more meetings and are more satisfied.
All emails above should be sent as dedicated emails, do not include them as part of some other event communications.
Other communications tips
Networking section on the website
Another way is a dedicated section on your website to promote the networking opportunities at your event. With networking being so important to attendees, it's an easy way to get them interested!
As well, you can highlight the ease of use of Brella and the networking benefits. We have some example copies and images you can use here.
Here's an example from Informa on a great networking section on their website.
https://informaconnect.com/gaim-ops-cayman/networking/
Blog posts and newsletters
Promoting the benefits of networking and the opportunities you're providing is a great way to generate interest and get attendees using Brella. As well, you can share these in your newsletter or other email communications.
Social media
Creating short, sharable content on your social media channels about networking and networking opportunities are excellent ways to both spread the word and encourage signups.
Here's a great example from All-Ireland Business Summit on promoting the networking opportunities at their event via LinkedIn.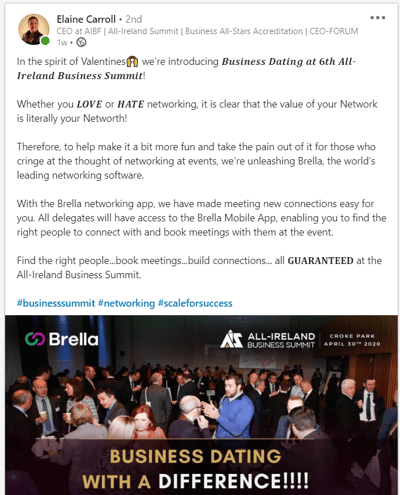 Your communications plan checklist
Send invitations for your sponsors, partners, and exhibitors to join the platform 2 weeks before the event. Please keep this email as a dedicated email, do not include it as part of some other event communications.
Send invitations to your attendees and speakers 10 days before the event. Please keep this email as a dedicated email, do not include it as part of some other event communications.
Send 3 (Reminder 1, 2, and 3) reminders to all users who should be in Brella but are not yet and to everyone who already joined to ensure high engagement before the event. Every sponsor/partner/exhibitor/attendee/speaker should receive these reminders! Keep these emails as dedicated emails, do not include them as part of some other event communications.
Add your networking opportunities to your website, blog, and social media.
Monitor your progress from the Home & Analytics tabs and send more reminders if needed