To create your first Stream tab, navigate to the Streams tab in the admin panel, and have your streaming software open in another tab.
You can add as many streams as you want. This feature can be enabled at any stage of your event. This is a great place to add your promo video, instructive guidelines on using the platform for your event specifically, and much more.
A Stream tab in Brella has a side panel section where, you can also add the Brella chat or other third-party tool that helps you best communicate and engage with your audience - in your own style!
Enable Streams on your event.
Go to the admin panel.
Navigate to the Streams tab.
Click on "Enable Streams".
Now you can start adding your live streams to Brella.


To create your first Stream tab on Brella, follow the steps below:
Go to the Stream tab on the Admin panel.
Enable the stream feature.
Start with 'Create new.'
Add your stream title that will be showing to your audience.
Add the embed link of your stream, and choose to enable the chat for this stream tab. Finish with 'Save and create a new event stream.'

In this article, we show you how to get the embed link of your stream. The URL usually is taken from the streaming dashboard settings. If necessary, go to their Help Center to learn how to get the link.
How the stream tab looks before you input the stream information.

After saving, your stream should look like this in the Admin panel:

The first stream will look like below to your audience.



After you have added your stream, you can also add Side Panel integrations to your stream.
Learn how to add integrations to the Side Panel on this page. For tips on what kind of tools have been used in Brella before you can go to the Using Brella with other tools.
When you add multiple streams, attendees will have to click on the stream title to view other streams. See the example below.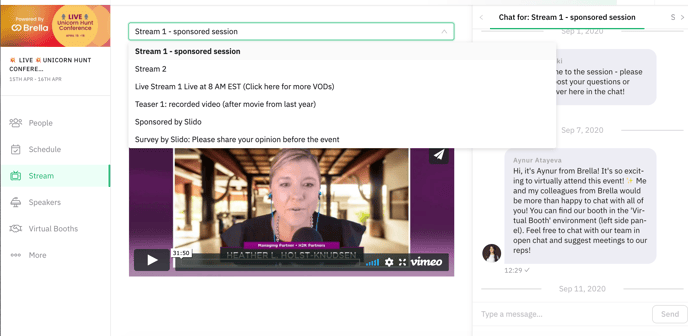 👉Tip! You cannot delete streams on Brella once you have added them, but you can disable them, so they are not available to your attendees. Toggle the button next to the stream title to enable/disable the stream.
❗Note: Using services of free or open streaming providers as Twitch, may result in showing to the public your broadcasted content. If your event requires a more secure streaming setting, please choose another paid platform.