Your Brella virtual meetings will be held in Brella App web version (next.brella.io)
When requesting or accepting a meeting in Brella, you will be able to e-network through a Brella virtual meeting room.
Find your Brella virtual meeting room when clicking on the video icon on the right upper side of the chat with that person.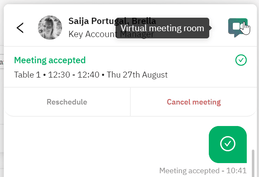 Then the virtual meeting room will look like this (below). When clicking on the icon, you will not call your match but you will only open the meeting room. On the bottom right corner, there is a link that allows you to invite others to your Brella meeting room. In addition, clicking on the bottom left corner icon you can share your screen with others.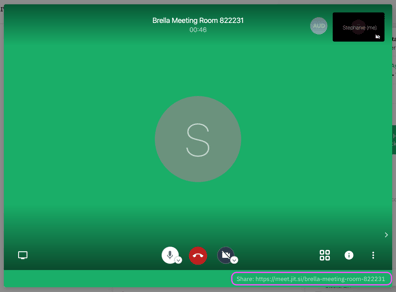 Ensure your microphone and video are enabled and you are ready to start e-networking! Last but not least, be on time! - You will receive a push notification reminder 5 minutes before each meeting. Therefore, we recommend enabling notifications in your account settings 3 days before the event.

Tip: Brella Virtual works best in Chrome, you will be able to use video, audio and screen sharing.