Sign in to manager.brella.io and choose your event from "My events". From the "Details" tab, enable the "Is this a virtual event" button and save your changes to continue the setup.
Basic Details
Go to manager.brella.io and log in with your Brella account. You will see the navigation menu on the left.
From "My events", choose the Brella event that you want to modify and move onwards to the "Details" section.
Note: To create a new event and receive admin rights to it, reach out to your dedicated CSM or to support@brella.io.
In the "Basic details" section you can add and modify all basic event information. The required information is marked with a red star "*", but we do recommend filling out all fields. This will make it easier for you to use the Admin Panel later, when you have multiple events in Brella. You can always come back and add more information later on.
Note: The most important field is the join code. We recommend using an abbreviation of your event with the current year or then your event hashtag. The attendees will join your Brella event either by inputting the join code in the Brella app or by using a direct link that you will provide to them.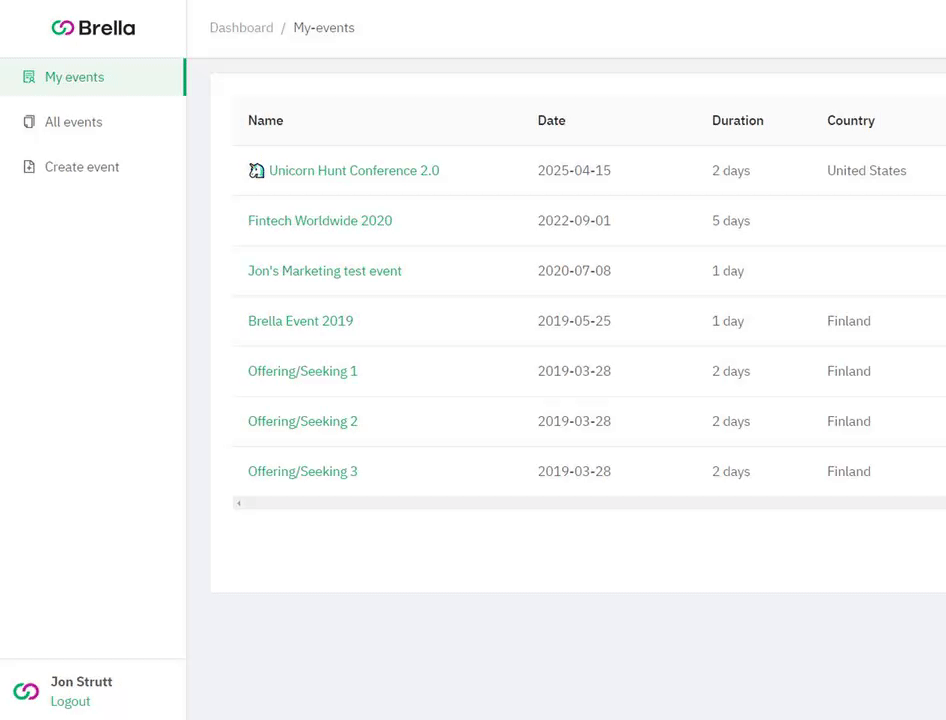 Virtual Event Settings
After filling out all of the basic details, activate the "Is this a virtual event?" button to activate all virtual event features.
After enabling the virtual event button, decide whether your event will have meeting slots in the schedule and/or a "Stream" tab in Brella showing your stream.
Enable meeting slots: This will allow your attendees to schedule meetings with each other during pre-determined time slots that you have specified in the schedule. If this setting is disabled, the attendees will need to agree on a common meeting time through the Brella chat.
Show the "Live" tab in the main menu: This will enable the "Stream" menu option within Brella for showing the attendees a live stream of your event.
Stream URL: Copy and paste the embed link from your streaming provider (for example: YouTube live, Twitch, Vimeo) to this field.
We highly recommend enabling both meeting slots and the live tab for your event.
Fill out all the information you can, then press "Create". Your virtual event's basic setup has now been done! You can update your event information later on from the Details tab. Now it's time to create some matchmaking categories and your virtual event's schedule.
Related articles