Learn how to use Brella meetings for in-person, virtual, and hybrid events.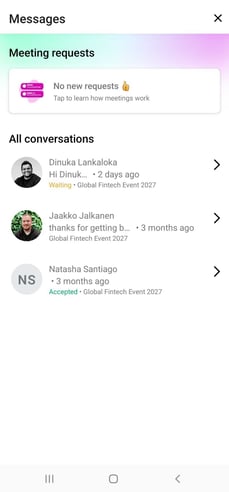 To be covered
Intro
What are meetings?
Meetings at Brella are all 1:1 meetings scheduled before and during the event through Brella. The only requirement to have meetings at the event is to set up your networking availability.
Then, you can attend meetings in two ways depending on the event type you are attending.
Onsite and Virtual meetings are enabled depending on the event type you are hosting.
Virtual events can have virtual meetings only.
In-person events can have onsite meetings and virtual meetings.
Hybrid events have virtual and onsite meetings.
See below how these meetings differ. 👇
💻 Virtual meetings

You need to suggest, accept or decline a meeting; Brella will arrange the meetings on your behalf.
You can invite up to three people to a virtual meeting. (Max. Four people can join a virtual room).
Once you accept a meeting or get accepted, you can test it immediately. (How to test room)
You can attend the meetings through the web app or mobile app.
You can attend virtual meetings if you're attending is a virtual or hybrid event.

🤝 On-site meetings

You need to suggest, accept or decline a meeting; Brella will arrange the meetings on your behalf.
Onsite meetings are hosted at the venue.
Once you accept or your meeting gets accepted, Brella will arrange the meeting for you and assign you a table number in the chat of your meeting, OR you will be given the freedom to choose a random place to meet with the other party inside the venue.
You can also attend the meeting at the Networking Area of the event venue. Ask the organizers if there is one at the event or check the venue map on Brella here. (Show map)
You can also attend the meeting through the virtual room if needed.
You can attend meetings onsite if the event you are attending is hybrid or in-person.
How do Brella's meetings work?
Many attendees have made relevant connections at Brella so far; expand your network to make relevant relationships for your business, your team, or your personal development. 💪
Details on how to invite colleagues to a meeting can be found below.
How to suggest a meeting?
📱On the mobile app:
Go to the Brella mobile app and into your event.
Check that you are in the People tab.

Find the person you would like to meet with and click Suggest meeting.
Select a time that suits you both, introduce yourself, and suggest the meeting.
After sending the meeting request, you will have the chance to send another message; it's your last chance to convince this person to e-meet you! After your second message, the chat will close for you until the match reacts to your request.
Lastly, you can wait for the match to accept, reschedule, or cancel the meeting. You can find your chat and Brella's meeting room from the upper right corner of the app.
This time slot will be occupied until the match reacts (accepts or declines) to your request.


Test and prepare for a virtual meeting
If your meeting gets accepted, congrats! 🙌 The virtual meeting room will open in the Chat details, and you can access it either from the web app or from the mobile app.
To test and prepare your device for the Brella meetings, go here.
If you wish to invite people, please go to this article.
Once your meeting is accepted, you will receive a notification 5 minutes before the meeting.
If your meeting is onsite, go here.
Find your meetings on the Schedule
📱On the mobile app:
Go to the Schedule tab on the Brella mobile app
Navigate to 'My schedule.'
Find the meeting you would like to view and click it.
Great job! Now you can successfully navigate through Brella meetings.
---
Last updated in July 2023
Written by Yusra Mohideen

If you didn't find an answer to your questions, please get in touch with the Support Team here.

👇