Detect and resolve technical issues you may encounter when testing the stream in Brella and ⭐ bookmark this guideline to have at hand during the event.
What to do when encountering technical issues? Once you know the main elements involved when hosting a stream in Brella, we can move on to the most common issues we have been asked for.
⚡Note: If you're using the Access Control feature. Remember that the streams, any materials, or links added as a sidebar will be available ONLY to the groups that have access to it.
⭐ Remember to bookmark this page to have at hand during your event.
👍 A good rule of thumb is to test that your stream setup works on your service provider's end. If the live stream looks good on the service provider's side, there should not be any issues in Brella either.
Most of the stream technical issues in Brella are related to or coming from:
The streaming provider's end. It could be a bug, and servers are down, etc.

Wrong stream configuration. If the configuration is not well armed, the stream will not work. Therefore, it's imperative to follow the provider's guidelines given in their Help Center. It's also good to have a point of contact in the team.

To create the stream setup, please follow the guidelines on such a provider chosen—examples in this article. The integration should consist of these elements.

Bad Internet connection. To stream, you need a secure and strong internet connection as your internet will be uploading and downloading information for the streams, event platform, and other platforms you may have opened on your computer, including all people's devices in the same room.

Brella's servers are down. When the stream doesn't work in the Streams tab in Brella but works outside the Brella Web App, it means there is something wrong with Brella, and in that case, our Product team will have already spot it as they count with a contingent server monitoring process.
1. My live streaming setup works outside Brella but is not showing in Brella?
This could be for 3 reasons:
The stream configuration doesn't have the embedding option enabled.

Solution: Go back to the Settings page of all the services you are using and enable Embedding.
Embedded streams will work if these have been set as public sharing. Twitch and Youtube can only embed live streams if there are open to the public.

Solution: Solve this by double-checking the requirements for embedding a live stream in the streaming provider's help center.

The viewer has a strong security firewall that doesn't allow them to watch the stream.
Brella servers are down.

Solution: If all of the aforementioned have been checked and the issue persists for longer than 10 mins, please contact us immediately so our team will look into it.
2. My live streaming works outside Brella, but it's showing a black screen in Brella?
This could be for 1 reason:
The Internet connection is poor, and the streaming destination can display the stream in their platform but has not had enough capacity to display it in Brella.
3. Blank bars on the screen (Vimeo)
Those blank bars are coming from Vimeo and the embed code that you add to Brella. To get rid of these blank bars, you can follow these steps:
Go to the Vimeo player and get the embeddable player URL, not the embeddable event URL.

Add this text player URL to Admin Panel, and then add this part after it: "?"

h=0cd4ed64a0&autoplay=1&loop=1&color=00af66&title=0&byline=0&portrait=0

The end URL should be something like this: "

https://player.vimeo.com/video/271224713?h=0cd4ed64a0&autoplay=1&loop=1&color=00af66&title=0&byline=0&portrait=0"
So we are basically adding video parameters, which allow us to customize the embedded video. Vimeo has developed lots of such parameters. The only problem is that these parameters only work for the player URLs, not the "live event URLs", so we would have to find the player URL rather than an event URL and then add the parameter to it.
Here is the article about making video responsive on Vimeo Help Center for more info:
https://vimeo.zendesk.com/hc/en-us/articles/360000710167-Accessing-and-editing-embed-codes (Go to Responsive embeds).
💡 Tip: If you want to use your brand primary color to be displayed on the video player bar, you can do the following:

Replace the bolded part with your brand color from the admin panel h=0cd4ed64a0&autoplay=1&loop=1&color=00af66&title=0&byline=0&portrait=0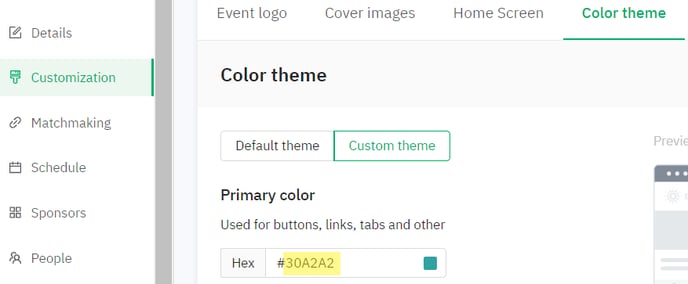 👉 For more parameters' hack tips for streams. Check here.
4. Audio issues
This is due to the audio equipment you are using for the stream.
I cannot hear the audio in the streaming.

There is an echo in the streaming audio.
5. Live Stream delay
Can there be a delay for a live stream to load on Brella?
📖 Guidelines to have at hand before and during the event:
Bookmark this article on your browser during the event.
You can find all the guidelines on how to use the Streams tab in the Admin Panel here.
Find what you need to stream your content in Brella at Streaming in Brella Deck - it includes tips!
Test your stream set up by following the steps in this article. - it also includes tips!
---
Last updated on September 2021.
Written by Stephanie Campano Valenzuela.

If you didn't find an answer to your questions, please contact the Support Team here.

👇