To stream your live stream or video content on Brella, you will need the correct embed link for the Brella iFrame.
To place live streaming or video content to Brella, the only requirement is that the content must be embeddable to be shown in the iFrame. To share this content with your audience, you need the correct embed URL to integrate it into Brella.
What is an iFrame? An iFrame is an element of a website HTML structure that allows embeddable content to be showed alongside other website content.
Content:
It is essential to find the right embed link to Brella, as you can experience troubles with the content showing incorrectly in your event if the link is incorrect.
You most likely have your content stored in a cloud platform or a third-party service provider platform for your stream content. Below you can find instructions on how to locate the correct link from your service provider.
To find the correct embed link for your content in the Streams:


1. Obtain the embed code from the service providers' dashboard where your live streaming will be broadcasted.
We have created a couple of excellent articles on extracting the embed code from Google Drive and Youtube. Still, the best place to find the most up-to-date information is always on the service provider's knowledgebase. We also share some examples later in this article. You can use search terms such as "how to embed XX " and "how to find an embed link from XX."
2. When you find the embed code for your content, it usually looks something like this:
<iframe width="966" height="543" src="https://www.youtube.com/embed/WOKoMHve3lk" frameborder="0" allow="accelerometer; autoplay; clipboard-write; encrypted-media; gyroscope; picture-in-picture" allowfullscreen></iframe>
3. From this code, you will only need the bolded part for Brella, the embed link. Pasting the complete embed code will prevent your content from showing properly on Brella.
4. After you have found and saved the correct link, place the link to the Stream tab and see from the attendee's view how it looks!
Examples on how to find the embed link from Twitch and Vimeo
👉Note! With third-party-related questions such as embedding issues, we recommend turning to the service provider's Help Desk to receive the most up-to-date advice.
How to find and use the embed link from Twitch
Watch the steps in the video below:
❗Note: Twitch is an open Streaming provider, and using its services may show your broadcasted content to the public. If your event requires a more secure streaming setting, please choose another paid platform.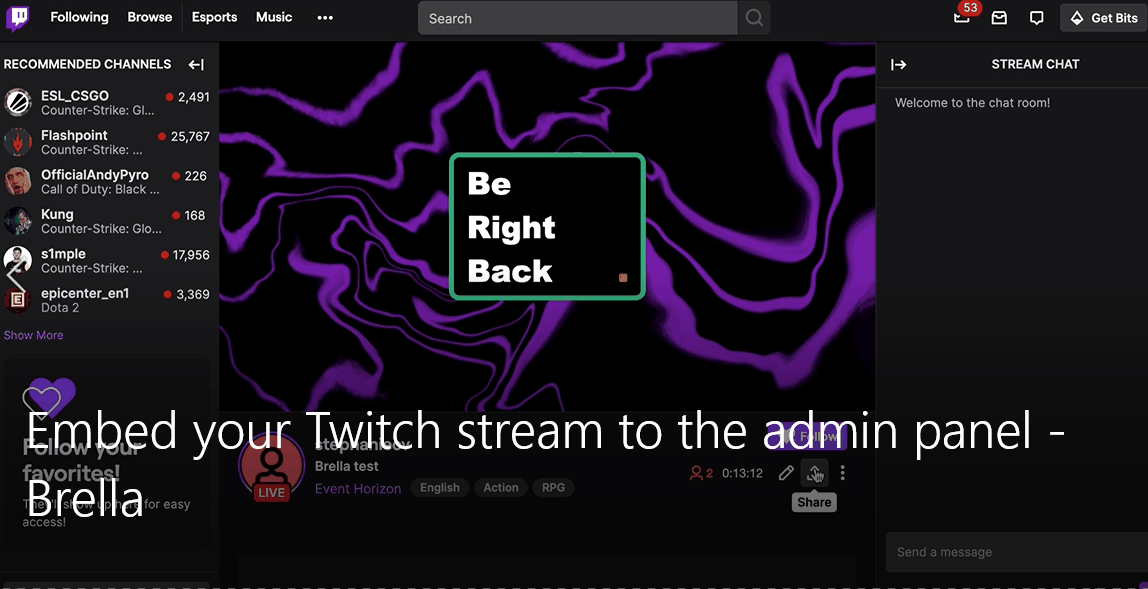 🔍 Atention! If you are using Twitch as a streamer, note that the embed URL should end with *=next.brella.io instead of *=www.example.com. Otherwise, your stream will not display on Brella correctly.
❗Note: Using a free service or open streaming providers as Twitch, may result in showing to the public your broadcasted content. If your event requires a more secure streaming setting, please choose another paid platform.
How to find and use the embed link from Vimeo

Watch the steps on the video below: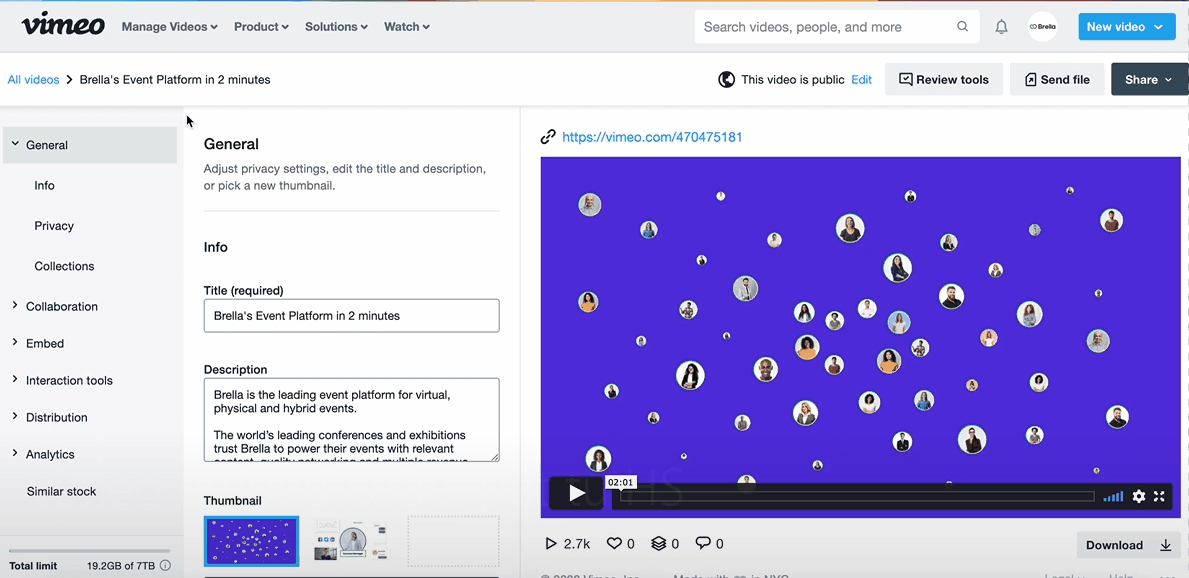 ❗If a pre-recorded video/material is not visible on the stream, it might be that the link added is not the correct one. Review the steps above, and also, you can use iframely to check if it's possible to extract the code's necessary embedded link.
⚡Note: If you're using the Access Control feature. Remember that the live streams or pre-recorded materials will be available ONLY to the groups that have access to it.
---
Last updated on September 2021.
Written by Stephanie Campano Valenzuela.

If you didn't find an answer to your questions, please contact the Support Team here.

👇