Learn how to locate the embed link of a live stream or video content
To be covered
Intro
It is essential to find the right embedded link to Brella, to avoid experiencing issues related to content showing incorrectly in the event that the link is incorrect.
As it is likely that your content is stored in a cloud platform or a third-party service provider platform for your stream content here is how to locate the correct link from your service provider.
💡To place live streaming or video content on Brella, the only requirement is that the content must be embeddable to be shown in the iFrame. To share this content with your audience, you need the correct embed URL to integrate it into Brella.
How to access the embed link:


1. Get access to the embed code from the service providers' dashboard where the live streaming will be broadcasted.
We have created a couple of excellent articles on extracting the embed code from Google Drive and Youtube. Still, the best place to find the most up-to-date information is always on the service provider's knowledge base.
2. The embed code will be content as shown below:
<iframe width="966" height="543" src="https://www.youtube.com/embed/WOKoMHve3lk" frameborder="0" allow="accelerometer; autoplay; clipboard-write; encrypted-media; gyroscope; picture-in-picture" allowfullscreen></iframe>
3. From the above code, copy only the bolded part for Brella - this will be the embed link.
4. After you have found and saved the correct link, place the link in the Stream tab
Examples of how to find the embed link from Twitch and Vimeo
How to find and use the embed link from Twitch
❗Note: Twitch is an open Streaming provider, and using its services may show your broadcasted content to the public. Please choose another paid platform if your event requires a more secure streaming setting.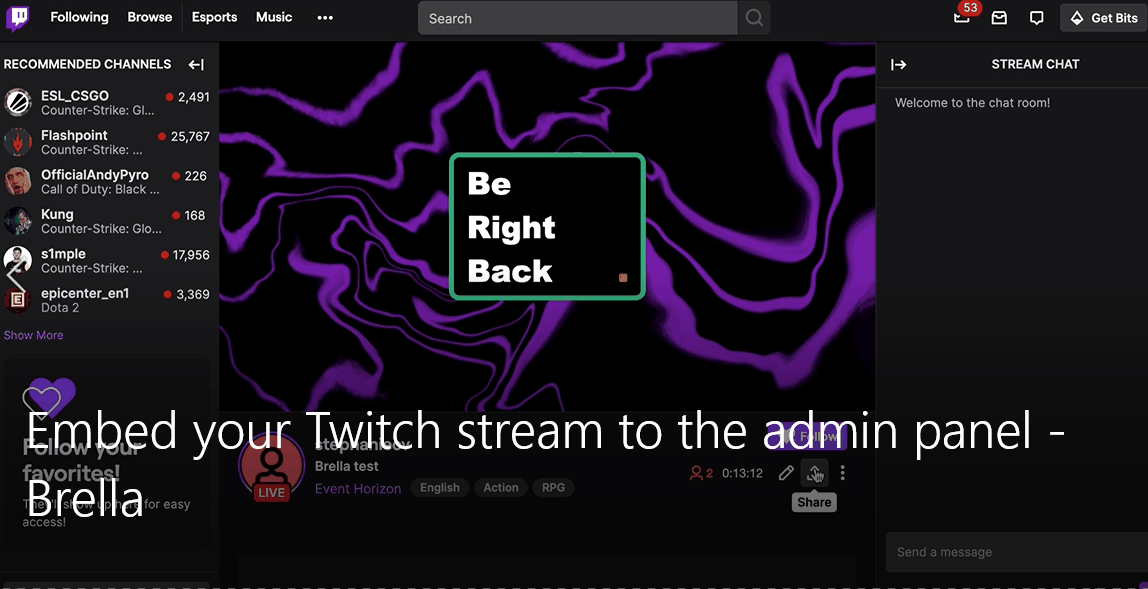 🔍 Attention! If you are using Twitch as a streamer, note that the embed URL should end with *=next.brella.io instead of *=www.example.com. Otherwise, your stream will not display on Brella correctly.
How to find and use the embed link from Vimeo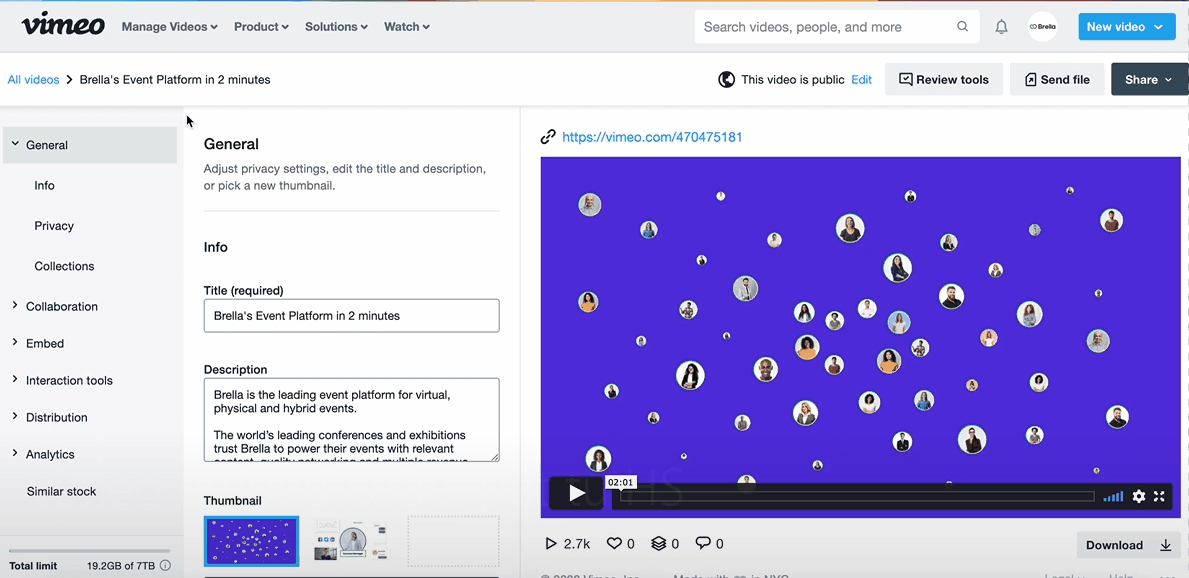 ⚡Note: If you're using the Access Control feature. Remember that the live streams or pre-recorded materials will be available ONLY to the groups that have access to it.
---
Last updated - July 2023.
Written by Purnima Jayasuriya

If you didn't find an answer to your questions, please get in touch with the Support Team here.
👇