Learn the steps and features you can use to build a community of your own. Start by going to the Admin Panel > Communities (manager.brella.io).
This article will walk through the elements that will assemble your community from the ground up.
Contents
💡 If you want to know about the front desk, the member's experience of your community. Go to Communities: Members.
---
1. Setup - How to Edit Your Community Details?
On the Details tab, you can change the name and URL of the community. The URL will be added to the join link which is visible for all members.
You can edit the community logo and cover photo displayed on the community's welcome page on the Customization tab.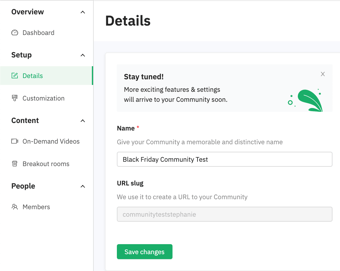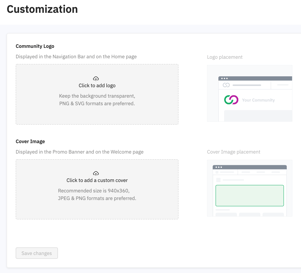 2. Content: Creating on-demand videos and breakout rooms
On the Content tab, you can add on-demand videos and create virtual spaces to gather online with your community through the Breakout Rooms.
📽️ On-demand videos
Click on Add Video button on the Let's build your Community card, so you can add a cover photo for the content.

Give a title to your first on-demand video, add the Embed video URL, and, last, add a short description of the video.

Great! You have created your first on-demand video. 🎉 After creating an on-demand video will show up like the image below.

👉 To learn more about on-demand videos, go to this page.

💻 Breakout Rooms
On the Breakout rooms tab, you can create virtual spaces to connect and meet your community online. Each space has a limit of 100 people.
To learn how Breakout Rooms work, please visit this article. These were written for the events platform. However, they work the same way for Communities on Brella.
👉 To learn more about on-demand videos, go to Breakout rooms.
3. People
On the People > Members page, you can see all the participants who joined your community. Details contain Name, Company, Email, and Date of when they entered.

4. Announcements
Sending instant messages to your audience while the program is ongoing, it's crucial to create attendee-organizer engagement and keep the viewer excited about what's coming next! At Brella communities, you can send instant- and auto- announcements whenever you think it's best!
Learn how to create and edit announcements:
---
Last updated on April 2022.
Written by Stephanie Campano Valenzuela.

If you didn't find an answer to your questions, please contact the Support Team here.

👇