Brella breakout rooms will allow up to 100 people to gather, chat, and connect in a virtual room during your event.
Breakout rooms will take your events to the next level. Your events need to facilitate invite-only virtual rooms controlled by a moderator where participants can join effortlessly, with the breakout rooms is now possible in Brella.
It will not only favor you as an event organizer to provide a better attendee virtual experience but all your stakeholders. Below we tell you how the breakout rooms will impact your events (hybrid, virtual, in-person) regardless of their format.
For you, as an event organizer, the breakout rooms will boost your engagement with all stakeholders—a new opportunity for your partners to interact with attendees inside the platform at all stages without any third-party solutions.
What's more, you can create a Brella breakout room with 6 steps!
Partners, sponsors, exhibitors, this new feature gives a new way to boost product/service awareness, outreach virtually, and the possibility to quickly interact with large groups of potential clients. Additionally, it will be a place to network and discuss topics in a more relaxed atmosphere.
Speakers will facilitate additional discussions/development of the session's topics and networking with an assigned type of audience. It will also be a place to network for private thematical meetings such as Meet & Ask for VIP ticket holders.
By now, you should have a better idea of what the Brella breakout rooms are for and how you can see them; now it's time for you to learn:
👉 Note: We recommend an optimal amount of 12 breakout rooms. You can create more if you need to. Our technical limit is 24.
Let's create a Brella breakout room!
Enable Breakout rooms - Go to the admin panel, navigate the "Breakout rooms" tab, and click Enable breakout rooms.


Create your first breakout room in Brella - Select Create New Breakout room

and start filling in all the required information. Each room has a capacity of 100 participants and has this information to fill in:

R

oom name

D

ate


*The dates of a breakout room are only available within your event's duration assigned in event details.

Time

Cover image (optional)

Description (optional), and

Click on Create Room.

After filling in all the required information, click Save. You have now created your first breakout room. 💡Now, you need to refresh the page to get the Host URL.
Tutorial video


👉 Breakout rooms organization:
The order of appearance of the breakout rooms in your event is determined by the order you create them. At the moment, the order cannot be updated manually. The latest created room will appear first in the listing. Please see the reference picture below: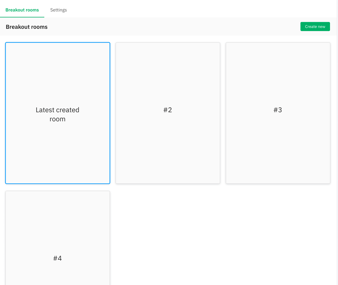 Breakout room URLs
After creating your first breakout room, you will find two generated URLs shared with Hosts (Moderators) and Attendees (Audience).
For Hosts
To get the Host URL for sharing, go to the admin panel (manager.brella.io), select Breakout rooms. Then, select the click on Show Host URL (A), a new window will open, then copy and paste the URL (B) to your email invitation for moderators.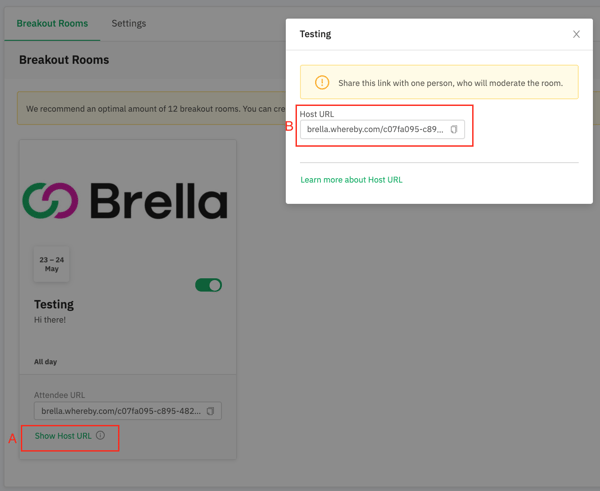 Share the Host URL with moderators ONLY! The limit is 3 moderators per room. For more details on what you need to consider as a moderator, visit Hosting a breakout room in Brella.
For Attendees (Audience)
To get the Attendee URL for sharing, go to the admin panel, select Breakout rooms. Then click Attendee URL, Brella will copy the link to your clipboard, and you can share it with others for testing purposes.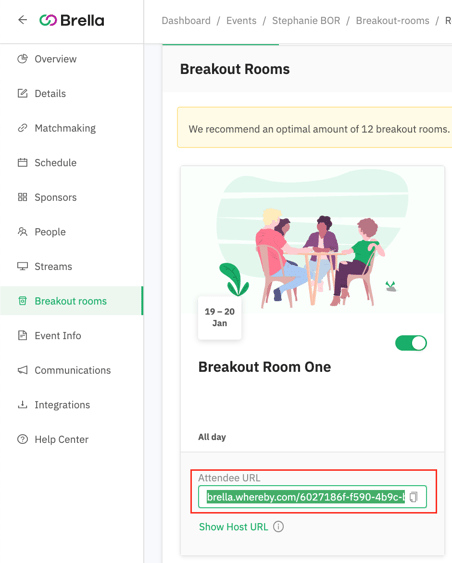 ---
Last updated on May 2021.
Written by Stephanie Campano Valenzuela.

If you didn't find an answer to your questions, please contact the Support Team here.

👇