Learn how to send instant and auto announcements, as well as how to delete or edit existing ones.
To be covered:
Intro
It's crucial to create attendee-organizer engagement and keep the viewer excited about what's coming next. You can send instant- and auto-announcements whenever you think it's best.
Instant announcements
Instant announcements are great for sharing messages at any point in time.
To create an instant announcement, navigate to Communications > Announcements tab. Then, click Create New button to call the drawer.
Next, add the details of the message with a Title, Message, and Link.
Press Send Now to publish the announcement to the audience.
👇 Below, see an example of the announcement in process, and at the bottom side, under Preview, it's how it will look for your audience. The link is clickable.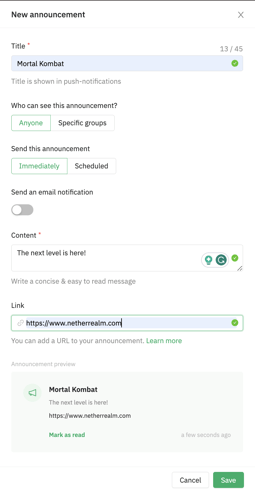 💡 The announcement can be sent to a specific individual in the event or a selected group of people according to the requirement of the user.
Auto-announcements
Auto-announcements are great for reminding members about new content (video) added to the platform. This announcement will be published together when uploading a video.
To send auto-announcements and video uploads, navigate to the On-Demand videos tab and click +Add video.
Fill in all the new content details and switch Send announcement setting on (found under the Description input).
Then toggle Send announcement on, and Brella will form & send a universal auto-announcement to the Community's Web App after clicking Add video button.
👇 Below, see how the new content drawer looks, and at the bottom, you can enable the auto-announcement.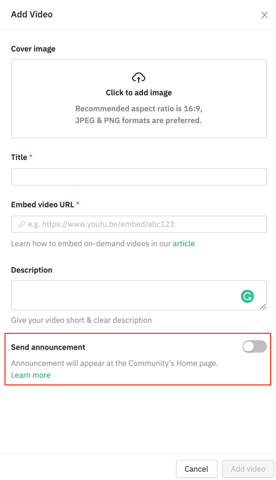 Editing and deleting announcements
Suppose you need to edit or delete previously sent announcements in the admin panel. To do so, click on the announcement card or title to call the edit announcement drawer.
Edit the announcement

Only instant announcements are available in the preview thread in the admin panel, so any edits made to an already sent announcement will only take place if you click Update & Resend button.
This will form & send a new instant announcement with the changes made.

Delete the announcement

The delete button will delete the announcement from the Admin Panel list and remove it from the Notifications list in the web app (next.brella.io).
👇 Below, see how the new content drawer looks.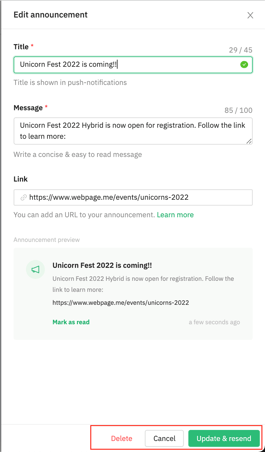 ---
Last updated in August 2023.
Written by Rajinda Wijetunge.

If you didn't find an answer to your questions, please get in touch with the Support Team here.

👇