Learn how the ticketing page can be set up to highlight the event schedule, sponsors, and speakers.
To be covered:
Intro
Once you have completed the essential information for the ticketing and registration in the admin panel and Stripe, you can now focus on the appearance and content displayed when a participant lands on the registration page. This last part is connected to multiple sections of your event in the admin panel.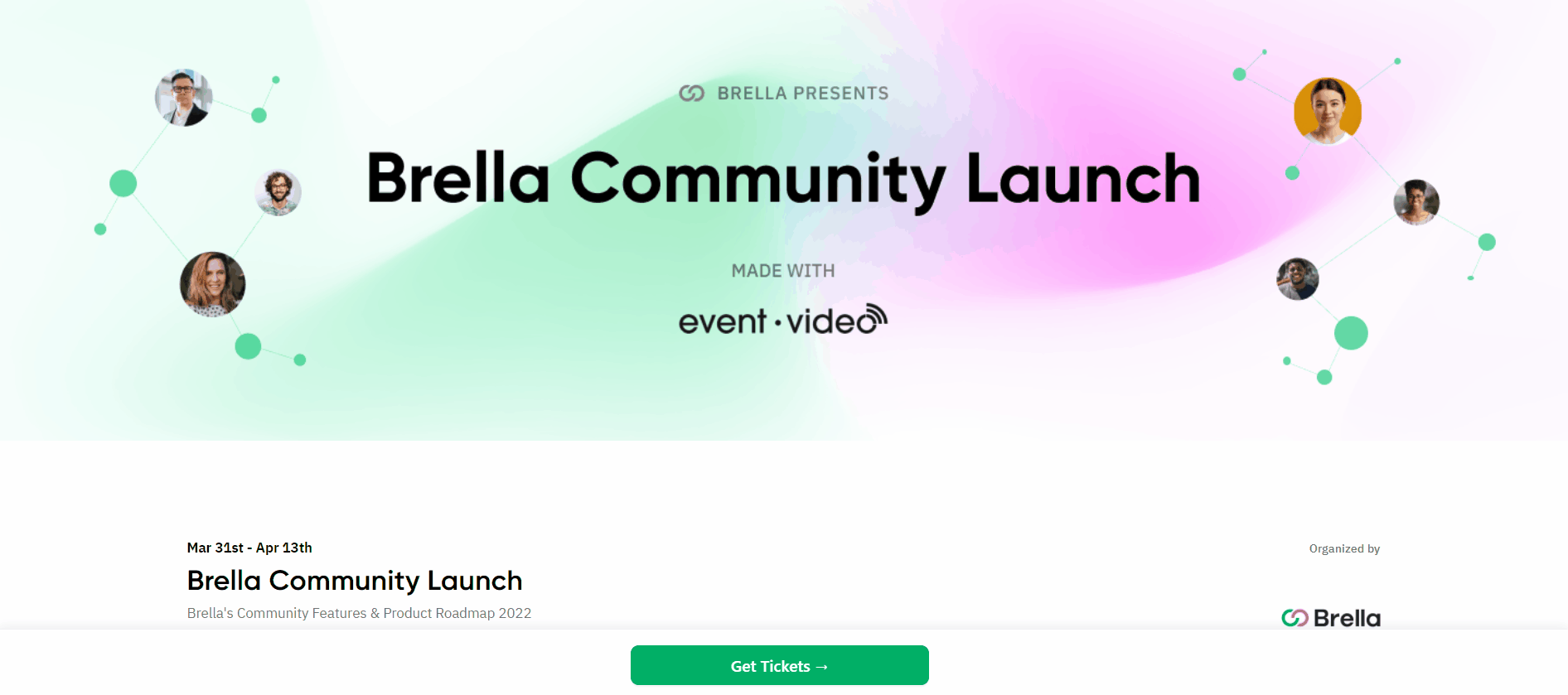 To make the most out of the registration page, let's check which parts of the admin panel are customizable and required for a complete registration page design.
Appearance and content linked with admin panel
Organization logo

if not updated, upload as guided below

Click on the 'Settings' tab on the left-side panel

Add the company logo

Social Media links

Add the social media links to allow sharing your event after a participant purchase a ticket on the registration page. You must create them first, following the instructions for Social Media Links here.

Afterward, you can insert the links on the Ticketing tab of your event's admin panel.

Registration page banner

making a good impression for your event marketing and design is the banner to use in promotions. The registration page in Brella also uses such images to create a more significant visual impact. Banner setup details can be found here

Schedule

The Schedule is linked automatically to the registration page. It is best to have it completed before publishing the registration page.

Speakers

Speakers can be displayed on your event registration page only if selected. You can highlight all speakers or specific ones, such as Keynote or Guest speakers.

Go to the admin panel > People tab > Speakers subtab:

1. If you haven't uploaded the speaker info. You can either fill in one profile at a time or in bulk.

2. Once the profiles are uploaded, click 'Edit profile' on the right side of the speakers' list next to the profile

3. Under the basic information, you'll find the option for 'Highlighted' and 'Position'

Click the check box to highlight the speaker.
Select a position where you want to place the speaker, from left to right.

Sponsors

Same as the schedule, Sponsors are by default shown on the registration page if the tab is enabled, with the only difference that only the logos and category of the sponsorship are displayed.

Privacy Policy and T&C
The last section and one of the most important that we highly recommend adding are the corresponding links of your company or event's Privacy Policy and Terms & Conditions.

You can add the links on the admin panel > Ticketing tab > Registration page subtab > 'Privacy policy & Terms of use' section at the end of the page.
❗Important:
If Privacy + T&C links are not added, a general text will show e.g.: " I agree to terms of Brella"
If Privacy + T&C links are added, a customized text will be shown e.g.: " I agree to Terms of use & Privacy Policy of your company name"
Great job on successfully setting up your event registration page!
This will now be visible to the event attendees over the shared registration page link shown in your admin portal-ticketing-registration page.
---
Last updated - July 2022.
Written by Natasha Santiago.

If you didn't find an answer to your questions, please contact the Support Team here.

👇