Learn what you can do in the Schedule tab. Start creating your agenda with slots, add a theme and location tag to each session. Once ready, add your Brella schedule to your website!
Let's start building your event schedule! For that, we will first need to activate the schedule page for your event.
Go to the admin panel (manager.brella.io), select Schedule from the menu bar. When prompted to activate the schedule, choose Activate schedule.



Creating the Schedule
Now you have two options to create the first draft of the event agenda. You can create the schedule:
by adding slots to create meeting slots and content slots.

Meeting slots are time slots for networking purposes. These slots will show the networking availability shown by you, the organizers. Learn how to create these here.
Content slots are slots for the sessions occurring during the event duration. These slots are mainly used to explain what a keynote, workshop, a panel discussion is about. Learn how to create these here.

In a content slot, you cannot only add all the details of a session, but you can add a live chat and integrate digital materials in the sidebar panel to interact with the audience. For instance, you can add Polls or Surveys.

In a content slot, you can add an embedded URL in the Stream field that will present session information more visually. Also, you can integrate visual help as a live stream, presentation, pdf, etc.
⚡You can always update the Schedule via the import/export file before the event starts. Once you have invited participants to join the event and start exchanging meeting requests, it's recommended to edit the agenda manually. You don't delete unwanted information such as Speakers' assignations, images, and scheduled and pending meetings by the participants.
Using Tags & Locations
While creating the schedule, ensure to use the theme and location tags that will help the participants filter the schedule content in the platform. These details will also help you guide participants in the right direction when attending a session or discussion, etc.
If you are hosting a virtual event, it'll be worth having a look at this article.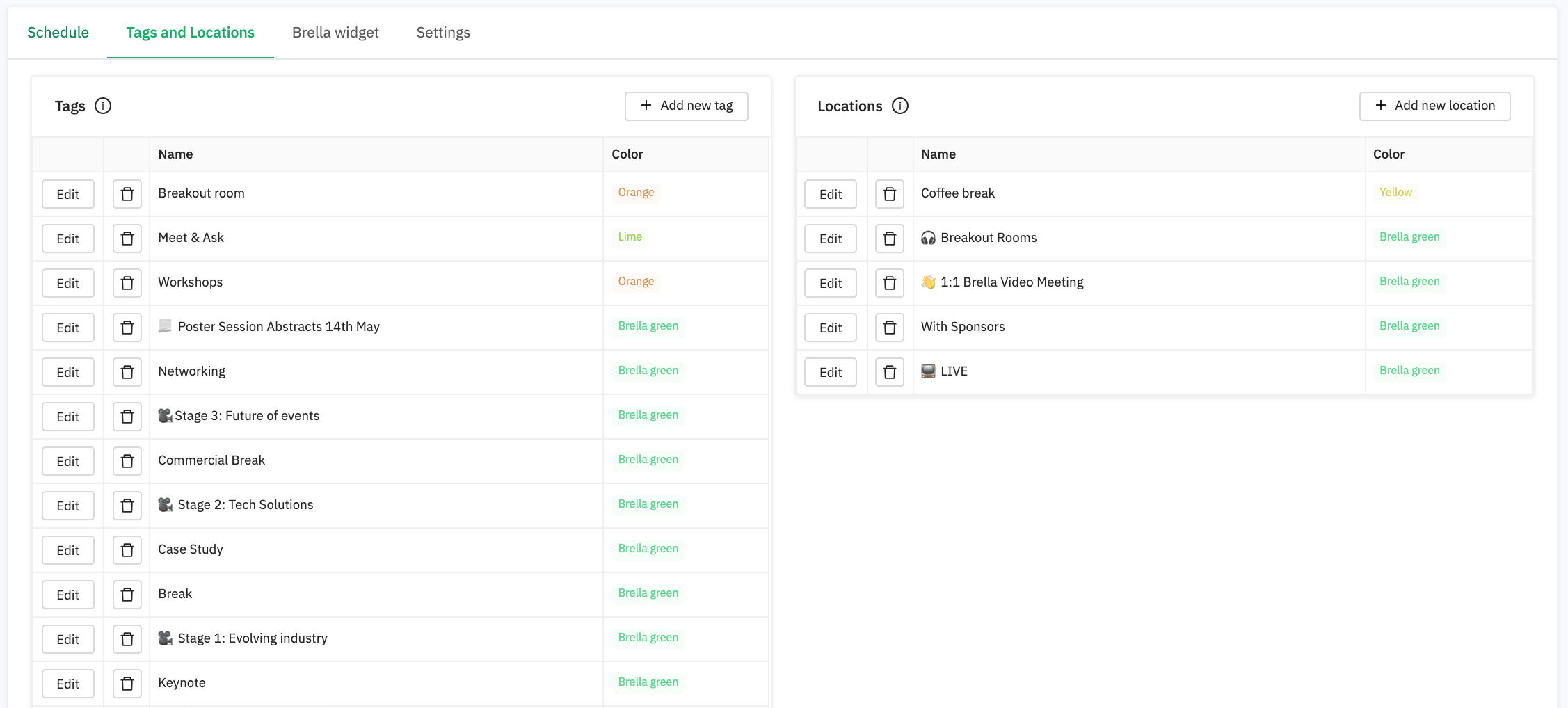 Schedule Widget
Brella widget is a special tool that you can use to display your event's agenda from Brella's Admin Panel to your website. Learn here how to add your Brella Schedule to your website!
⚡Note: When making updates to your agenda, you will need to do those just once on Brella's Admin Panel (manager.brella.io), and the updates will be synchronized on both the Brella app and your website.
Schedule Settings
You can find the options to modify the Schedule features under Settings. In this section, you can:
enable/disable the Schedule page from your event,
export/import the schedule in a csv file,
enable/disable Chat for all content slots (sessions), and
enable/disable Tables (only for in-person & hybrid events).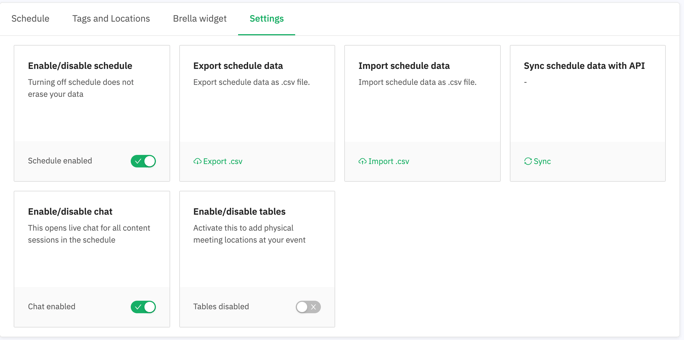 ---
Last updated in May 2021.
Written by Stephanie Campano Valenzuela.

If you couldn't find an answer to your questions, please contact the Support Team here.
👇