Learn how to take and test your Brella virtual meeting.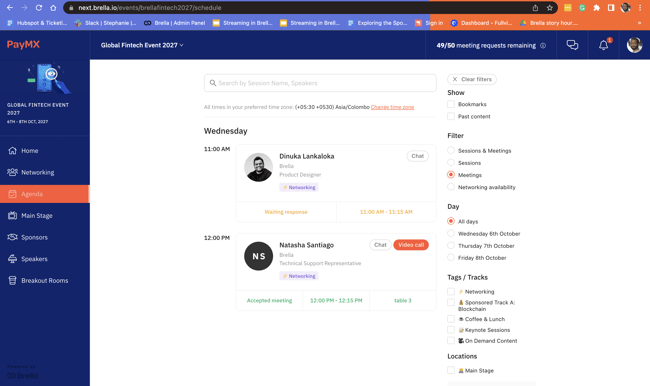 To be covered:
Intro
As soon as one meeting request is accepted, Brella will create a virtual meeting room for you. This meeting room will allow you and +3 colleagues or partners to gather and chat with the other party. You can test the Brella meeting before the meeting occurs.
Test your computer setup for a virtual meeting
1. Setting up your device for a Brella event:
First, ensure you have the right browser support for Brella's virtual meetings.
Brella virtual calls work on all modern browsers such as Google Chrome, Mozilla Firefox, Edge, and Safari. But it works best with Google Chrome.
Enable the basic requirements for virtual meetings. Allow video and audio on your browser settings; see how to do it here.
As with any other video call platform, Brella's virtual meetings require a good and stable internet connection.

❗If you cannot open the meeting room (video call) or see the chats are not working, it's likely your computer has strong security firewall restrictions blocking Bella's features. Please fix these issues by following these steps.

With this setup, you are almost ready to go! Now, let's see how meetings work per event format and how you can invite others to your meeting.
2. Let's start testing!
Go to your Messages. Click on the messages icon on the right top side of the platform. Select the chat with the accepted meeting.


If you are attending an event with hybrid settings: in-person and virtual access. You will have two options to join the meeting. a) Attend in person at the venue and b) Attend virtually via a video call. The meeting details are in the chat.

You can attend a meeting in Brella by finding your table number in the venue's Networking Area.


Find the table number, time, venue map, and date on the top side of the chat.



Joining the meeting through the Brella virtual meeting room (a video call in Brella).

Find the time and date on the top side of the chat.


There is a link in the bottom right corner that allows you to invite others to your Brella meeting room. You can invite up to 3 people max. (These participants will need the right device setup).
By clicking on the bottom left corner icon, you can share your screen with others.


Now, let's check the technical elements are working properly.👇
3. Test audio, video, and chat features to get acquainted.
Let's test the microphone and camera by clicking on the icons and selecting the right devices in use:


When activating the mic and camera. Make a sound, and a green bar will appear indicating the volume frequency, and your image will be shown on the screen.

If there is no green light appearing, double-check what microphone is in use and if Brella can access your microphone in your computer settings.


Check the chat shows as available. If it says Chat is offline, please visit this article.
4. Almost ready- important details to know.
The Brella meeting room will close a couple of days after the event ends and can't be accessed anymore.
You will receive a notification 5 minutes before the meeting starts. Therefore, we recommend enabling notifications in your account settings before the event day. We show you how to do it here!
If you are having difficulties, let's go through the basic troubleshooting steps for Brella Meetings. If the issue persists after following the aforementioned steps, please contact us.
5. You're set. Happy Networking!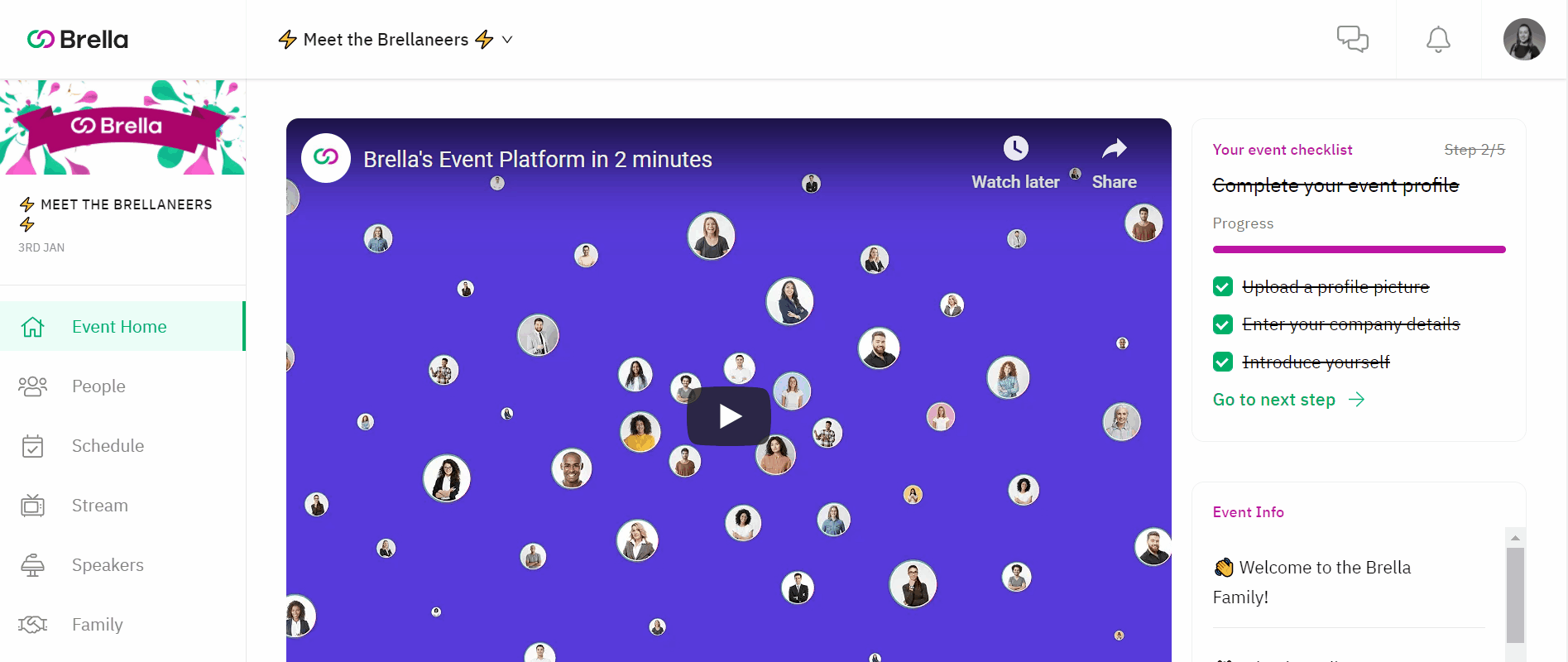 Great job! Now you can successfully test and prepare for a Brella virtual meeting.
---
Last updated on August 2023.
Written by Rajinda Wijetunge.

If you didn't find an answer to your questions, please contact the Support Team here.
👇