Learn how to generate tickets through stripe.
To be covered:
Intro
To use the ticketing and registration feature from the Brella platform it's required to integrate a payment processing system. In this case, Stripe is the current integrated platform into Brella to enable the process of ticket sales for your event and data collection and the registration forms.

To get things started, below, you can find information on how to create a Stripe account, use it and the transaction cost.
Creating an account on Stripe
If you don't have a Stripe account, you can create one either from their website before proceeding to integrate with Brella or at the same time while connecting the dashboard through the Integrations tab in the admin panel.





Follow the steps below to create your Stripe account:
Go to Stripe and create an account filling in the first basic steps (email, full name, location, password)
Click "Create account"
You'll be redirected to the main dashboard of your Stripe account
Click "Activate account" - A verification email will be sent to the associated email. Check your inbox, click "Verify-email-address" and wait until the page refresh by itself. You'll see a little text at the bottom of the page that says "✅ email@emaildomain.com is confirmed"
It'll take you back to the dashboard home page - Click the blue-button "Next" to fill in the business information

Note: have the tax and banking information at hand. It's required to complete your stripe account and activates it. Otherwise, it won't work when creating valid tickets for your events.

Activate the two-factor authentication to assure your account's security and save the backup code from Stripe
After completing the information requirements, click 'Confirm'
Automatically, you'll be redirected to the home page. A confirmation email will be sent by Stripe after submitting your account information.
👉 Important: For further information about Taxes and how such apply to your ticket sales, please check Stripe's knowledge base.
How to explore the Stripe dashboard
The Dashboard offers a simplified workflow to manage your business. Access the most relevant tabs to handle your payments, reports, and customer information within a click.

In this section, we'll go through the three most relevant tabs of your Stripe dashboard for the correct use with Brella's ticketing and supervise your account's payment flow.
Home tab provides useful at-a-glance information about the activity on your account. A wide range of real-time charts provides insight into the performance of your business.
The payments tab offers information on the transactions on your Stripe account. In the case of ticket sales, you'll be able to see the Succeeded, Refunded, Uncaptured, and Failed payments (status). By clicking on each of them, you can see individual detailed information.


Inside the products tab, you'll find the most relevant functionalities to make the ticketing and registration work altogether with Brella. Here you can create your ticket type, discount codes, or coupons and attribute a tax percentage.

Create a paid or free ticket

Once the dashboard is connected to Brella, is time to create your tickets.

Paid tickets
The paid tickets refer to any price range or category you'd like to enable for your event. For example, VIP, Media, Standard, Student, Virtual, Premium, etc.
Go to your Stripe Dashboard
Click the 'Product' tab and next click on 'Add a product' to create your ticket
Fill in the Product information (ticket description)
Set a price in the Price information (ticket pricing - no taxes included)
Click 'Save product' at the top-right.


❗Important: Taxes can be enabled to the products separately by clicking the 'Tax rate' subtab from the left-side menu.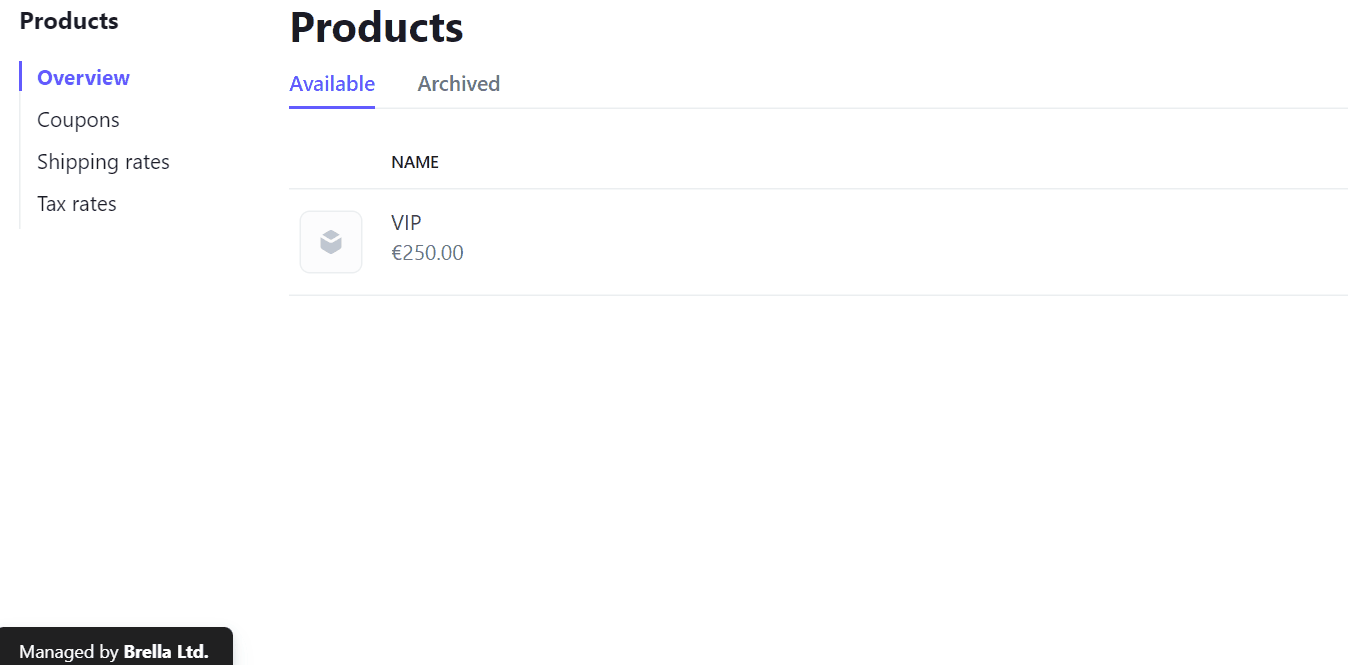 👉 Rate information:
*Inclusive tax is part of the price. For example, if the price is €600 and you set an inclusive tax rate of 10%, the invoice total will still be €600.
*Exclusive tax is applied on top of the price. An exclusive tax rate of 10% on a €600 price will result in an invoice total of €660.


* Extracted from Stripe support website for Inclusive and exclusive tax options in the tax rate
Free tickets
The process to create free tickets is the same as for paid tickets, with the difference that the price information should be zero.
Go to your event Stripe Dashboard
Click the 'Product' tab and next click on 'Add a product' to create your ticket
Fill in the Product information (ticket description)
Type zero in the Price information
Click 'Save product' at the top-right
👉Note: Taxes does not apply to price zero products even if you have a tax rate active on your Stripe dashboard for other tickets types.
❗Important: Prices in Stripe cannot be changed after the product/ticket has been purchased once or more times. You can rather archive the product and create a new one on the dashboard with a new price, or use discount coupons.
Pricing & fees
As with many other processing payment platforms and integrations, Stripe and Brella, to legally proceed with a ticketing system, some fees apply, in this case, for each transaction. The cost can be broken down as follows:
Brella Service Charge: 2%
Stripe fees: 2.9% + 0.30$ (the 0.30$ portion varies based on the organizer's country) No additional usage fees are levied.
❗Important: the price of a product in Stripe should either be equal to 0 or more than a certain limit depending on the currency (e.g. for EUR it should be more than 0.50 EUR). To check the minimum amounts in your currency, go to this article: here.
💡 Note: Stripe supports +135 currencies. Only one currency is supported per ticket type, however multiple currencies can be supported for the event.
Well done! You are now aware of how to navigate and setup details within Stripe.
We wish you all the very best for a successful event ahead!
---
Last updated - July 2022.
Written by Natasha Santiago

If it didn't answer your questions, please contact the Support Team here.

👇