Learn about matchmaking and the purpose it serves.
To be covered:
Intro
Brella Matchmaking is based on Artificial Intelligence recommendations. It allows attendees to select detailed interests and intents to make meaningful connections. Matchmaking is the core feature to facilitate pre-determined meetings at your event.

Let's walk through the main aspects of this feature and how you can make the most of it for your events. Let's get started! 🚀
Matchmaking vs. Networking
Networking is the second main reason people attend events. Enabling efficient networking possibilities is essential to facilitate high-quality conversations at your event. Before doing that, you need to understand Matchmaking and Networking and why Matchmaking is so important for your audience.
Networking is about casual encounters where one doesn't need to know whether someone has the same interests as you.

Matchmaking gives criteria to participants to check and filter why they should meet with someone at your event.
How does Matchmaking work?
The Matchmaking is based on Artificial Intelligence (AI) recommendations that help organizers facilitate meaningful connections for participants at an event. With the intents at Brella, you can help participants, including sponsors, find the right person to talk to through Intents ➡️ Goals.
A participant will get to choose multiple matchmaking categories pre-selected by the organizer during the registration process.
During the registration process, a participant will choose interests within the categories and determine their goals based on the four intents Brella has. After selecting the intents, Brella will suggest connections to them accordingly.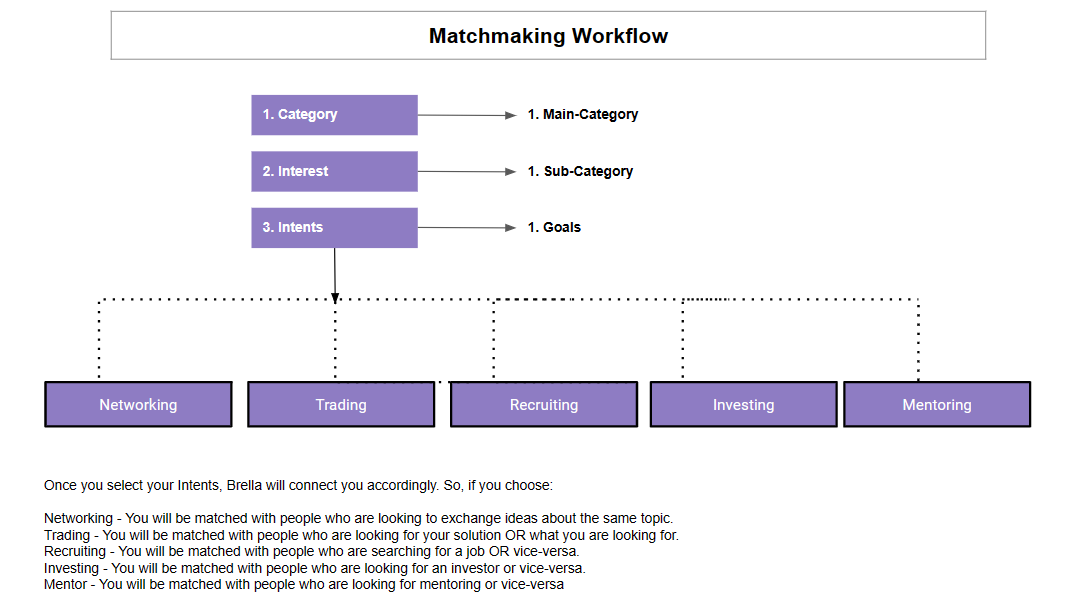 Defining Matchmaking Categories, Interests & Intents
We know how Matchmaking works and what its components are, let's dive into what it means and how you can create them.
Categories are the broad topics that your attendees will network about.
Examples are Marketing, Financial Services, or Engineering.
Interests are more detailed or specialized topics that are related to the category.
For instance, Interests under the Marketing category could include Social Media Advertising, Content Marketing, Event/Experiential Marketing, Digital Marketing, etc.
Intents define the goals your attendees want to achieve with each interest they select. You can choose from four intents: Networking, Trading, Recruiting, Investing, and Mentoring (new). Find some examples of how to use these at your event.
The more event-specific your matchmaking categories and intents are, the more efficient your audience's networking experience will be. The self-teaching mechanism will ensure the best networking experience based on your attendees' engagement, match, and other levels.
Brella's matchmaking consists of three components:
Attendees select a broad category that interests them, say "Accounting, Finance & Insurance"
Within that category, they choose relevant interests: "Accounts Payable/Receivable," "Content Marketing," etc.

For each interest, they choose their intent: "networking", "trading", "investing", "recruiting", "or mentoring".

The intents currently understood by our matchmaking AI are networking, trading, investing, recruiting, and mentoring.
How to create matchmaking categories?
After going through the informative aspect of Matchmaking, you can go full hands-on and start creating a categories list for your event.
You can create the categories in 3 ways:
👉If you don't know where to start, opt for one of our 16 templates.

Choose the one that fits your event industry best. Double-check the pre-selected Intents (Goals) and whether these align with your event goals. Feel free to come back and add more interests.

Create matchmaking categories from scratch or with a template





👉 If your event is unique and you want to facilitate specific categories and interests, opt for creating the categories in a spreadsheet file.

📖 Creating & editing your matchmaking categories in a spreadsheet (csv)

👉If you opted for any of the options mentioned earlier, and you still would like to add new categories and interests as your event develops, you can manually add them with a file.
Where is the matchmaking list displayed for attendees?
Attendees Select Interests and Intents During The Event Onboarding Process
After creating an account on Brella or clicking on the event join link, Brella will prompt the attendee to start the event onboarding experience.
One step during the onboarding experience is to select matchmaking categories where the user needs to choose the categories, interests, and intents for the event.
If attendees opt out of networking as shown below, they don't have to complete the matchmaking step.
🎯You can control the opt-out networking feature by enabling it on the Event Details.
Limitations
The matchmaking feature cannot be unused or hidden. It is a mandatory feature to use at Brella.
Intents: Networking, Trading, Recruiting, Investing, and Mentoring are not customizable.
Great job on understanding the importance of matchmaking. You can now proceed to set up matchmaking for your event by following these steps.
---
Last updated in July 2023
Written by Yusra Mohideen

If you didn't find an answer to your questions, please contact the Support Team here.

👇