You can create your matchmaking categories, interests, and intents through the Admin panel.
You have two options of how to create matchmaking categories for your event - create them manually through the Admin Panel or upload a .csv list. This article will explain how to create them manually in the Admin Panel.
Select your intents
Click on Matchmaking from the left side menu. After you select "Start matchmaking", you'll see the screen below to select your event intents.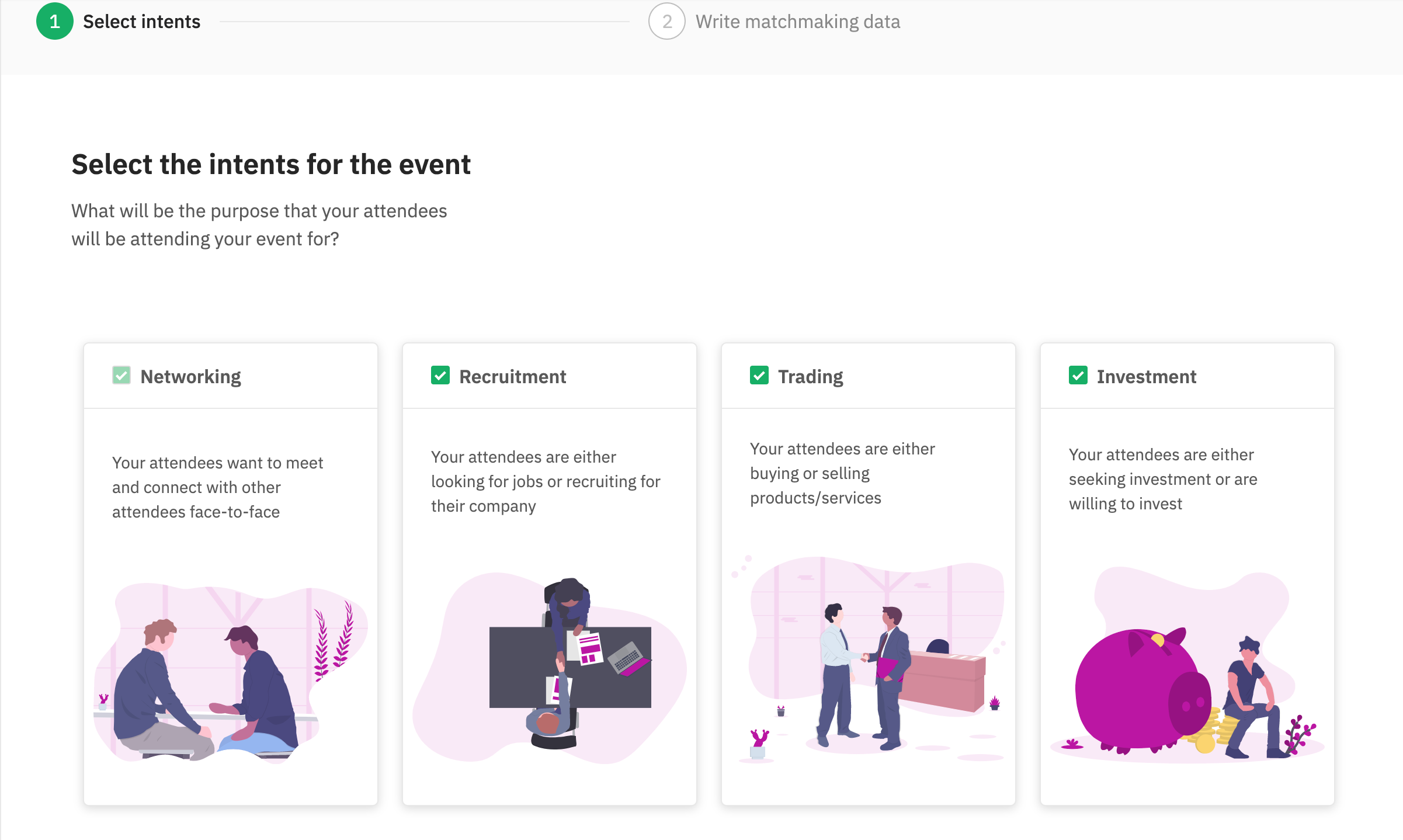 Think of intents as the goals your attendees want to achieve at your event, or their purpose for attending. You can choose between 4 intents:
Networking - general networking
Recruitment - looking for a job or offering a job
Trading - looking to buy or looking to sell
Investment - looking for investors or looking to invest
These intents help your attendees find the best potential people to meet. Attendees who are looking for a job related to interest will match with attendees offering jobs related to that interest, and so on. These intents ensure more relevant matches for your attendees, increasing their satisfaction at your event.
Choose all the intents that apply, then select Proceed in the bottom right.
Defining categories, interests & intents
Before we start writing our matchmaking data, let's talk about the different sections of Brella's matchmaking.
Categories are the broad topics that your attendees will network about. Examples are Marketing, Financial Services, or Engineering.
Interests are more detailed or specialized topics that are related to the category. Interests under the Marketing category could include Social Media Advertising, Content Marketing, Event/Experiential Marketing, Digital Marketing, etc.
Intents define the goals your attendees want to achieve with each interest they select. These will include the intents you defined in the previous step.
When writing your matchmaking data, always start with the category, followed by the interests in each category, and finally the intents for each individual interest.
Writing your matchmaking data
To write your matchmaking data, start at the Category column.
Select the '+' icon to add a new category, which will be titled 'Main Category'. Select the edit icon to change the name.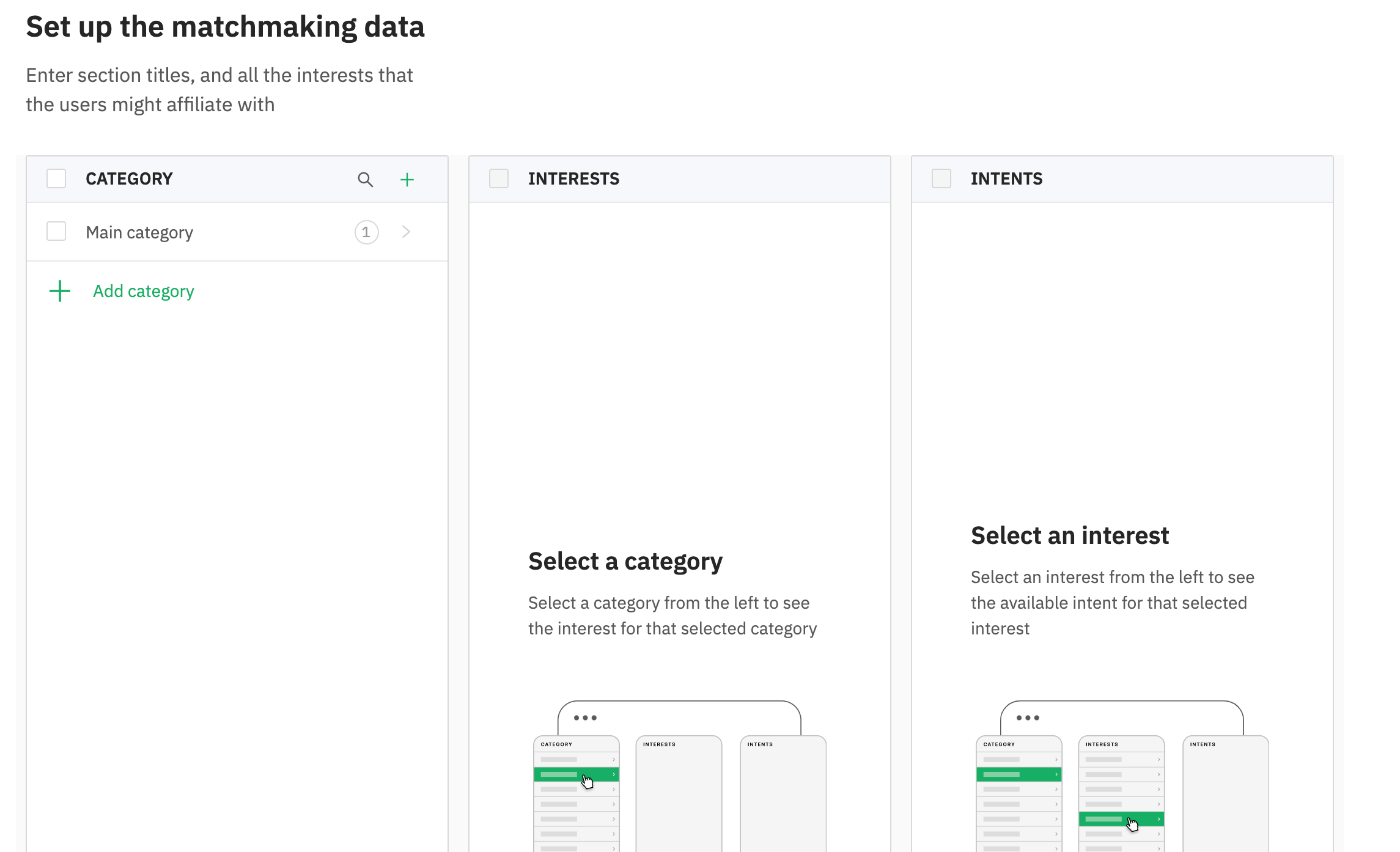 Tip! If you struggle to come up with categories, start with the main themes of your event. Then write related topics as interests.
Once your category is created, then you can create your interests. Select your category to show the interests, and add them in the same way.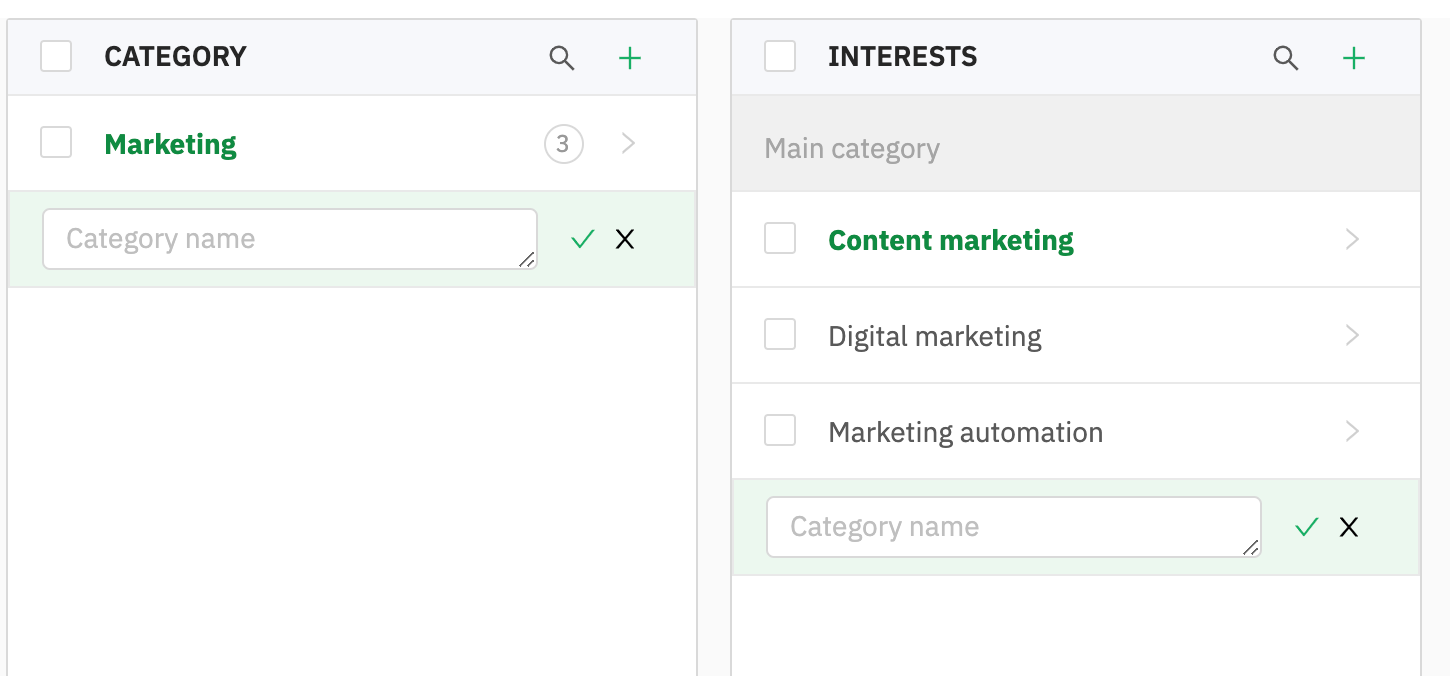 Then, for each interest, you can select individual intents, or click the top box to select them all.

Tip! Take time to consider what your ideal attendees hope to achieve at your event. This will help select the best intents for each interest. But choosing them all is never a bad idea!
You can add as many categories as you like, as well as as many interests within each category as necessary.
Once you're satisfied with your matchmaking data, select Proceed and you're done! When your attendees join your event in Brella, they can use the categories you've created to complete their profile and start meeting the right people.
You can add or remove categories and interests at any time, as well as changing the intents.
Note: Main categories aren't shown in the attendee profiles, so ensure your interests are self-explanatory.
For example, if an attendee selects 'Content marketing' from the 'Marketing' category, their profile will show 'Content marketing', not 'Marketing'.
Once you've added your matchmaking categories, take a moment to relax. You're well on your way towards giving your attendees an incredible networking experience!