Add your event speakers to Brella and match them with their keynote or session in the schedule.
In this article, we'll cover these topics:
Adding & editing speakers
In the admin panel, navigate to the 'People' tab and find the 'Speakers' tab. Then click 'Activate' and start adding your speakers by clicking on '+New speaker.'
For each profile, you can add these details:
Honorific
First, middle & last names.
Title & company name
Photo
Biography
Once you're finished, press Save. Your speakers will be shown on the Speakers' list and will get to be seen by attendees as soon as you click 'Save.'
🔍 Note: Only the first and last name is required, but we recommend filling out as much information as possible for each speaker.
You can edit their details at any time by selecting the 'Edit' icon on the speaker you want to edit.

⭐ Tip: We recommend adding all speakers first before creating your schedule or adding speakers to your agenda.
After adding all your speakers, you can add your schedule and find all your speakers in a neat list when creating different content slots.
If you already have a schedule created, proceed to the next step to learn how to match them with their respective keynotes.
Linking speakers to the schedule
Navigate to the Schedule tab and then to the content slot you want to attach your speaker to. (Learn how to create your schedule here.)
Search the speaker on the left-hand side, press Select, then choose their role. You can choose a pre-made role or write your own.
You can add as many speakers as necessary, as well as any number of roles.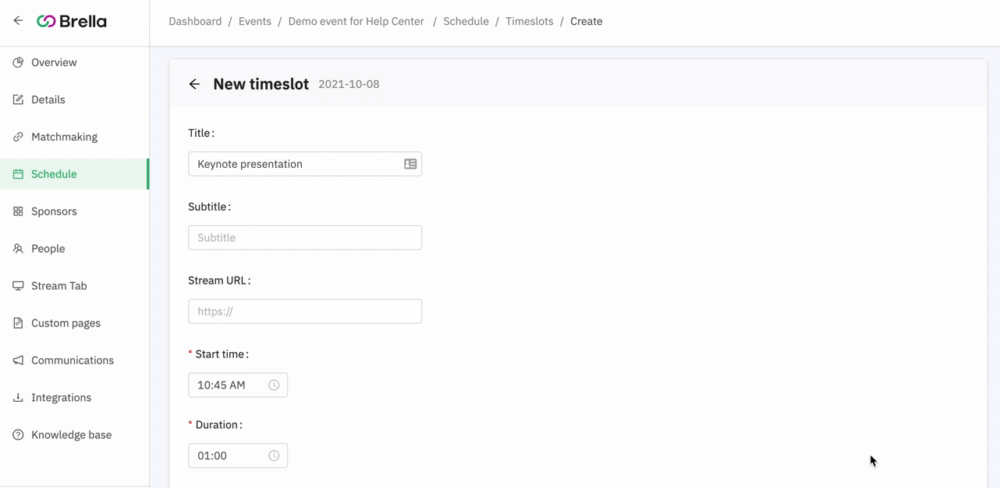 💡 Note! Speaker details can only be edited from the Speakers tab (on the People tab). We recommend adding all speakers before adding them to your schedule.
If you notice that your speaker's information is incorrect or your speakers change, you can edit them in the speakers' tab (see here). Any changes you make will reflect in your schedule too.
Where speakers are displayed in Brella
Participants can find the speakers in two places:
in the dedicated Speakers tab from the main navigation:
from the Schedule card on the sessions that the speakers are linked to: