Create your virtual schedule from the "Schedule" tab. Add meeting slots and content slots with stream links and also add tags and locations to these to help attendees find what they're looking for.
Activating your schedule
To begin with, choose "Schedule" from the sidebar. When prompted to activate the schedule, choose Activate.
For virtual events, the "Tables enabled" toggle should be kept as it is, so switched off. This feature is only needed when you have an in-person event with a networking area for holding face-to-face meetings.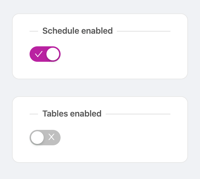 This article will cover how to create a schedule within the Admin Panel, but we have also created an article on how to import a schedule by using a CSV file.
Note: If you haven't added any speakers to Brella yet, we recommend going back and adding them before you create your schedule. This way you can link each speaker to their session in the schedule while you are creating the speakers' sessions.
Adding content slots with stream links
Let's start by adding content slots: your keynotes, panels, sessions and more. Click + Add new slot in the top right corner. At the top of the new screen, choose Content slot.

Add the stream URL for this specific content slot. This might be a webinar link, live stream URL, a link to the speaker's personal video call room, a link to a pre-recorded video, etc.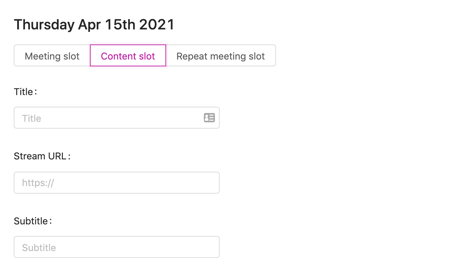 Add all the basic information for your content session, such as:
Title
Start & end times
Location and tags: Click here for additional tips on using tags and locations in virtual events.
Speakers: Select which speakers should be linked to this content slot. Click here for instructions on how to add speakers to Brella.
Content description
Once you're done, select Save and create new slot to continue creating slots, or Save to return to the schedule overview.
Adding meeting slots
Having pre-defined meeting slots at your virtual event makes it easier for attendees to schedule meetings between each other during these specified times. These meeting slots are dedicated networking times that setup within the schedule. When the attendees find someone they want to network with within the Brella app, they will suggest a meeting time based on these slots.
Note: Remember to enable meeting slots under the "Details" tab. If you have not enabled meeting slots in the "Details" tab, attendees will be encouraged to decide on a custom meeting time through the app's chat function.
It is up to you to decide how many networking slots will be available to the attendees. For virtual events, we recommend having networking slots available throughout the entire event, as attendees might be joining the event from different time zones.
There are 3 important things to select:
The start and end times
The duration of an individual meeting: The most common networking meeting lengths are between 15-30 minutes. If you're unsure of how long or short they should be, that's a great start.
Location / tags: We recommend having either a tag or location that indicates where the meeting will take place. Click here for additional tips on using tags and locations in virtual events.
To create back-to-back meeting slots, choose "+ Add new slot" from the "Schedule" tab and then select Repeat meeting slot: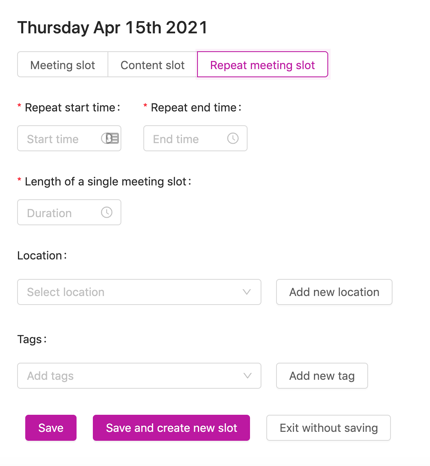 When choosing to have 15 minute repeating meeting slots from 10-11 AM, your schedule will look like this in the admin panel: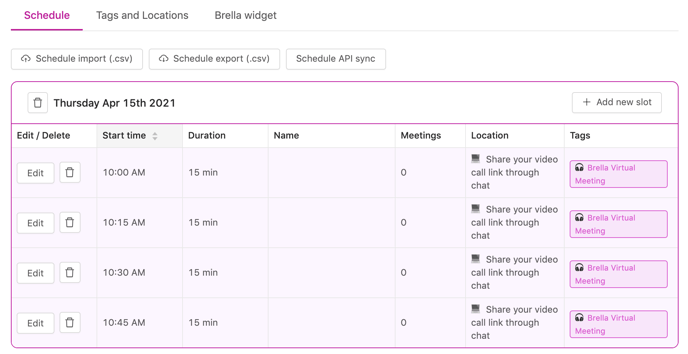 To create individual slots, select Meeting slot. See below for an example: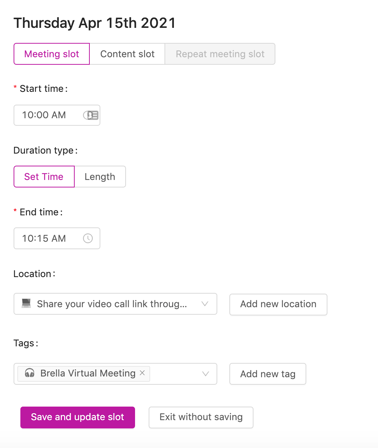 Congrats! Your schedule is now ready for your attendees to use.
Related articles