Learn how to execute at the event like a pro sponsor, and ensure good ROI.
To be covered:
Opt-in to Networking
Being available for potential connections allows attendees to contact you first and quickly.
Completing your profile during the registration process will allow you to network with early birds, be one of the first ones to connect with relevant people, and have more chances to increase your visibility on the first page of the Attendee list.
Opt-in networking during the event registration:

You can still opt-in for networking after you initial setup:
Build Strong Profile
Don't rush your profile! Make sure the information is accurate. Keep your introduction dynamic and interesting. Use background image to represent yourself.
Choose your matchmaking categories carefully. This way you'll get matched with the right people.
Make sure to include correct intents that will impact your meetings & business conversations post event. For example, trading might be the best fit for you!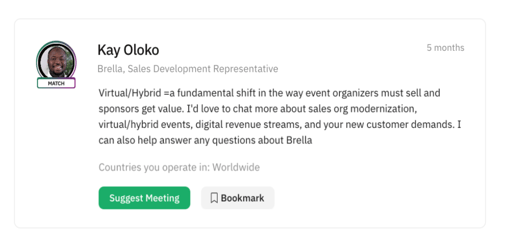 Tip: You can edit your profile by navigating to the top right corner profile icon or by navigating to Home page:
Filter Attendee List
When using filtering feature on people tab, choose relevant interests and the goal that the person you're looking for is offering or looking for.
👉 For example, you're an event organizer looking for 'Matchmaking solutions' for your virtual event. At Brella, you can find who is offering this solution and are interested in networking about this. To find who can help you with your quest:
Go to the People's page and click on Filter on the right upper side of the page.
Select the Interest or the closest one to the topic you're searching for, i.e., Matchmaking solutions, in this case, then choose as a goal: offer or sell this.
Click on Show results, and Brella will show you all the people offering or selling this interest at the event.
Send 1:1 Meeting Requests
Be active! Use open chats and your event's checklist!
Engagement is key for attendees to notice you as both great individuals and the company's representatives. For that, make sure to be active in all open chats and drive people to your booths.
Check your booth regularly for new messages. The attendees must get answers to their questions about your services.
Always customize your meeting requests. Think about what's relevant for the attendee you want to meet with? Why would they want to meet you?
---
Last updated on July 2022.
Written by Aynur Atayeva.

If you didn't find an answer to your questions, please contact the Support Team here.