Being a sponsor at Brella gives you the possibility to stand out among others. Follow these 5 key actions to become a pro sponsor!
Content
In a nutshell: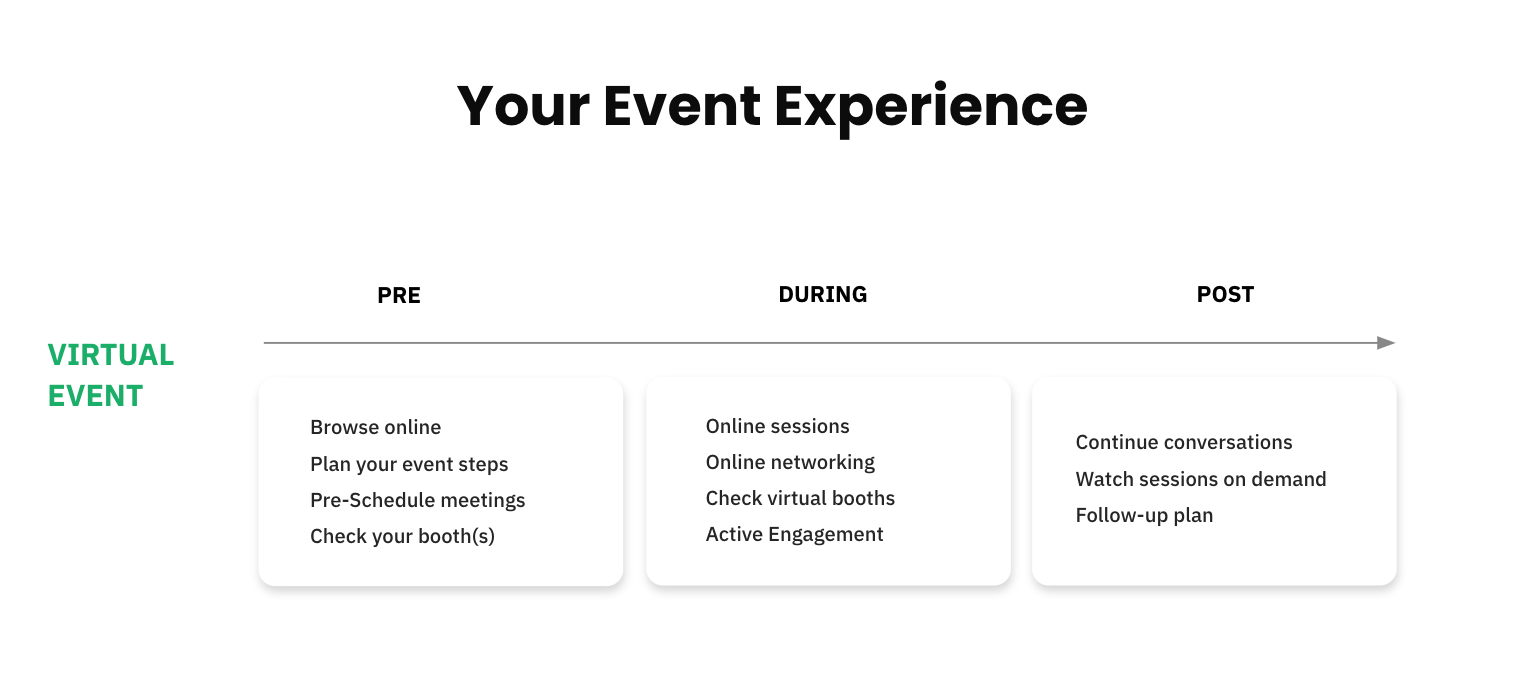 1. Opt-in networking during the registration 💪
Being available for potential connections allows attendees to contact you first and quickly. You can opt-in
during the registration
or before the event starts.
Completing your profile during the registration process will allow you to network with early birds, be one of the first ones to connect with relevant people, and have more chances to increase your visibility on the first page of the Attendee list.
2. Creating a strong profile 👤
Share with others who you are and what you're interested in networking about! While creating a profile, consider the four steps below and get familiar with Brella.
Be you! Make sure the information is accurate. Keep your introduction dynamic and interesting.

Choose your matchmaking categories carefully. This way, you'll get matched with the right people.
After joining the platform, please familiarize yourself with your company's booth and check whether you are linked to it.
Start booking your meetings before the event day. This gives you enough time to get prepared!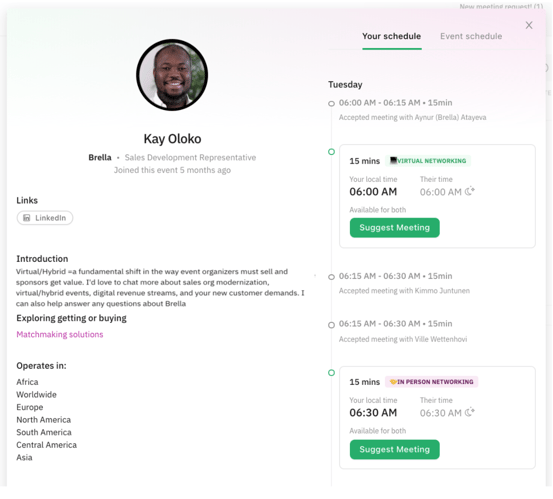 3. Use the attendee list filter and find potential SQLs, partners, investors, employees, etc. 🗝️
When using this feature, choose relevant interests and the goal that the person you're looking for is offering or looking for.
👉 For example, you're an event organizer looking for 'Matchmaking solutions' for your virtual event. At Brella, you can find who is offering this solution and are interested in networking about this. To find who can help you with your quest:
Go to the People's page and click on Filter on the right upper side of the page.
Select the Interest or the closest one to the topic you're searching for, i.e., Matchmaking solutions, in this case, then choose as a goal: offer or sell this.
Click on Show results, and Brella will show you all the people offering or selling this interest at the event.
4. Be active! Use the booth chat and your event's checklist ✅
Engagement is key for attendees to notice you as both great individuals and the company's representatives. For that, make sure to be active in all open chats and drive people to your booths.
Check your booth regularly for new messages. The attendees must get answers to their questions about your services.
Always customize your meeting requests. Think about what's relevant for the attendee you want to meet with? Why would they want to meet you?
👉 You can use the Brella chat on your PC or mobile as well
💻 Web app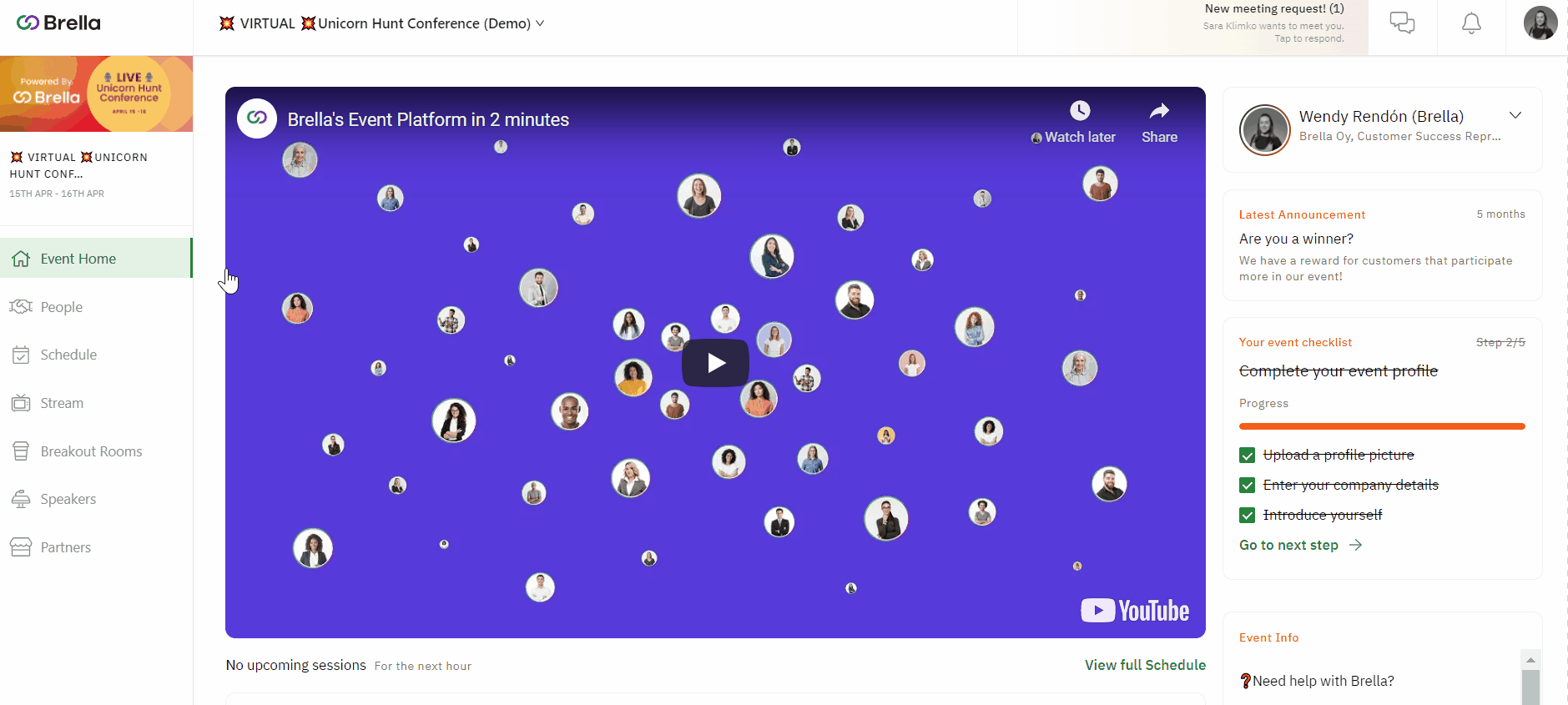 📲 Mobile app
5. Plan an attendee engagement strategy with your team 🏆
Make sure that only one team member from your company approaches an individual prospect. Only one! You don't want them to receive multiple meeting requests from the same company.
🔑Determine Why are you at the event?

Brand awareness, lead gen, or thought leadership?

🔑Determine 'How many meetings the team/representative will have at the event?'

Allocate responsibilities accordingly.

🔑Communicate internally throughout the event days.

Whom did you meet with? How did the meeting go?

🔑Communicate internally throughout the event days.

Whom did you meet with? How did the meeting go?

🔑 When receiving a meeting request from a fellow attendee, check the invitation carefully:
Who are the matches?
What is the background of the attendee?
Check the message of the meeting request.
When you see that the request is right and meaningful for you, Accept the meeting request. If not, please take action accordingly.🔑Have a follow-up plan - Don't leave the prospects hanging!
Be creative! Think and challenge yourselves; how can you get more out of your presence at this event? How can the given community/audience learn more about you?
Do not lean back and wait at your booth! Use your both personal and company strengths and implement those at the event.
---
Last updated in December 2021.
Written by Wendy Rendón

If you didn't find an answer to your questions, please contact the Support Team here.

👇