Learn how to take and test your Brella virtual meeting. You can test a meeting only if you have at least one.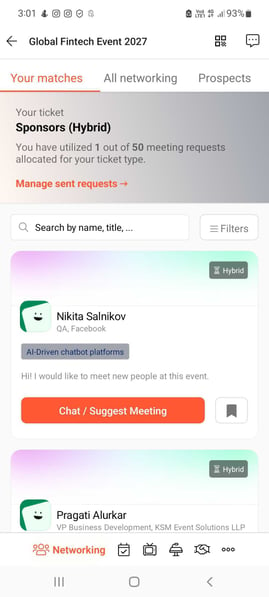 To be covered
Intro
As soon as one meeting request is accepted, Brella will create a virtual meeting room for you. This meeting room will allow you and +3 colleagues or partners to gather and chat with the other party. You can test the Brella meeting before the meeting occurs.
Test your mobile app set up for a virtual meeting
✅ 1. Setting up your device for a Brella event:
As with any other video call platform, Brella's virtual meetings require a good and stable internet connection. Make sure you're connected to stable and secure Wi-Fi or mobile broadband.
Make sure your mobile device is charged.
Make sure you have your notifications enabled for the Brella app, this way you won't miss any important info.
If you wish to use headphones or such during your call, make sure they are correctly connected to your device.
With this setup, you are almost ready to go! 🚀 Now, let's see how meetings work!
✅ 2. Let's start testing!
Did your meeting request got accepted? Great! 🙌
Now you can navigate to the Brella app and to the People tab.
You will find your meetings on the top right corner of the Brella mobile app by pressing a small chat bubble icon.


Navigate to a meeting you would like to test and press '💬Meeting/ Chat'- button
If both parties have accepted the meeting, a virtual call button will appear to the chat.

To test the video call enter the meeting room by pressing the 'Join video call' button. You will be next prompted to allow permission to mic and camera.



After you have given permission, you will be directed to the meeting room. You can then test that your video is showing correctly.


✅ 4. Almost ready- important details to know.
You will receive a notification 5 minutes before the meeting starts. Therefore, we recommend enabling notifications in your account settings before the event day. We show you how to do it here!
The Brella meeting room will close a couple of days after the event ends and can't be accessed anymore.
If you would like to invite your colleagues to join the conference, please follow the instructions for the web app.
If you are having difficulties, let's go through the basic troubleshooting steps for Brella Meetings. If the issue persists after following the aforementioned steps, please contact us.
✅ 5. You're set. Happy Networking! 🤝🚀
Great job! Now you can successfully test and prepare for a Brella virtual meeting.
---
Last updated on July 2023
Written by Yusra Mohideen

If you didn't find an answer to your questions, please contact the Support Team here.

👇