Learn how to sign into Brella successfully by using the mobile application.
To be covered
❗Note that some events are hosted at Brella with a different join link (other than next.brella.io). Please read carefully what link or app you need to log in to join the event.
How to sign into Brella via the mobile browser application
Follow the steps below 👇
To sign in to Brella, first create an account:

Go to next.brella.io on your mobile browser
Click on sign in
Select your signing method and enter your email address
It will take you to the page to fill in the details and create a new account for you.




Once you have an account, log back into Brella any time through the📱mobile browser app.

💡You need a join link or join code to join the event. Each event has a specific join code. The event organizer will share the join code/join link in the registration or confirmation email 📫

❗Brella cannot share any join code with any participant due to privacy policies. Please contact the event organizers immediately if you've lost your join code/link.
How to sign into Brella via Google Playstore on the mobile application
Follow the steps below 👇
Go to the Google Play store on your mobile phone.
Type in Brella Oy or company host on the search option.
You will see the Brella logo/icon on the search option.
Download the application onto your phone.
Search for the Brella application on your mobile device.
Follow the signup instruction on it.
Now you can use the Brella application on your mobile device.
👉 Note: You can access Brella on the web app (next.brella.io) or mobile app (Apple Store or Google Play). If you are attending a virtual event, we recommend using the web app.
This is how the event will be displayed in the Brella Mobile App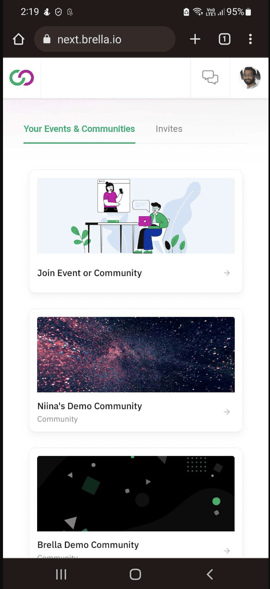 Afterward, click the link of the event invitation again and go through the join process as usual.
Great job! Now you have successfully created your Brella account and joined your first event.
Requirements to access Brella
Have the latest version of the browser of your choice.

Brella works on all modern browsers, preferably Google Chrome, Mozilla Firefox, and Safari.
The DuckDuckGo browser is not supported. If this is your default browser, please change it to Chrome while using Brella. ❗

Have the latest version of the Brella App on the web and mobile.
Last updated in August 2023
Written by Yusra Mohideen

If you didn't find an answer to your questions, please get in touch with the Support Team here.

👇