📖 Mobile App | Android & iOS
Mobile App: Edit my account
Learn how to create your Brella account and edit.

Editing my account profile on the mobile application
You can change it from two places
1) from your Account icon and
2) on the More page.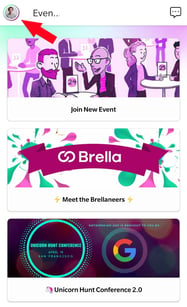 ➡️ On the mobile app - Option A
Log in to the mobile app with your Brella credentials.
Click on the account icon with your picture in the top left corner (press the back arrow until you see it).
Edit your information.
Press Save Changes at the bottom.
Your Account is updated.
➡️ On the mobile app - Option B
Go to the Brella App. Then, go to an event of your choice.
Once in the event, select More from your event page in the bottom-left.
Select Edit your Profile and then select Edit my account information.
Change your information.
Select Save Changes from the bottom.
Your Account is updated!




If you want to create a Brella account, please go to Signing in to Brella for the first time
☝️ Note: If you need to edit your interests, introduce yourself, or go through the registration process, go to your Profile.
Great job! Now you can successfully edit your Brella account.
---
Last updated on July 2022.
Written by Rajinda Wijetunge.

If you didn't find an answer to your questions, please get in touch with the Support Team here.
👇