Learn what kind of analytics you can get from Evmux in Brella.
To be covered:
Intro
If you've placed stream content from Evmux into the admin panel, you can extract extensive viewing data for each stream individually. You can use this data to see the engagement of your content.
Live Stream Analytics Through Evmux in Brella?
When embedding live streams from Evmux in Brella, you'll be able to view the traction your event content received during and post-event. On the Analytics tab, you can see attendees' visits and duration at specific times and dates.
Additional demographic data can also be found to help you understand the Stream's traffic better. See more below.
Where to Find Analytics
Navigate to Streams > click on Analytics > click on Stream Activity.
Click on the arrow under Stream, and on the right side, under Showing for - select a time and date.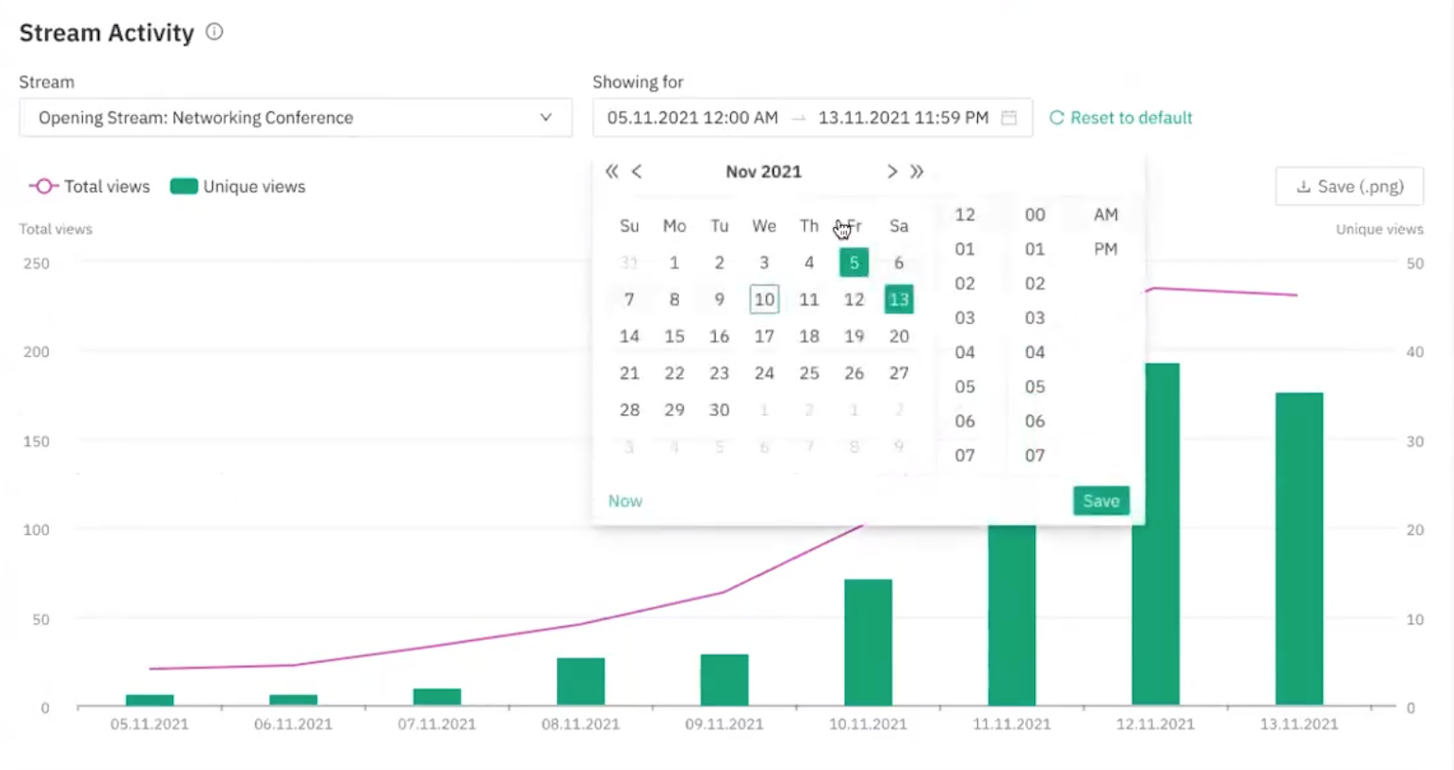 Next, you'll see two metrics: Total Views (purple line) and Unique Visitor views (green bars) for the selected period.

Hovering over the chart will open a pop-up with the total views and unique views for a particular day/hour.
Total views: the total number of visits to the stream tab selected.
Unique views: the total number of unique visitors on the stream tab selected.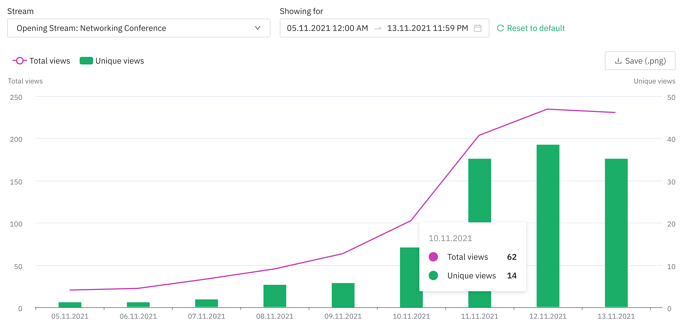 📷 Save (.png) button create a screenshot of this graph that you can use to share with others.
Details on Stream Analytics
You'll see a number of traffic analytics available from your Streams on Brella.
In particular, you will see the following metrics:
Total unique viewers
Average watch time
Viewer's top selected interest
Viewer's top selected intent
Further down, organizers can view a list of the viewers who spent the most time on a particular stream — and this list can be exported as CSV. This will help organizers identify attendees who gravitate toward a specific stream/topic.
This information can also be helpful to sponsors who might be interested in targeting some of these leads.

To learn how to read and understand the visitor's stream information, we have created two different articles to help you understand how to read and analyze the data for your streams.
See here:
❗Read more about stream analytics here.
---
Last updated - July 2023.
Written by Rajinda Wijetunge.

If you didn't find an answer to your questions, please get in touch with the Support Team here.
👇