Learn how to link representatives to a sponsor booth
To be covered
Intro
Sponsor booths can be set up with multiple representatives and be linked to their respective booths automatically and manually. When visiting a sponsor profile, participants can see all people representing this specific sponsor at the event and whom they can contact if they have any questions regarding their solutions.
---
Automatic linking
Automatic linking will happen only if a participant provides a company in their profiles that include the company's name or has a part of a company's name in the sponsor virtual booths of the event precisely.
For example, if the sponsor is called Brella and the participant puts their company as Brella Ltd, the linking will happen automatically.
However, if the sponsor is called Brella Ltd, but the participant puts their company name as BrellaLtd, the linking won't happen automatically - due to space.
If the participant changes the name of their company, the automatic linking will detect it and link the participant to the sponsors. The automatic linking also works if the sponsors' booth is added after the participant has entered the event.
Participants can also get linked automatically to another sponsor by changing their company name during the event. Once they change their company name, they won't be unlinked from the previous sponsor. Therefore, they can be linked to multiple companies. As the unlinking will not happen automatically, you can remove representatives from booths manually.
---
Manual linking

If the automatic linking to sponsors' booths won't work in your event, you can always add sponsor representatives manually. Manual linking is done through the Admin Panel. By going to the Sponsors tab, you can link or unlink representatives of a particular sponsor.
To add a sponsor representative to the right booth:
Navigate to the Admin Panel - sponsor's tab
Select the sponsor and click to edit it.
Navigate to the Representatives section.
Click Add representatives and select the wanted representatives, or you can also unlink them by pressing Remove next to a particular representative.
There is no limit to the number of representatives per booth.
👉 Note: The order in which the Reps will appear goes according to your selection, meaning that if you would like to have someone at the top of the list, you must add them to the last. You can do it manually following these steps:
Remove all the Reps from the booth
Add them in the order you desire one-by-one
---
Where are Representative profiles displayed?
💻 On the Web app

They are shown on the lower side of the sponsor booth.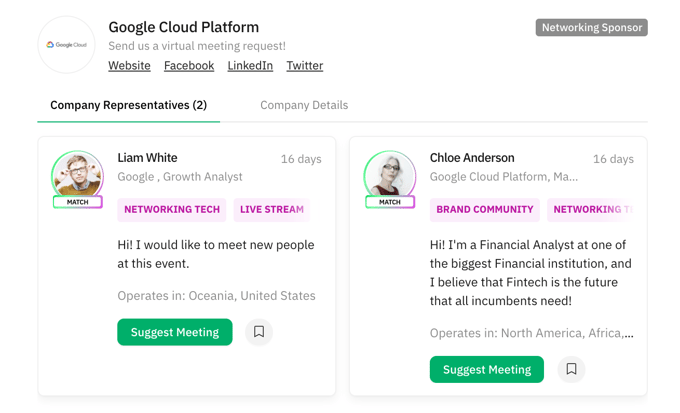 📱 On the Mobile app
They are shown once you open the sponsor booth and navigate to Company Reps.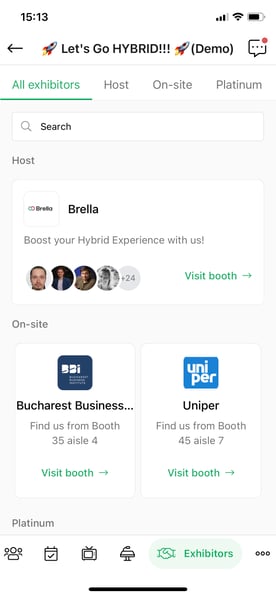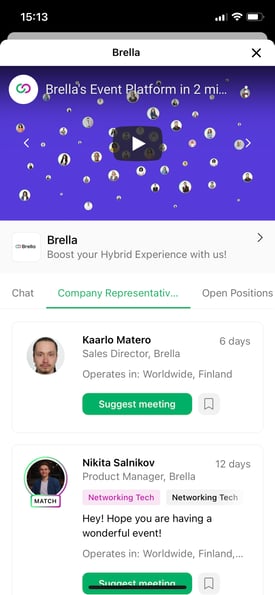 ---
Last updated - July 2022.
Written by Natasha Santiago.

If you didn't find an answer to your questions, please get in touch with the Support Team here.

👇