Learn how to add event speakers and match them with their keynote or session in the schedule.

To be covered
Add speaker profiles

Navigate to the admin panel - 'People' tab - 'Speakers' tab.
Click on '+New speaker.'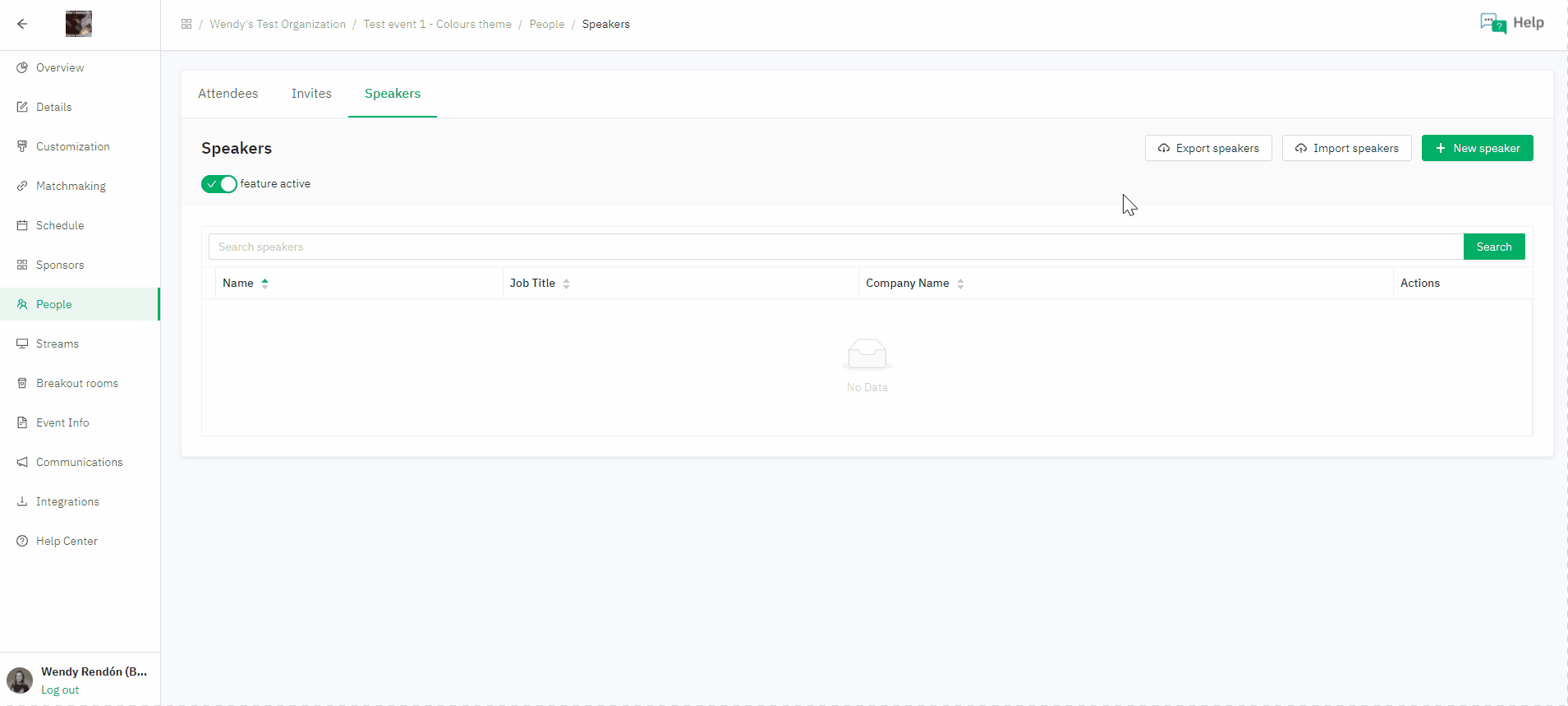 3. Update the fields and Save.
Your speakers will be shown on the Speakers' list and be visible to all attendees.
* To learn how to import speakers with a CSV file click here
Edit or Delete speaker profiles

If you need to update speaker profiles:
Navigate to the admin panel - People - 'Speakers' tab
Find the speaker you wish to edit.
Click edit profile next to the name
Make the necessary changes and click 'Save'
To remove the whole profile, click on 'Delete' directly from the speakers' list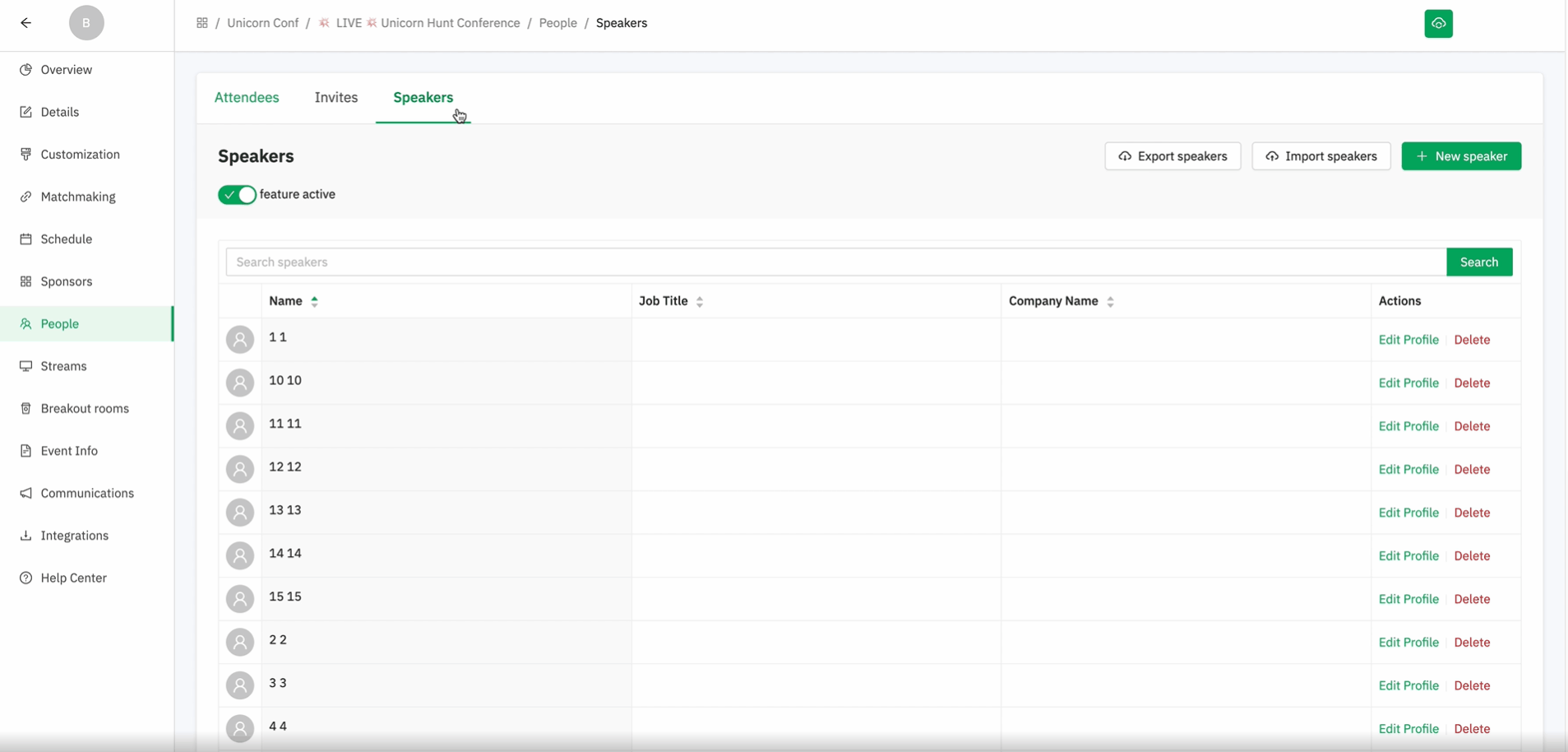 Sort Speakers
You can sort your list of speakers from the admin panel by clicking on Name, Job title, or Company name and they'll be displayed in A-Z alphabetical order.
You can see 50 speakers per page
By default sort the data by the First Name Ascending A -> Z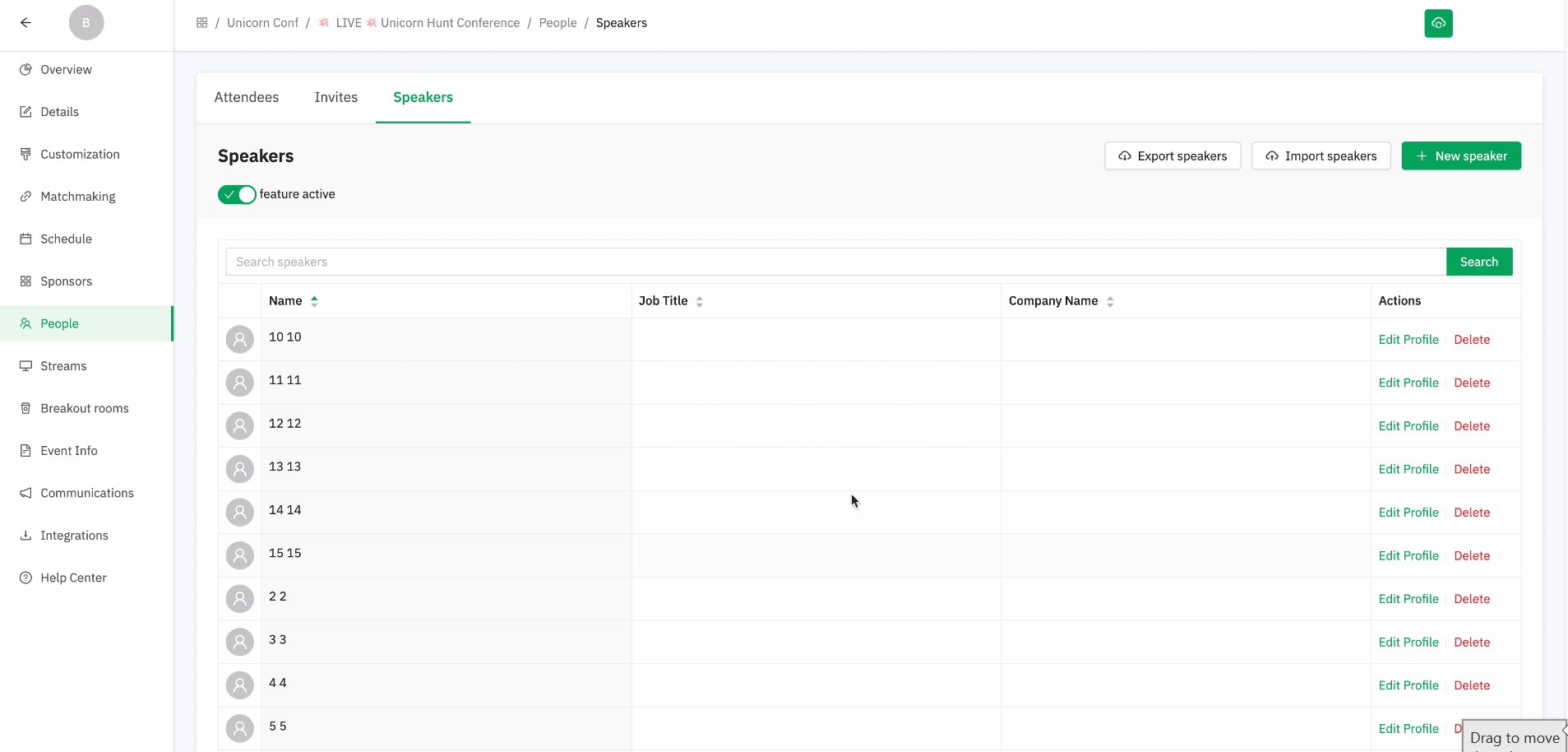 Link speakers to the schedule
Navigate to the Schedule tab - the content slot you want to attach your speaker to. (Learn how to create your schedule here.)
Scroll down to the speakers segment
Search the speaker on the left-hand side, press Select, then choose their role. You can choose a pre-made role from the dropdown given or write your own in the slot and save.
You can add as many speakers as necessary, as well as any number of roles.
If you notice that your speaker's information is incorrect or the speakers change, you can edit them in the speakers segment. Any changes you make will reflect in your schedule too.
Speaker list visibility
Participants can view the speakers:
in the dedicated Speakers tab from the main navigation: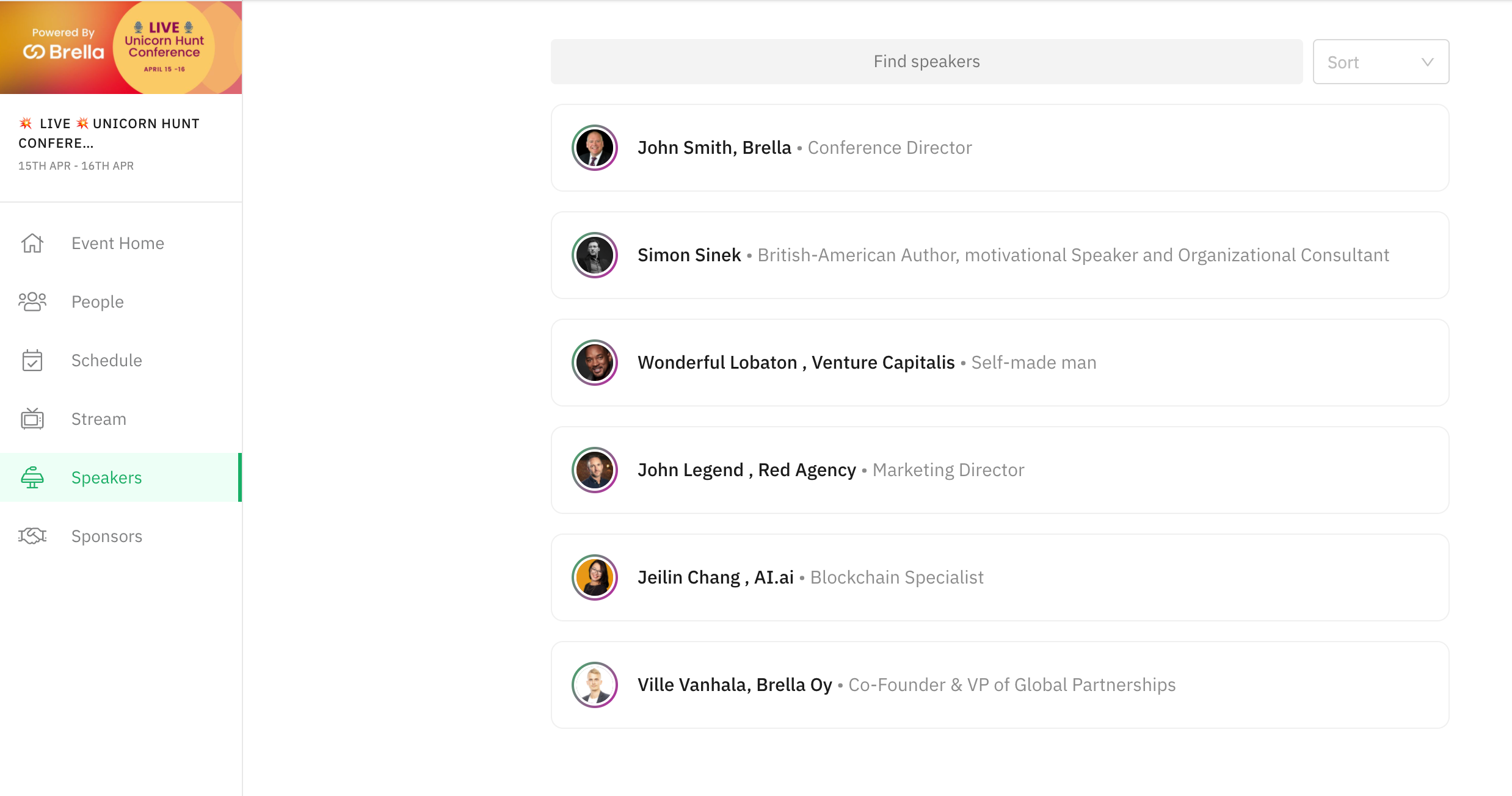 from the Schedule card on the sessions that the speakers are linked to: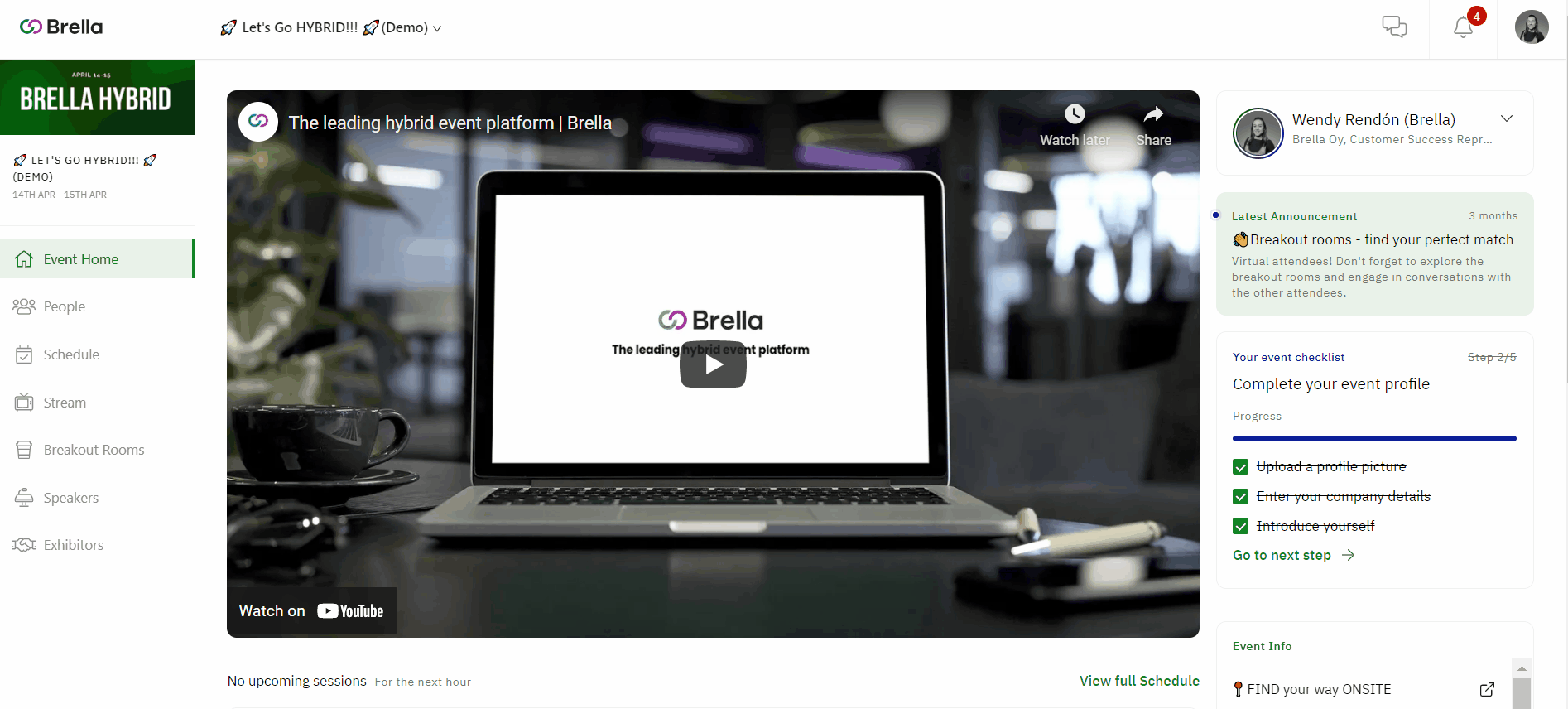 ⭐ Tip: We recommend adding all speakers first before creating your schedule or adding speakers to your agenda.
---
Last updated - July 2022.
Written by Natasha Santiago.

If you didn't find an answer to your questions, please get in touch with the Support Team here.
👇