Learn how to connect with people by sending a meeting request or sending an instant chat message.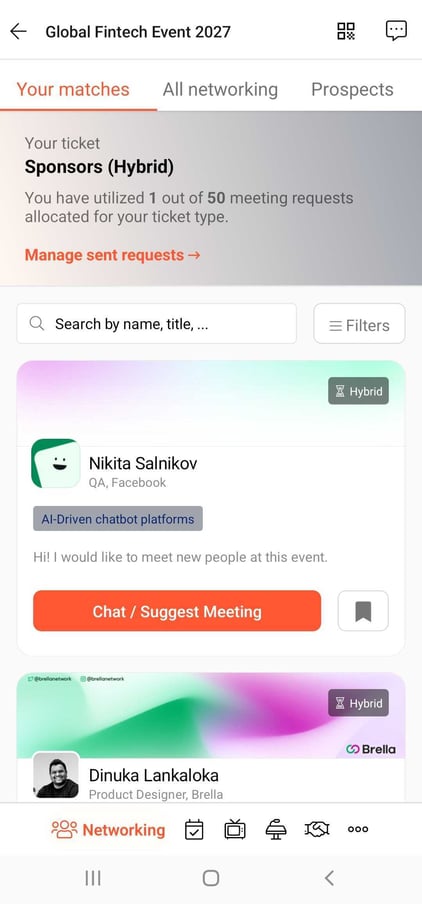 To be covered
Exploring the Networking Tab
When going to the Networking tab, you will find three sub-tabs that will show you:
Your Matches: people who have common interests as you (pink tags).
All attendees: people who joined the event.
Bookmarks: people whom you bookmarked to connect or follow up with during and after the event.
Note!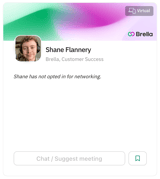 If you don't complete your profile, you'll not see the Networking tab, and your profile will look empty to the public including sponsors, speakers, and other participants.
Suggesting a Meeting
Click on Chat/Suggest meeting.
When suggesting a meeting, go to the attendee profile and click on Chat/Suggest meeting. Then, select a suitable time, and add a short introduction about why you want to meet this person.
2. Await for an answer or react to the pending request.
Once you send the meeting, the receiver should accept, reschedule or decline your meeting depending on their availability. The steps shown in the video below show you how you can also take action on the meeting requests received in your messages inbox.
3. Meeting accepted! 🎉
Once the meeting is accepted, an open chat will open in your Messages inbox located in the message bubble 💬 in the upper right corner. If the meeting request isn't responded to, the message box will close after the second message.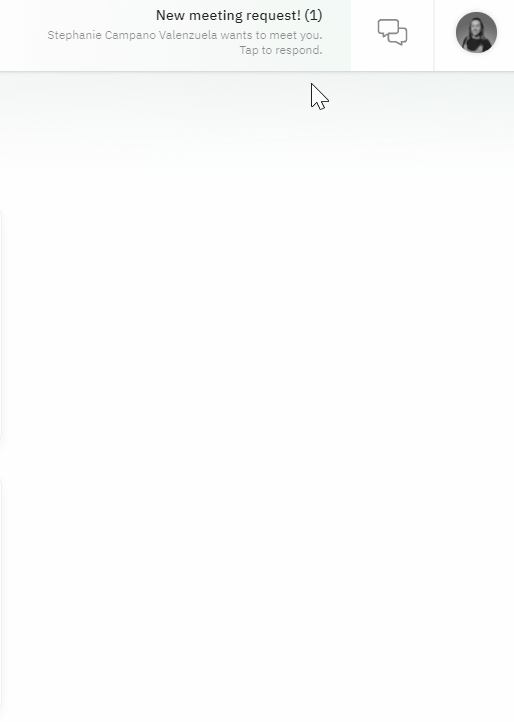 Attendee Types
Note!
When accepting a meeting, check the attendance type of the other party.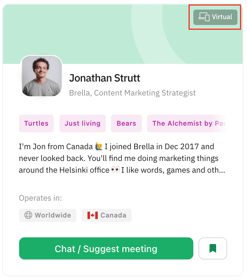 Hybrid attendee: is available via video call and at the networking area of the venue.
Virtual attendee: is available via video call only.
In-person attendee: is available onsite, likely at the networking area of the venue. You can see the table number on the chat card. 👇
Chatting With Others Through the Open chat
Mobile App:
Go to the Networking tab
Find the person's profile you'd like to chat with
Click the 'Chat' button at the bottom of the person's profile
Type your introduction. Use this first message to impress 🙌
Once you've written the intro, click 'Start the conversation' to send the message.


Bookmarking People
If you wish to bookmark people you'd like to get in touch with and follow up with a meeting, use the bookmark tool! It'll help you gather all those relevant people in one place.
To bookmark people:
Go to the Networking tab in the event.
Then, click on the Bookmark icon on the profile of your interest.
Go to the My Agenda sub-tab where you can find all the bookmarked people.
Great job! Now you can successfully network with other participants in the event.
---
Last updated in June 2023.
Written by Rajinda Wijetunge

If you didn't find an answer to your questions, get in touch with the Support Team here.

👇