Learn how to set up banner ads for sponsors on admin panel
To be covered
---
Intro
A new feature for your event that allows you to create a banner for sponsors' ads is now available in the virtual booths tab.
Suppose your event requires different branding and visibility possibilities for your sponsors or your brand. This new feature will enhance the exposure for sponsors and provide more visibility. Also, for monetization purposes, it is a great feature to add to your sponsorship package 🙌.
---
Create a banner ad
To create a banner sponsor ad:
Navigate to the admin panel - Sponsors tab - select 'Banner Ads' subtab

Click the 'Create new' button on the right hand top
Add a custom image to display in the banner

Select the Sponsor's name
Add a title no longer than 90 characters



👉 Recommended image size 1200px400px or ratio 3:1

You can check the preview on the right side of the screen while creating the banner


Click 'Create' once the information looks right to save the changes
---
Where are the banners displayed?
The banners are displayed as a slideshow at the top of the sponsors tab above the search bar.
💻On a computer: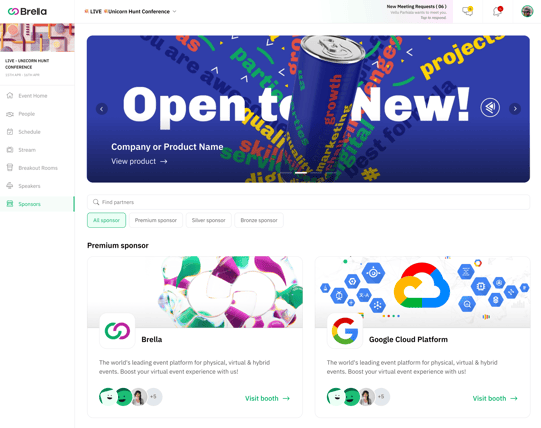 📱On mobile:

The Banner ad function is currently not available in the mobile app.
---
Functionalities
From the Admin Panel, you'll be able to browse banner ads in the sponsors tab by typing the company or ad title in the search bar.


There are two sections for banners, Active & Deleted.

👉The active table will display the clickthrough rate (CTR) and the ability to delete ads from the right-hand icon on each row.


👉 The deleted table will display banner ads that are no longer visible and the clickthrough rate (CTR) those had while active.




Clickthrough rate (CTR)

👉 The display count (Sponsor tab) This tells you how many times an attendee refreshed or visited the page for the first time on the Brella platform.

👉 The click count (Sponsor tab) tells you how often your attendees have clicked on the banner ad.

In addition, as an admin, you'll be able to reorder ads using the dragging icon to move them in your preferred order.




⚡Note: Banner for sponsor Ads is only visible on the Web app at next.brella.io

Another option for advertisement is the Sponsor ads that can be found on the Sponsors' virtual booths page.




🌟You can create as many banner ads for your event; there's no limit!
---
Last updated - July 2023
Written by Yusra Mohideen

If you didn't find an answer to your questions, please get in touch with the Support Team here.

👇