Learn how you can embed a social media feed into your event to improve attendee engagement
To be covered:
Intro
Embedding a social media feed in an event platform can provide several benefits for both the event organizers and attendees. It can significantly enhance the overall event experience, amplify the event's reach, provide valuable content while creating an engaging event environment all at the same time.
A live social media feed creates an interactive element that encourages attendees to actively participate and share their experiences during the event. This will be a great medium to share announcements, for event sponsors to reach the attendees with their featured content, receive feedback, share authentic testimonials about the event etc.
Get to know Walls.io
Walls.io is an all-in-one social wall solution that allows you to collect, curate, and display content in an easy-to-customize feed. You can collect content from multiple social media platforms or let your audience post content directly on your wall.
Walls.io strives to be the digital content solution for everyone. They plan on being full of useful features but still easy to set up and easy to use, no matter your technical level. Their goal is to develop and provide affordable, easy-to-use tools that digital marketers of all trades can use to inspire their audiences.
The event social walls by Walls.io is an engagement tool that allows you to collect content posted by attendees and speakers using your event's hashtag. If your event is private, a social wall will help you connect with your attendees by making it easy for them to upload content directly on the wall. It enables you to curate the content and display it on a screen, or embed it on your event website or live stream. With Walls.io, now you can promote your event, increase ticket sales, create a sense of community, and engage attendees with their interactive features such as Live Polls, Direct Posts, Photo booths, and Reactions.
How to embed the social media feed
To get started, sign up for a Walls.io trial. Setting up your social wall is fairly easy, Connect your social media accounts and start adding sources – f.e. hashtags around your brand and products, or your owned social media accounts. For further information, check out this tutorial or watch the video below.
💡Once you have set up your wall in Walls.io click "View wall" in your Walls.io account and copy the link to your wall (i.e. https://my.walls.io/starbucks)
Then log in to your event admin panel on Brella and add the link as a custom page to your event in a few simple steps.
Your social wall can comprise many different content sources. Click here to view the content sources available at Walls.io.
How the Walls.io social media feed will look within your Brella event -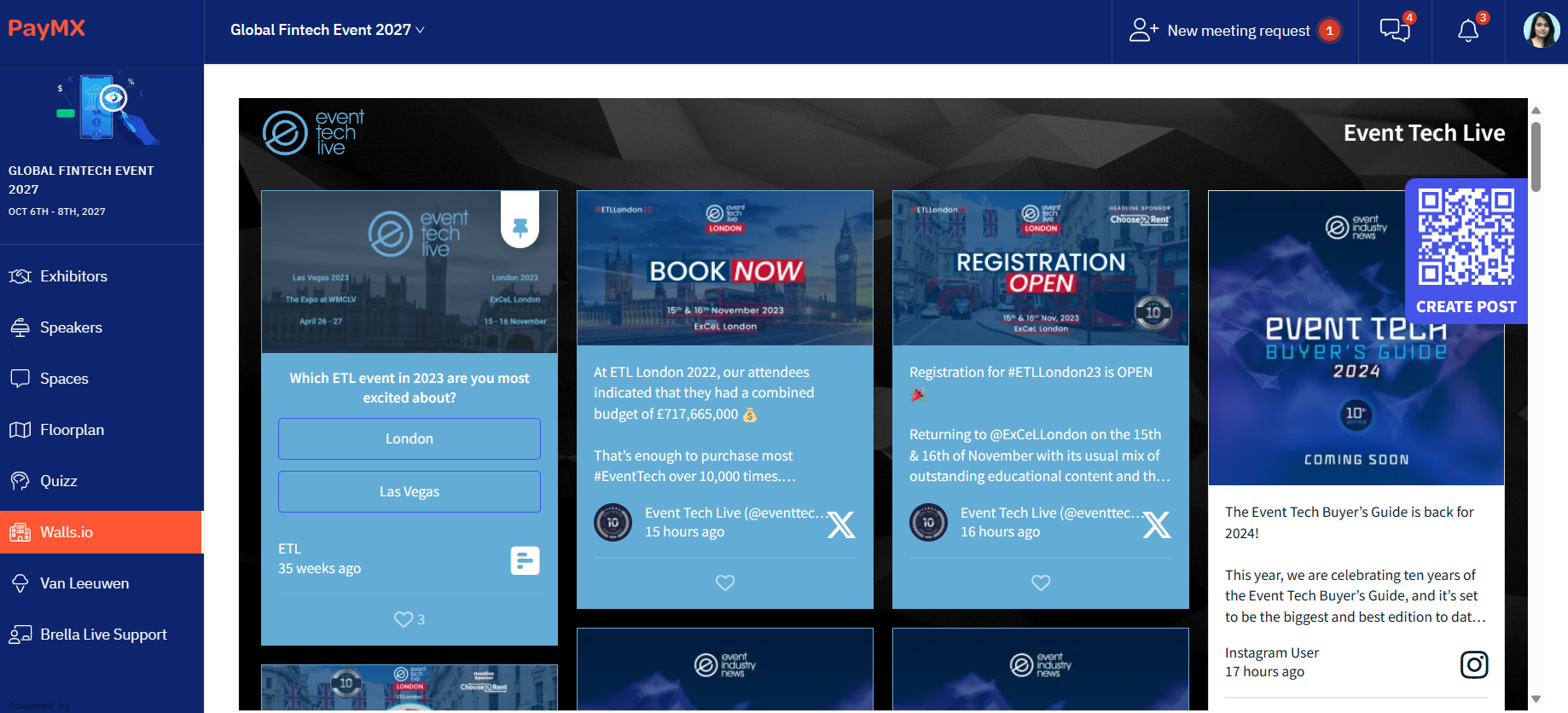 ---
Last updated - September 2023.
Written by Nisansala Wijeratne.

If you didn't find an answer to your questions, please get in touch with the Support Team here.
👇