Learn how attendees will set up their profiles
To be covered
Intro
When joining an event in Brella, all participants will be asked if they'd like to Set up my profile OR I'll do this later.
After clicking on 'Set up my profile,' the attendees will set up their profile, and topics of interest so they can see the attendee list and schedule one-on-one meetings.
When participants click on Set up my profile, they will be prompted to choose their availability for the event and select matchmaking categories, and interests that will match them with other participants. As the last step, they can finalize creating their profile for the event.
👉 Steps to set up their profile for the event: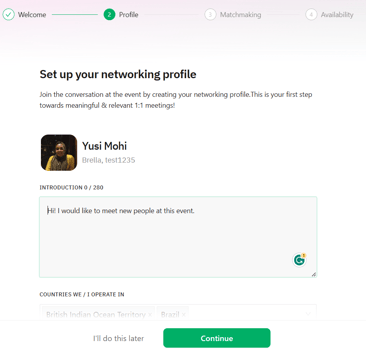 1.
Personalize the profile specifically for your event.
First, participants will write a personal introduction and select the countries where they operate. Once that is done, they can continue by clicking on Start Networking and visiting the People page.
2.
Choosing matchmaking categories and interests to get matched at your event.
This step focuses on displaying all your event topical categories that you created to connect and interact during the event with other attendees.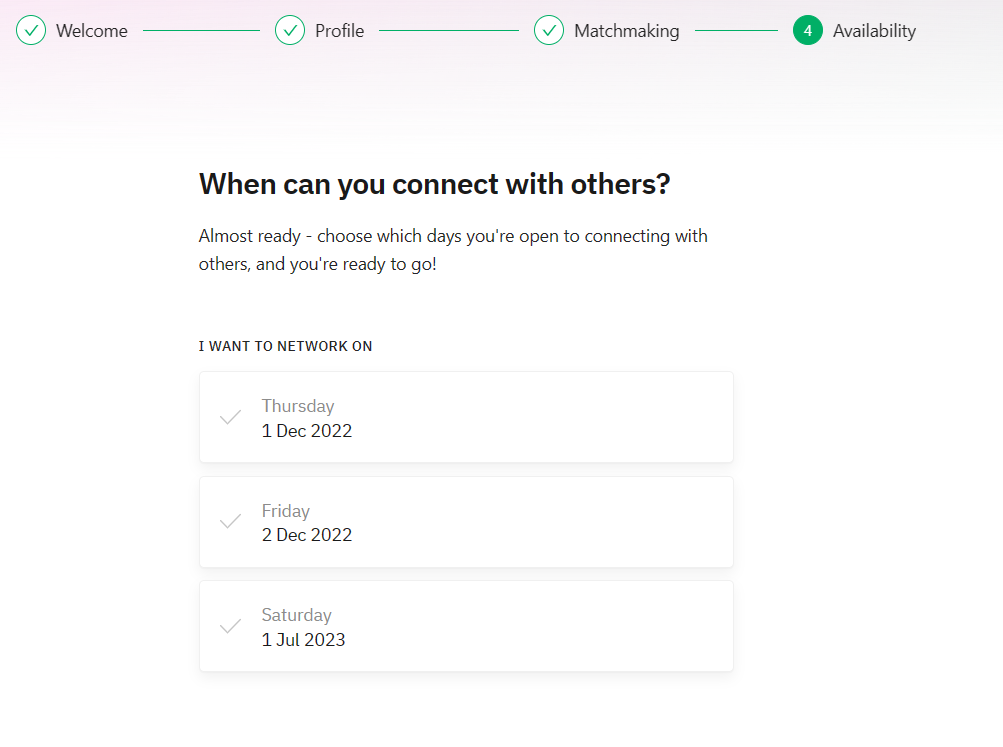 3.
Choosing networking availability.
Attendees can select the days they attend the event and are willing to network.
👉 Brella AI matchmaking
Brella will now connect participants with relevant people to network. Additionally, you can view the attendee list AND suggest meetings.
Suggesting a meeting is super easy! Learn how to suggest a meeting to attendees



⭐Tip: Sponsor representatives should opt-in to network from the first time they create their own event profile on next.brella.io. This will allow them to be displayed in their virtual booth; otherwise, they will not be shown in their sponsor booth.
---
Last updated - July 2023
Written by Yusra Mohideen

If you didn't find an answer to your questions, please get in touch with the Support Team here.
👇