Upload all your Matchmaking categories, interests and intents at once in the Matchmaking tab.
Create Matchmaking categories, interests, and intents for your event all at once. By using a csv file, you'll manage to upload your categories in less than 5 mins. You will need first to align the list of categories in the right format and upload them.
⭐Note! You can reorganize the categories in a spreadsheet. If you do it from the admin panel, you will have to delete them and create them from scratch.
Formatting your list of categories

To upload the template, it must be in CSV format. Feel free to download it from here. If you can, your template is already in CSV format, then go to upload your matchmaking categories.
If you don't know how to get a CSV file, continue reading. To format your list of categories, open the document where you have the list.
🔍 Note! If you added titles: categories, interests, and intents to the top of your spreadsheet remove them before proceeding further.
It should look like this: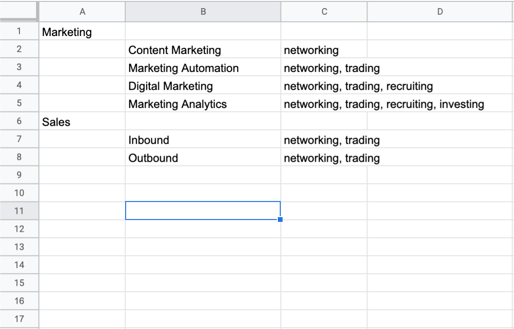 To save your file in CSV format:
Select 'Save as'
Choose to save as CSV or "comma-delimited."
Name the file and select 'Save.'
After downloading the document, it's ready to upload.
Upload your matchmaking categories
Now you can upload your interests to Brella's Admin Panel. It would be best if you went to:

1. Go to the admin panel
2. Click on Matchmaking
3. Select Use existing data for Matchmaking and click in the inbox or search from a past event. You can also drag the doc to this box, and Brella will upload it automatically.
4. After receiving the message that the CSV file was uploaded successfully, refresh your page.
⚠️ Attention! If there are no matchmaking categories detected for your event, you will be prompted to either 'Start matchmaking' or 'Import from previous events.'
Choose "Import from previous events." You will then see the following pop-up window.
Click or drag the file you created in the previous steps to the indicated area.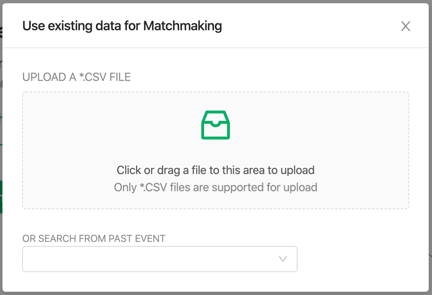 Congratulations! Your matchmaking interests are now uploaded to the Admin Panel, and your attendees can begin networking and creating incredibly valuable connections. If you need to edit your interests, there's no need to change the file and re-upload it, as you can make any changes directly in the Admin Panel.
⭐ Tip! You can also upload matchmaking categories from other events that you created in the Admin Panel before.
As you build more events on Brella's Admin Panel, it will save your matchmaking interests for later use, saving you time in the long run.
Troubleshooting information
Suppose the system doesn't accept your list. Please ensure to follow these steps:
Make sure it is a CSV file.
Ensure not to have any semicolons. To check if you have them, open the saved CSV file with TextEdit, Notepad, or WordPad (or a similar program). We need to do this to replace the semicolons with commas before uploading them. You can do that by:
Right-click or control-click the file.
You will see a menu pop up.
There you will see the option "Open with" - click it.
Open with TextEdit, Notepad, or WordPad (or similar program).
Once the file is open in your text editor of choice, replace all semicolons (;) with commas (,):
Control + H (on PCs) or Command + F (on Macs),
Enter ";",
Choose to replace all with ",."
Save your file, and it's ready to upload!


---
Last updated on February 2021.
Written by Stephanie Campano Valenzuela.

If you didn't find an answer to your questions, please contact the Support Team here.

👇