View the details of your event's attendee engagement, 1:1 meetings, attendee profile information, and attendee meeting information.
⭐ Tip! All the attendee engagement data and statistics are live and can be monitored at all stages of your event.
Once your event is over, you can find valuable insights about your attendees and the event itself under the People's tab in the admin panel. This article contains:
Attendee information
You can see the attendee's personal information in the admin panel by going to the People tab > Attendees.
In this section, you'll see a list of details per attendee:
Registration method

Networking Status: whether an attendee opted in or out of networking

Name

Company Name

Title

Emails

Nr of meetings
Export attendee information
Go to the admin panel > People > Attendees > Click on 'Attendees export' on the right side of the tab. You will receive a csv file to your email.
Also, you can see all attendee information in one file by exporting the csv file from the Integrations tab

.

Attendee engagement
Based on hundreds of events hosted in Brella, we have a few metrics that will help you measure your results.
Having a higher number of participants with meetings tells that there was a great communications plan from your side, which encouraged attendees to join Brella and make meaningful connections. Congrats! 🚀
The pre-engagement rate should be higher than during the event rate. Why? Because that means your attendees could plan their meetings before the event and did not struggle last minute to book those relevant meetings!
If you have an average engagement (total engagement/total attendees with meetings) is higher than 16, you should be proud of yourselves! 🙌
You can see all attendee engagement in the Overview tab of the admin panel. We explain to you their definitions here.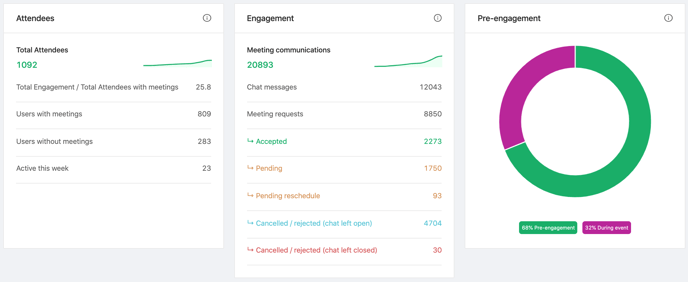 Export attendee engagement information (meetings)
If you want to see the number of meetings ('who met whom') and meeting statuses. You can click on 'Meetings export' to retrieve a file (csv) with the details.
Find more details in the People tab.

Attendee data to CRM
Export attendee data to your preferred CRM platform by going to the admin panel, click on 'Integrations'. Here you will get the attendee export file and the meetings data in one file. The csv file contains:
First name
Last name
Email

Company Name

Job title

Operates in
Event name
Event date
Joined at

Registration method

Networking Status: whether an attendee opted in or out of networking

Nr of meetings and with whom

Networking about
All intent choices: Exploring getting or buying, Offering or selling, Seeking a job in, Offering a job in, Seeking investment for, Investing in, etc.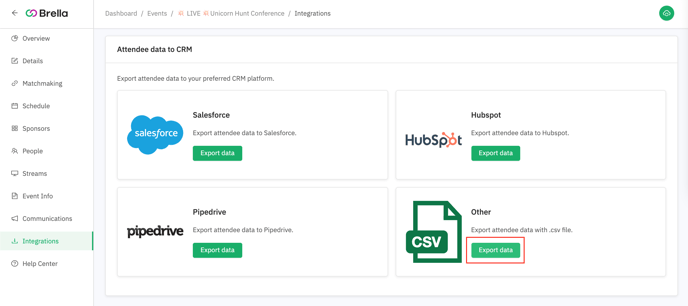 ---
Last updated on February 2021.
Written by Stephanie Campano Valenzuela.

If you didn't find an answer to your questions, please contact the Support Team here.

👇