View attendee engagement, 1:1 meetings, attendee profile, and attendee meeting information.
After your event is finished, you can find valuable learnings about your attendees and event in Brella under the People' Tab in the admin panel.
Attendee information
All information about attendees is on the People tab on the admin panel.

Simply click on 'Attendees export', if you want to see Name, Job Title, Company, Number of meetings and email. It will be in csv format.
If you want to see the number of meetings and 'who met who'. You can click on 'Meetings export'. It will be in excel format.
You can read more about attendee information on People tab.



Attendee Engagement
You can see all attendee engagement in the Overview tab of our admin panel. Find all the definitions here.
Having a higher number of users with meetings, says that there was a great communications plan from your side which encouraged attendees to join Brella and make meaningful connections.

Pre-engagement rate should be higher than during event rate. Why? Because that means your attendees could plan their meetings prior the event and did not struggle last minute.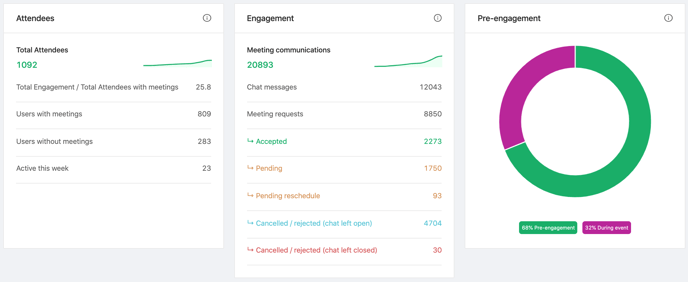 Attendee data to CRM
Export attendee data to your preferred CRM platform by going to the admin panel, click on Integrations. Here you will get the attendee export file and the meetings export file together.