Navigate to the Matchmaking tab and follow the steps provided to enable matchmaking.
Brella matchmaking is based on Artificial Intelligence recommendations. Matchmaking allows attendees to select detailed interests, intents and match with other relevant attendees at your event.
The more thorough your matchmaking categories and intents, the more efficient the networking experience will be.
Your attendees will send meeting requests based on these categories, and the Brella matchmaking AI will offer top matches based on attendees' activity at this and previous events in Brella, attendee's availability, attendee's interests, intents and other things when suggesting recommendations.
The self-teaching mechanism will ensure the best networking experience based on your attendees' activity, engagement, match and other levels.
To activate the Brella matchmaking feature, follow the steps mentioned below.
1st Step: In the Admin Panel, click on "Matchmaking" from the sidebar.
2nd Step: If the Matchmaking feature hasn't been activated for your event yet, your will be as shown below. Press "Start matchmaking" to enable matchmaking at your event.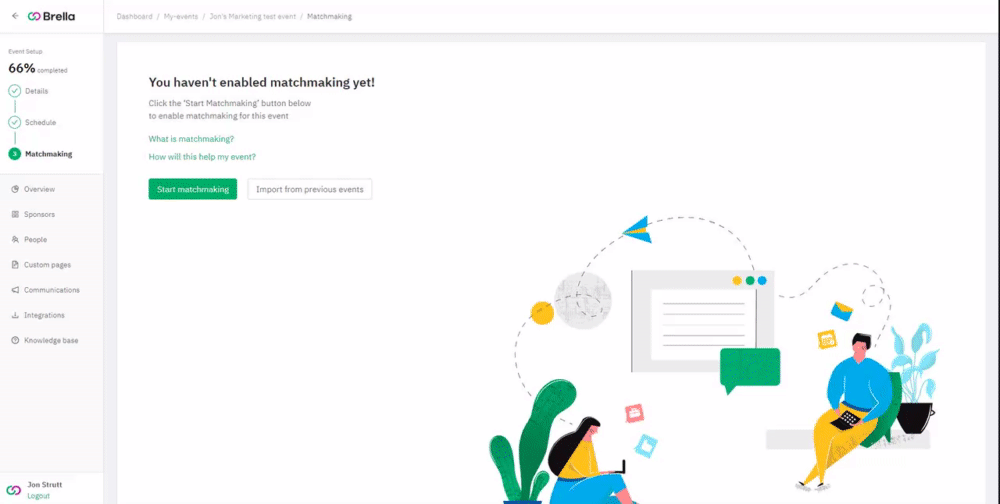 Related articles