Learn how to use the schedule settings on the Brella web app and create your own schedule using bookmarks
To be covered
Intro
The event schedule has many features such as filters, bookmarks, settings, etc. This article will explain how you can navigate yourself around the event schedule/agenda on the Brella web app via https://next.brella.io and also, how as an event attendee you can bookmark the sessions you want to join to create your own event agenda.
Schedule view settings
Timeline view Vs Linear view
You can edit how you would want to view your event agenda based on your personal preference through the view settings in the top right corner within the agenda tab on the web app.

All the sessions and 1:1 meetings are assigned to a particular track on the event schedule. You can view the content through the 'Timeline' or 'Linear' view.
Linear View - In the linear view the schedule will be shown to you based on the tracks the sessions are assigned to. The timeslots are displayed vertically on the left-hand side.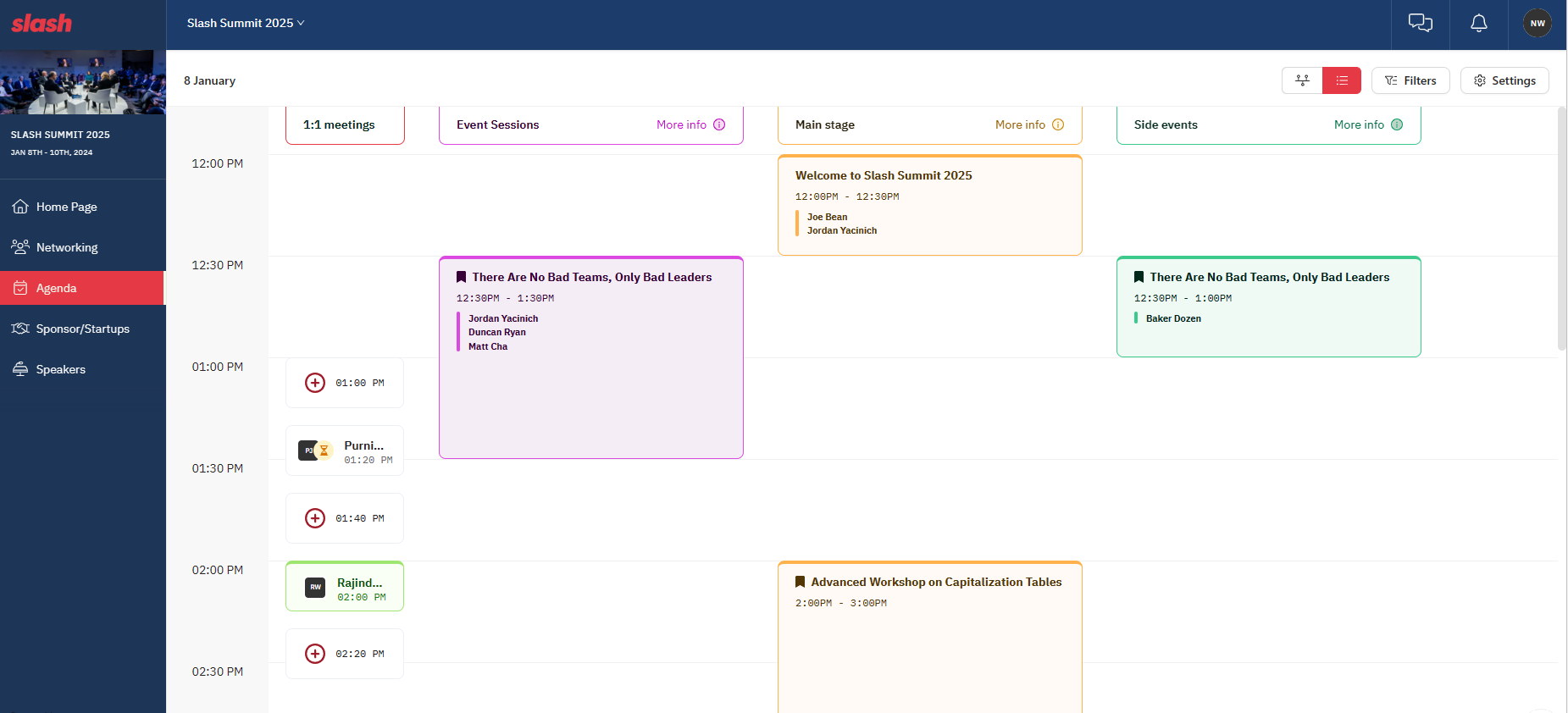 Timeline view - In the timeline view the schedule is shown based on the time each session is scheduled to start. The tracks are displayed vertically on the left-hand side.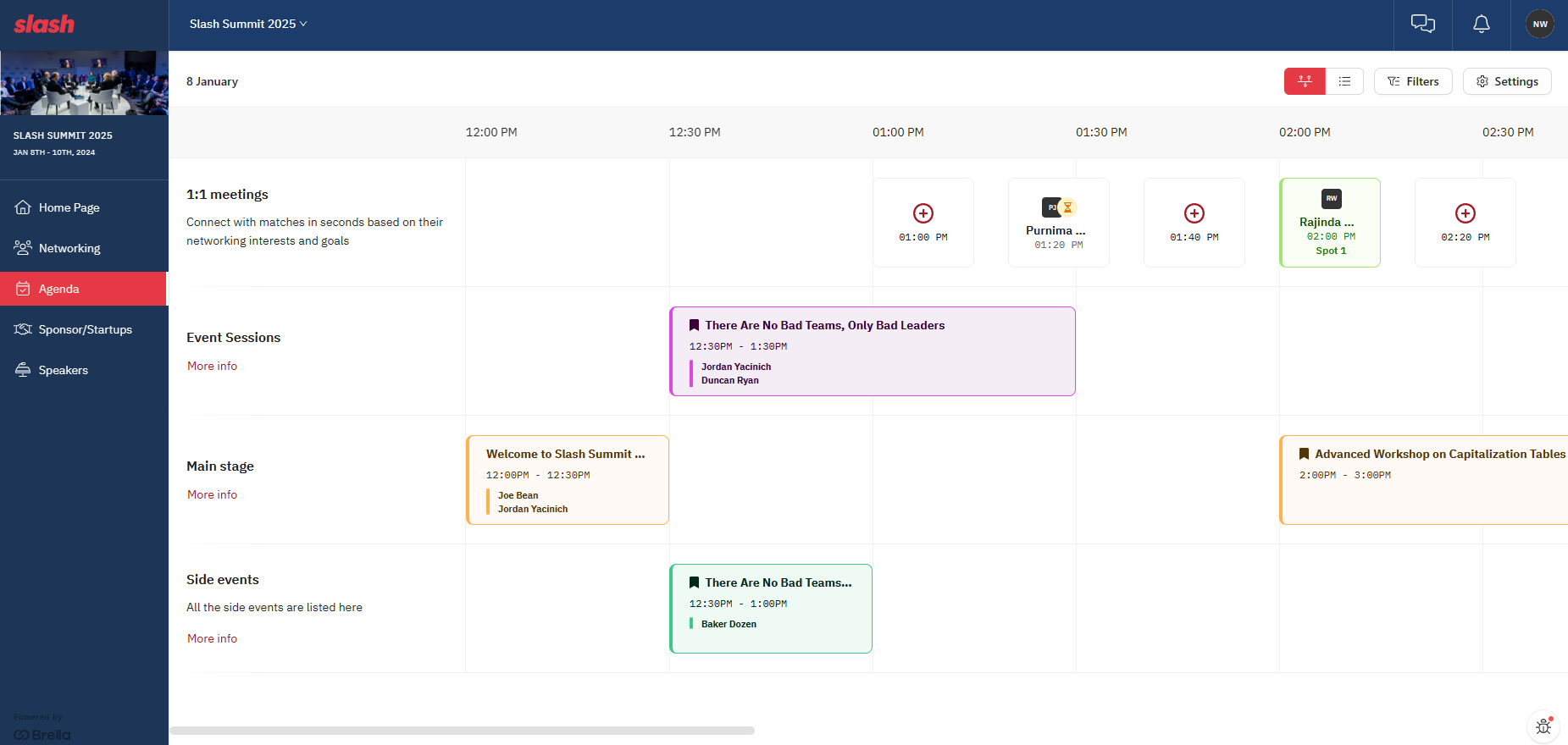 Bookmark a session on the Schedule
When attending an event, you might not be able to attend all the sessions. In such a situation, you can bookmark the sessions you wish to attend or sessions that you do not want to miss and create your own bookmarked event schedule within the event agenda.
You can open any session card you wish to bookmark and click on the bookmark icon. Then you can view these bookmarked sessions by clicking on the filters tab and enabling the toggle 'Show only my bookmarked sessions' and clicking 'Apply'. Once you have bookmarked the session you want to attend, you can view your own personalised schedule in the bookmarks tab including the approved 1:1 meetings.
If a session you are bookmarking has a simultaneous networking slot, a pop-up will appear for you to select whether you still want to be available for meetings during the same time.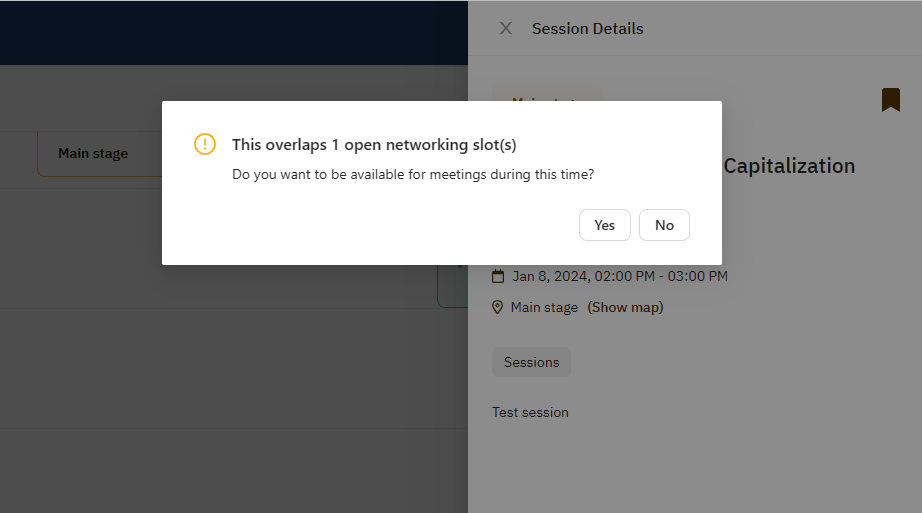 💡Tip: You can also bookmark and save sessions to your own schedule from the Speakers tab by clicking on your favorite speakers and seeing what time and what sessions they will be presenting.
---
Last updated - June 2023.
Written by Nisansala Wijeratne.

If you didn't find an answer to your questions, please get in touch with the Support Team here.
👇