Learn how to navigate the Brella App to Report/Block unsolicited spam users from the desired event.
To be covered:
Intro
Using the Report/Block user function in the application will help you quickly Report/Block any unwanted event attendees. This function is currently only available on the Brella mobile app (Andriod / iOS), and this article explains how it can be done.
Where to find on the mobile app
The Report/Block user function can be found on the right side of the Brella mobile app once you click on a particular attendee at the event.
Open Brella's mobile app.
Click on the respective event.
Search for an attendee whom you want to Report/Block.
From here, you can click on the 3 small dots on the right side of the screen, and it will show you this function.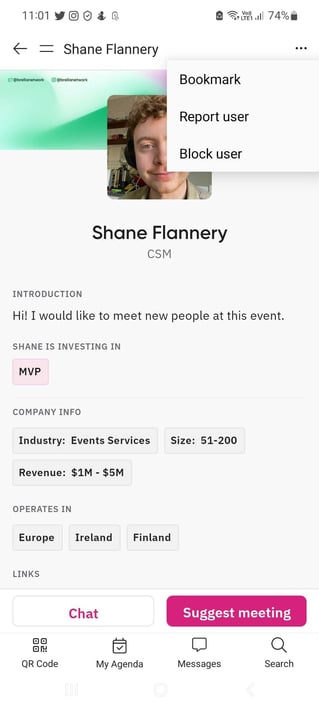 ❗Note: If you Block a user from the event, you will no longer see their profile, and they don't see your profile as well.
💡 When bookmarking a participant profile, this will be saved in your Bookmarks on People tab. You can learn more about Bookmarks in the Brella app by clicking here.
How to use (video)
💡Tip! The Report/Block function is currently only available on Brella mobile app.
---
Last updated in April 2023.
Written by Rajinda Wijetunge.

If you didn't find an answer to your questions, please contact the Support Team here.