Learn how to navigate through the Brella Application to find information about Attendees, Event agenda, Speakers and Sponsors using the global search
To be covered:
Intro
With the global search function, you can filter and locate any attendee, event session, speaker, and sponsor easily. This function is only available on the Brella mobile app (Android / iOS).
Where to find on the mobile app
The Global Search icon can be found in the tab bar, which is on the bottom tab of the Brella mobile app.
Open Brella's mobile app.
Click on the respective event.
Navigate to the bottom tab bar.
From here, you can click on the icon "Search" in the lower right corner.


What can you search using the "Global Search"?
Using the global search function, you can find any of the below by simply typing a keyword (Such as an organization name: Brella).
Event Attendees (People)
The event Agenda
Event Speakers
Sponsors of the event


E.g. You can type "Brella" in the people's tab, and it will give you all the attendees who represent Brella in the event.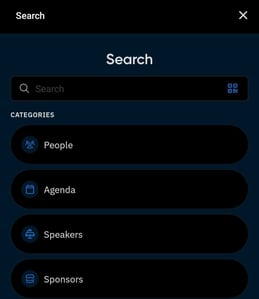 How to use (video)
---
Last updated in April 2023.
Written by Purnima Jayasuriya

If you didn't find an answer to your questions, please contact the Support Team here.