Learn how the registration form can be customized.

To be covered:
Intro
Brella understands that it is vital to capture the relevant information during the stage attendees purchase their tickets to verify and confirm attendees and their payments during the event. With this in mind, we have set up a standard registration form that each attendee has to fill when purchasing a ticket. This form has been set up with a few default fields. Event organizers are given the option to add various custom fields as required.
---
How to use (steps)
Navigate to - Admin Panel - Ticketing - Registration form
Purchaser info - three fields are set as default and not customizable : Email, First and Last name of the Purchaser
Registrants info - In this section, only one field has been set as default is the email
To create new fields for the Registrants segment - click on the 'Create New' button in green.


You can create as many fields as required to gather information regarding the registrant for the event by filling out the form under Create New (shown below).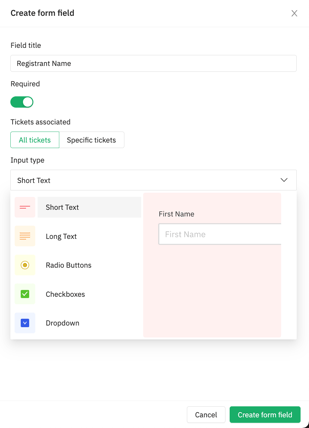 💡Watch the video below to learn how you can bulk add even hundreds of values as options to a dropdown type field.
Once you've made your choices, click "Save Form Field." You will see the recent field created as follows:



You can drag and drop to reorder the new fields created and also set the visibility of the fields in the form by clicking on the eye icon in front of each field.
---
The export Responses (.CSV) button will export a file with the fields as shown below.
Stripe id
Purchaser name
Purchaser
Registrant
Invite used by
First name
Last name
Company name
Title
Ticket
Now you will be able to finalize your own registration form based on these guidelines!
Wish you all the very best for a successful event ahead!
---
Last updated - June 2023.
Written by Nisansala Wijeratne.

If you didn't find an answer to your questions, please get in touch with the Support Team here.
👇