Learn how refunds work in Brella through the stripe payment gateway
To be covered:
Intro
Knowing how to issue refunds is essential when using Stripe through the event dashboard. Here are some things to note about refunding an attendee.
How to Issue Refunds
An organizer can log in to their Stripe-connected account of their event and refund selected payments received through tickets sold.
Go to Stripe and sign in to your account
Navigate to the payment to be refunded on the payments overview page.
Click the °°° icon to the right of the charge. From the resulting menu, select Refund payment.

By default, you'll issue a full refund. For a partial refund, enter the amount to be refunded.
Select a reason for the refund and click Refund.
Alternatively, you can click on the payment itself and click Refund on the next page.

How Much Will Be Refunded?
If an organizer issues a full refund, the entire amount the attendee paid gets refunded, which means the organizer will incur some losses. As an example:
An attendee buys a ticket at $100 for an event organized by the organizer
Brella gets $2 (2% fees) • Stripe gets ~2.9% + 30 cents
The organizer gets the rest, $94.80.
When the organizer refunds, the attendee gets $100 back.
Brella and Stripe keep their fees.
The organizer has a net sale of -$5.20 to cover the Stripe and Brella fees, plus the refund.
Brella and Stripe keep all associated ticket fees (the organizer will need to bear this cost).
When Will Refunds Be Issued?
It should take 5-10 days for the customer to see the credit after issuing a refund. To learn more about issuing refunds through Stripe, click here.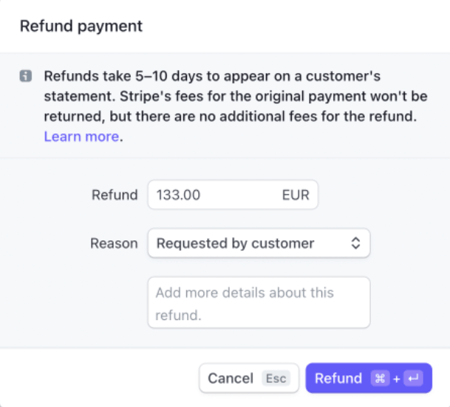 We wish you all the very best toward a successful event ahead!
---
Last updated - June 2023.
Written by Nisansala Wijeratne.

If you didn't find an answer to your questions, please get in touch with the Support Team here.
👇