Learn how to invite speakers to your live stream in Evmux in-built studio.
To be covered:
Intro
Most of the time you need to have one or more different speakers to your live stream. You have the possibility to have up to 12 speakers on a live stream that is broadcasting through Evmux in Brella.
How to invite speakers
Navigate to the Dashboard by clicking on the arrow next to the Evmux logo on the right upper hand-side.
Navigate to Speakers and click on Add Speaker.
Fill in the details of the speaker you want to invite.
The speaker will receive an email with the invitation to join your stream as a speaker.
Learn more on how to invite your speakers to join your Evmux stream here.
How to add speakers to your live stream
In the Evmux in-built studio click on Add scene
Click on Speakers
Select the number of speakers
Click on Create and the number of speaker profiles you added, will appear
The speaker profiles will appear as No Speaker first. Click on the three dots and then click on Replace speaker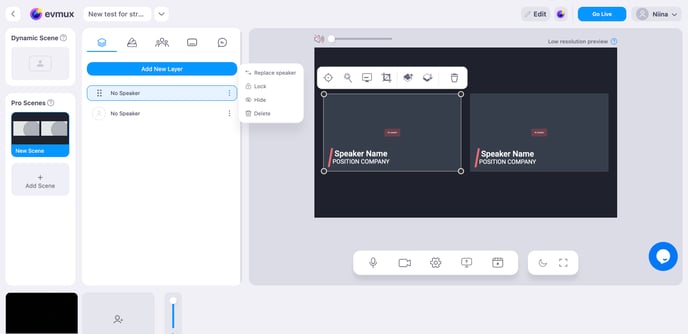 Select the speaker you wish to add and click on Replace
Your speakers will appear on the live stream

Features 🚀
You can have up to 12 speakers on your Evmux stream
You can create Pro-Scenes on Evmux, where you can present your speakers as you wish on the screen. Learn more here.
You can add custom layers for your video such as text, animated caption, media files, slideshow
You have the possibility to screen share and add your guests and speakers to the scene
If a user is removed from an event or an organization, his access to the Evmux studio is automatically removed
🚀 Evmux is feature flagged; it is only enabled if mentioned in the Brella contract.
---
Last updated - July 2023.
Written by Rajinda Wijetunge.

If you didn't find an answer to your questions, please get in touch with the Support Team here.
👇