Learn how to disable/hide specific streams or the complete Stream tab from Brella
To be covered
Intro
While setting up your streams for an upcoming live event, it may be necessary to temporarily hide various streams as per your requirement. It could be a test stream that was to help you prepare, or that you wish to maintain the upcoming streams' as suspense to the attendees. For this reason, Brella provides the feature to enable and disable a stream or the complete streams tab as per the event organizers' requirements.
How to Disable an Individual Stream:
Navigate to the Admin panel - Content - Streams tab.
Select the Stream title to hide.
Toggle off the green button next to the stream title to hide the stream.
This particular stream is now hidden from your attendees. However, you can make it re-appear at any point by toggling it back to green.
❗Note! At the moment, it is not possible to completely delete added streams.
How to Disable the Stream Tab
If you want to temporarily hide all streams from your event, you can disable the stream tab by doing the following.
Navigate to the Admin Panel - Content - 'Stream' tab
Select Settings.
Toggle off the 'Enable stream tab?' to disable the stream.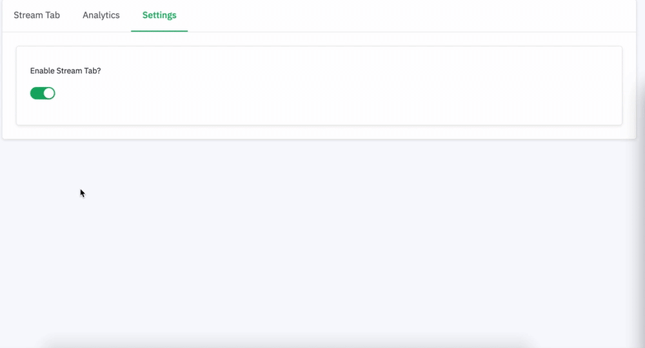 👉 Note: Disabling the stream tab will not delete any of the streams you have set up; it will just hide the tab from the attendee view.
🌟 Tip: You can always re-enable the stream by clicking the 'Re-enable stream tab.' This will make the Stream tab reappear on the attendee view.
---
Last updated - July 2023
Written by Yusra Mohideen

If you didn't find an answer to your questions, please get in touch with the Support Team here.
👇