Matchmaking: Disable Matchmaking
Learn how to disable matchmaking from your event
To be covered:
Intro
Disabling matchmaking will not erase your data, meaning you can re-enable it at any time. Disabling will only remove the matchmaking selection process from the event front-end when an attendee is joining the event.
How to disable matchmaking
Navigate to the 'Matchmaking' tab in the admin panel from your event:
Click on 'Settings'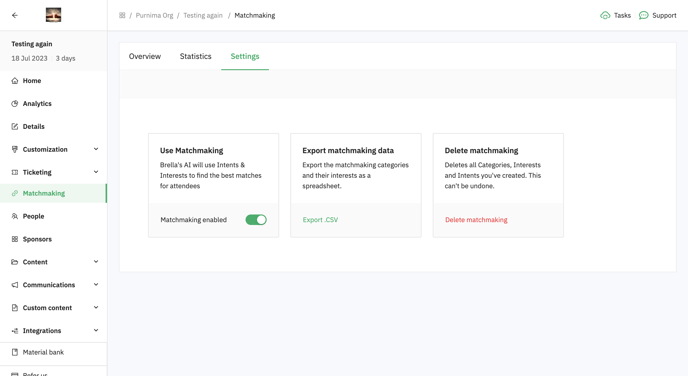 Toggle the button to disable matchmaking under 'Use Matchmaking'


All done! You have now disabled matchmaking from your event successfully. You can enable it again by following the same steps.
---
Last updated - July 2023.
Written by Rajinda Wijetunge.

If you didn't find an answer to your questions, please contact the Support Team here.
👇