Often you need to have other speakers than yourself in your streams to make them come alive. Learn how to invite speakers to your live stream in Evmux in-built studio.
To be covered
Intro to inviting speakers 👤
Most of the times you need to have one or more different speakers to your live stream. You have the possibility to have up to 12 speakers on a live stream that is broadcasting through Evmux in Brella.
How to invite speakers
You can add your speakers in the Evmux Dashboard. Navigate to the Dashboard by clicking on the arrow next to Evmux logo on the right upper hand-side. Navigate to Speakers and click on Add speaker. Fill in the details of the speaker you want to invite. The speaker will receive an email with the invitation to join your stream as a speaker. Learn more on how to invite your speakers to join your Evmux stream here.
🌟 Note! Make sure to use the email address that your speaker wishes to be invited with. This way you can guarantee, that your speaker will receive the invitation smoothly.
How to add speakers to your live stream
You can add your speakers to your live stream by using Evmux's Pro Scenes. Here's how to do it:
In Evmux in-built studio click on Add scene
Click on Speakers
Select the number of speakers
Click on Create and the number of speaker profiles you added, will appear
The speaker profiles will appear as No Speaker first. Click on the three dots and then click on Replace speaker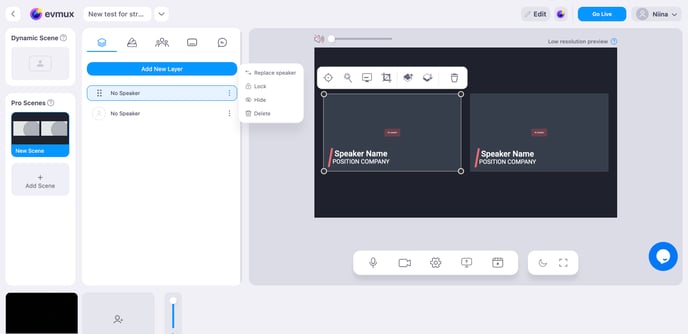 Select the speaker you wish to add and click on Replace
Your speakers will appear on the live stream

You can also watch a video where all of this will be demonstrated:
Features 🚀
You can have up to 12 speakers on your Evmux stream
You can create Pro-Scenes on Evmux, where you can present your speakers as you wish on the screen. Learn further instructions here.
You can add custom layers for your video such as text, animated caption, media files, slideshow
You have the possibility to screen share and add your guests and speakers to the scene
---
Last updated in June 2022.

Written by Niina Kettunen
If you didn't find an answer to your questions, please get in touch with the Support Team here.

👇