Invite-only functionality is a more secure joining process whereby you can generate unique invites for your attendees. This way, you will have more control over who can join your event.
Content
🔗 See all Invite-Only articles
⭐ Tip: Invites are the best way to control the registration traffic in Brella for your event. If you have a strict attendee cap, use this registration method.
---
What Is Invite-Only?
This functionality allows you to create unique join codes for each attendee on your registration list and deliver the invitation + join code via email to all of your attendees through the Admin Panel. Additionally, it is the most secure way to give access to your event at Brella.
✔️Advantages of using the Invite-only feature, you can:
generate a unique join code for each individual or a group.
choose the number of times a participant can redeem a particular unique code.
track if a specific unique code has been used or not, and by who.
delete invites individually or as a whole group.
Step 1. How To Activate The Invite-Only Feature?

First, go to the Admin Panel (manager.brella.io).
Then, toggle on the Invite-only in the Details tab.
Type a URL identifier for your event. The URL will be displayed in the Brella web app (https://next.brella.io/exampleevent). Participants cannot enter the event; your event needs to have an identifier.
Scroll down the page and save the changes.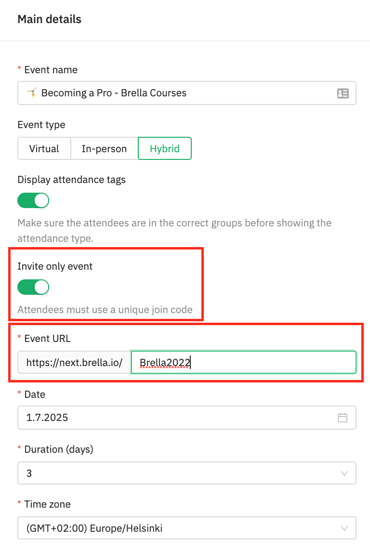 Step 2. How To Create Unique Join Codes for Participants?
The next step is to create unique join codes for your attendees. You can do it in two ways:
Once the unique join codes have been generated by uploading the .csv or manually through the admin panel, you can see the unique join codes like in the photo below. This code is the invite's identifier in the platform and can be used on both platforms for desktop or mobile app users to redeem the invite.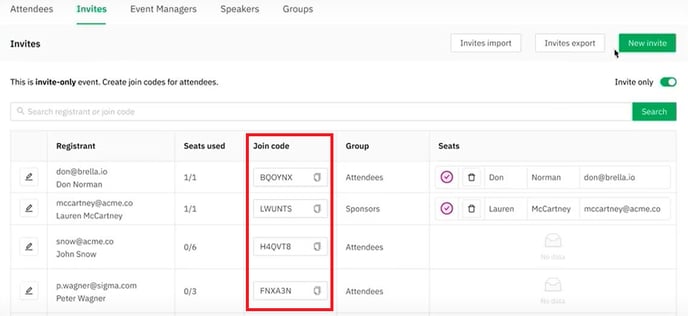 When you click the icon on the left side of the Join code, you can see that it gets copied to your clipboard. Copy it and add it to the invite email.

Step 3. How To Distribute The Invites?
You can distribute invitation emails with join codes in two ways at Brella: sending invitation emails through the Admin Panel and using your own CRM to send invitations.
Send Invitation Emails Through The Admin Panel
After creating unique join codes for each participant on the admin panel, you can send invitation emails without the need for third-party tools.
To send the invitations out, you need first to ensure all participants are in the respective group and have one seat as a minimum.
Learn how to send the invitation emails out, check what the invitation email template looks like and how to use it for your event.
🔗Learn more about this feature by going to Invite-Only: Send Invitation Emails through the Admin Panel.
Send Invitation Emails through Your Own CRM
After creating unique join codes for each participant on the admin panel, you can send invitation emails with your preferred CRM or integrate with Brella. See if Brella has an integration with your CRM on our website.
If there is an integration in place, you can reach out to us to send you proper documentation and more details on the service.
If there is no integration between Brella and your CRM, follow the steps below to send invitations to all participants:
🔗 To see step by step, please go to Invite-only: How to send invites to your attendees.
---
Last updated on January 2022.
Written by Stephanie Campano Valenzuela.

If you didn't find an answer to your questions, please get in touch with the Support Team here.

👇