In Brella, you can enable live chats in streams, sponsor virtual booths, and content sessions in the schedule.
Chats can be managed by all admins or event managers in Brella. They will be able to do it from the attendee's view. No need to go to the admin panel!
🌟Tip: Assign a control team to supervise that the chats are good, positive, and appropriate!
When can I enable live chats?
You can enable live chats for streams, content sessions in the schedule, and virtual booths. You can enable a live chat 1 week before the event or the same day of the event; that is up to you.
How to send a message and an instant reaction?
Go to the below text box at the chat and start typing your message. To send instant reactions or emoji by clicking on the smiley 🙂or inputting :smile:.
How can I filter the messages in the chat?
You can't filter them, but you will always see the latest 100 messages created in the chat.
⚡️Note! Chat messages are not recorded or possibly recovered in the admin panel or attendee view.
How to delete an inappropriate message?
If you'd like to delete an inappropriate message, click on it, and then click Delete message.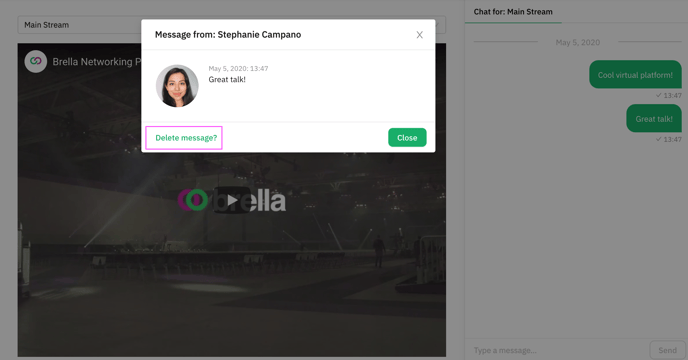 👉Note: At the moment, it is not possible to export chat messages from Brella.
---
Last updated on March 2021.
Written by Stephanie Campano Valenzuela.

If you didn't find an answer to your questions, please contact the Support Team here.

👇